Rohrbau Gmünd is relying on the precision performance of Volvo Construction Equipment's PL4809D pipelayer for laying 2.6 tonne water pipes along 3.4km in Germany.
There is no margin for error in the business of water pipeline laying. The 2.6 tonne water pipes are being laid with ease and precision by a Volvo PL4809D pipelayer along a 3.4km route from Niederalfingen to Oberlengenfeld in Germany.
Newly founded pipeline construction company, Rohrbau Gmünd, is working in the Ellwangen Waterworks construction area, where more than 20,000 cubic meters of earth had to be moved so that the pipes could be embedded securely. While operating on the site's rough, muddy terrain the Volvo PL4809D pipelayer is able to show off the full range of its capabilities. With its innovative load management system, high stability and 360 degree upper structure swing capability, the Volvo PL4809D offers a virtually unlimited range of deployment options, including lifting and laying pipes in almost any position around its swing. Having been fully tested by the conditions the innovative pipelayer is already an in-house favorite for Rohrbau Gmünd.
Founded in November 2014, Rohrbau Gmünd is a subsidiary of Georg Eichele Bauunternehmung, which has 70 years' experience in pipeline construction, and operates the most advanced pipelaying technology in the world.
"For a young company like Rohrbau Gmünd, there was no alternative pipelayer that could offer the precision and flexibility that is imperative for this job," says general manager of Rohrbau Gmünd, Markus Eichele. "The Volvo PL4809D is the ultimate construction machine, meeting all the criteria and requirements for pipelaying. The highlight that really makes this machine stand out from the crowd is that it is the only pipelayer that can be converted into an excavator with very little effort, which really maximizes how the machine can be utilized."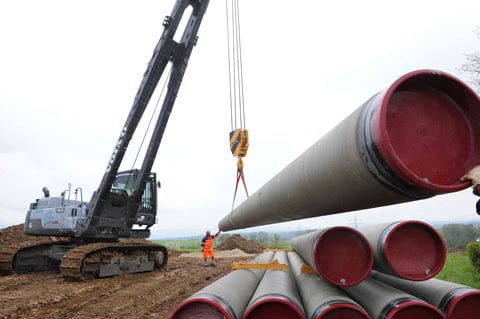 On instructions from the Stuttgart Waterworks Department, 435 water pipes were laid along a section of 3.4km.
The Volvo PL4809D pipelayer delivers innovative features that oil and gas industry customers demand when working with heavy materials. Built on a stable, excavator-based platform, the machine provides heavy equipment performance that both enhances the customer's piping capabilities and profitability. The Volvo PL4809D features an hydraulic, height-adjustable cab as standard, offering the best possible comfort and all-round visibility for the operator. Thanks to the certified roll-over protective structure, it also offers the maximum level of safety.
Whether working in the pipe yard or constructing pipeline, the machine is highly stable, with a tipping capacity of 102 tonnes with its additional counterweight (90 tonnes with the standard counterweight), and features a unique load management system and a boom extension, further improving both reach and hook height.