Plantworx 2015 to hold 'student afternoon' to address the skills' shortage and encourage more youngsters into the Construction Equipment Industry.
On the final afternoon of Plantworx Construction Equipment Exhibition 2015 (12 pm – 4pm Thursday 4th June) the organisers of the event, in association with the CPA (Construction Plant-hire Association) are inviting students and teachers from primary and secondary schools and colleges to visit the show and get a taste of the Construction Equipment Sector.
The Plantworx team took its inspiration from Richard Noble OBE, the pioneer of the Bloodhound SSC (Super Sonic Car) Project, who hosted the CPA's 'Stars of the Future' Plant Mechanic Apprenticeship Awards presentation, at the Plantworx 2013 event. Recognising and promoting engineering excellence in the young is at the very heart of many of Mr Noble's activities.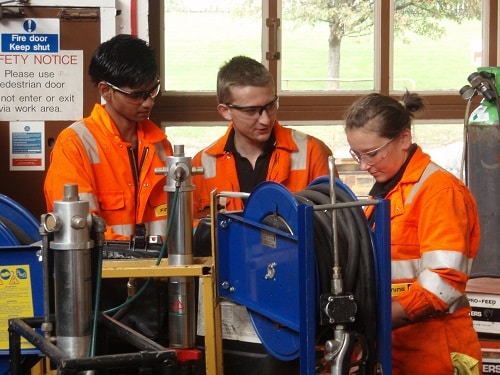 "There is a serious problem finding engineers in the UK," said Mr Noble. "We are really bad at introducing engineering to children in this country. We need to build and develop these skills on a huge scale, but at present our education system is not producing what manufacturing and engineering need. The problem is that not that many people know this."
The Bloodhound team is closely involved with 5,442 UK schools, colleges and universities. "We have learnt that you have to start in primary schools, with children as young as five years old," says Mr Noble.
Mr Noble believes that involving children at an early age with schemes such as the Bloodhound project will inspire them to think of engineering as a career choice.
The Plantworx team is hopeful that by inviting students to attend the exhibition and seeing machinery in 'real working site conditions', talking to machine specialists and operators it will encourage their interest in the construction equipment industry – whether it be as a plant mechanic, an operator or an engineer.
A survey published by PwC has highlighted just how important it is to encourage young blood into our sector. PwC economists have predicted that there could be as many as 100,000 jobs on the cards for industry sectors by 2020! Jobs comprise 50,000 new UK manufacturing jobs, 40,000 jobs in transport and 17,400 new jobs in construction!
Another published report from CIPD (Chartered Institute of Personnel and Development) suggests that there will be 13.5 million job vacancies in the UK over the next 10 years, but only seven million school and college leavers.

Of particular concern to the construction sector are leavers with professional level grades, everything from field service people to manufacturing employees, in addition to the beating heart of our industry; machine operators and plant mechanics, which keep construction machinery on the move.
The 'Training and Education' Zone at Plantworx 2015 will also play a vital role in making the Student afternoon a success. Hosted by the CPA, the zone is dedicated to colleges offering Construction courses and other associations offering training in the construction/demolition sectors.
It is planned that the Training and Education Zone will have an interactive area with machine simulators and visiting students will be encouraged to 'get hands on' and get involved!
The CPA will also be holding the 2015 'Stars of the Future' Plant Mechanic Apprentice Awards on Thursday 4th June to tie in with the 'Student' afternoon. At the inaugural award ceremony at Plantworx 2013, over 250 students and lecturers attended the event.
The 'Stars of the Future' awards recognise and reward outstanding apprentices who not only bring ability and commitment to their learning and their work, but who possess additional capabilities that mark them out as not only being the foundations of the future of our industry, but also potential leaders.
The Plantworx team will be contacting schools and colleges in the areas surrounding Bruntingthorpe (Leicestershire) to invite students and teachers to the event. For more information or if you are an exhibitor who would like to be involved in hosting 'a special event' for students please contact Louise Murphy – [email protected]
Source: Plantworx