The first EC480D HR High Reach demolition excavator from Volvo Construction Equipment to be deployed in the Benelux countries is doing battle with an old NATO military base in the port of Zeebrugge.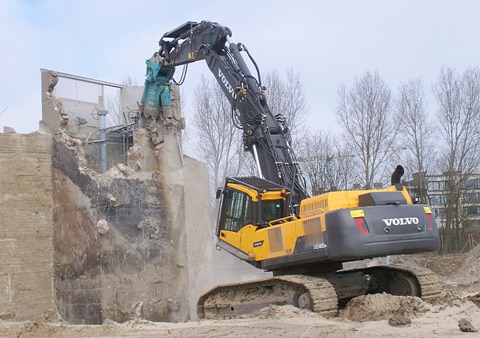 Located on the North Sea coast in the northern Flanders region of Belgium, the village of Zeebrugge literally 'Bruges on Sea' is located at the end of an eight mile (13km) canal, connecting the city of Bruges to the sea with a purpose-built harbor that serves as a modern, international port.
Built during the Cold War era of the 1950s, clearing this former NATO site represents the first phase of a much larger scheme – the Stevin project – which aims at upgrading the region's electricity grid. It will include the construction of a new, high-voltage substation, which will convert electricity from 380 kV to other voltage levels. The work is being done for Elia, Belgium's high-voltage transmission system operator (30 kV to 380 kV), which operates 5,000 miles (8,000 km) of lines and underground cables throughout Belgium.
The Stevin Project is crucial in connecting offshore wind farms and renewable energy facilities in West Flanders, and is considered vital if Belgium's goal of 13% of energy consumption in Belgium to come from renewable sources by 2020 is to be achieved. The project will boost economic development in West Flanders and other projects will also establish power links with the UK and Germany.
The demolition contract was awarded to Belgian company, Aannemingsbedrijf Princen NV – a specialist in high-voltage projects. Founded in 1998 by Wesley Princen, the company has evolved from construction to more specialized electricity projects. With its carefully selected operators certified to work in proximity of high-voltage power lines, the company has participated in numerous complex and demanding electrical development schemes.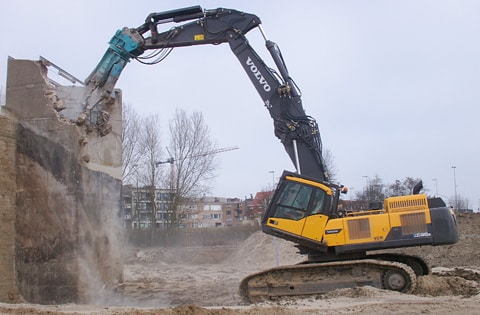 This project includes demolishing two heavily reinforced storage tanks, each of which once contained five million liters of kerosene to fuel military facilities and civil airports across Europe. It also includes the removal of other structures, buried cables, two buried pump stations and some remediation work to remove areas of contaminated soil.
The latest Volvo EC480D HR high reach demolition rig is part of the onsite fleet and is equipped with a short, straight boom and arm configuration.
"With the short boom, I have a pin height of 14 meters and because of the machine's weight of 63 tons, additional counterweight and four meter track width, I can work with a 4.8 ton crusher with excellent stability," says operator and company owner, Wesley Princen. "I also like the hydraulically variable undercarriage and Volvo's hydraulic joint, which makes equipment changes quick and easy."
Leveling the sloping site will involve recycling 12,000 tons of concrete and 50,000 m3 of earth. Given the clay conditions and high water table, the terrain will have to be prepared for the construction of the new substation, which will require covering the entire site with sand, 0.7 m deep. The sand used will be recovered from the site and stored until the work begins. In total, 95% of the materials used will be recycled.
Reaching for the sky
When fitted with its high reach, 27 m boom and arm configuration, the Volvo EC480D HR can carry an attachment up to three tons and offers excellent stability and safety. Safety features include boom-and-arm holding valves, forward and rear view cameras, as well as roof and front screen protection. It also has a Total Moment Indicator that warns the operator if the machine approaches the maximum safe working load. For enhanced visibility and reduced operator fatigue when working at high reach, the tilting cab pivots up to 30 degrees.
When not required for high reach work, the machine's innovative design, including its unique modular joint, enables a switch from demolition equipment to a standard digging boom and arm in just 1.5 hours.
The project began in December last year and the demolition and clean up phase will be completed shortly. Support for the machine will be provided by Volvo's local dealer, VCM.