Steady deterioration in construction and the expected decrease in the number of orders from the public sector force construction companies to continue to compete on price in tender procedures. According to construction companies' representatives, this practice can last until the end of the current EU budget perspective. Adverse consequences of this policy will be felt by all participants of the investment process, including customers.
The results of the fifteenth wave of the survey of high-level professionals from the management and operating divisions of 200 largest Polish construction companies, which was conducted for the purposes of report "Construction sector in Poland H2 2011 – Comparative regional analysis and development forecasts for 2011-2014", reveal a strong downturn in construction industry confidence. PMR Polish Construction Confidence Indicator had a value of -2.4 pts in September 2011, presenting a much less optimistic outlook of construction companies on the future market situation after two years of relative stabilisation.
In the opinion of PMR analysts, the sentiment among market participants was adversely affected by such factors as continued uncertainty in financial markets, most projects for Euro 2012 reaching completion, required cuts in public sector investment spending and the lack of clear signs of recovery in private investment.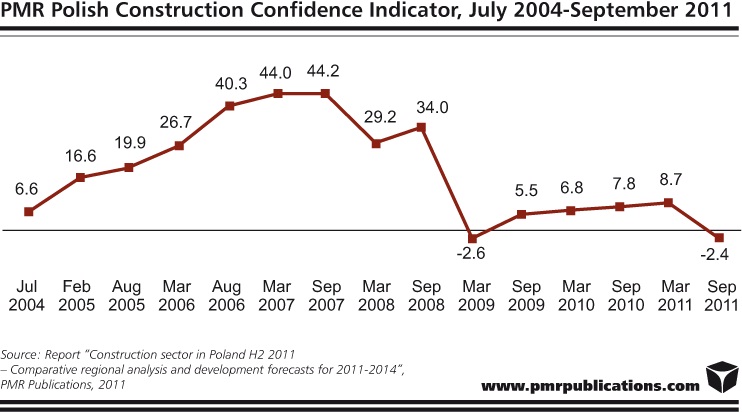 In connection with the disconcerting trend of concluding contract at prices below the investor's cost estimate, the surveyed companies were asked for instance about the performance of contracts secured in the period of strong price pressure. When asked about measures taken to reduce costs of general contracting, respondents indicated two main strategies: hard price negotiations with subcontractors (64%) and suppliers of building materials (58%), which are the factors directly affecting contract execution costs. Other frequent responses included streamlining of work schedule, adapting the design in order to enable the use of more affordable technical solutions and the use of cheaper replacements for equipment.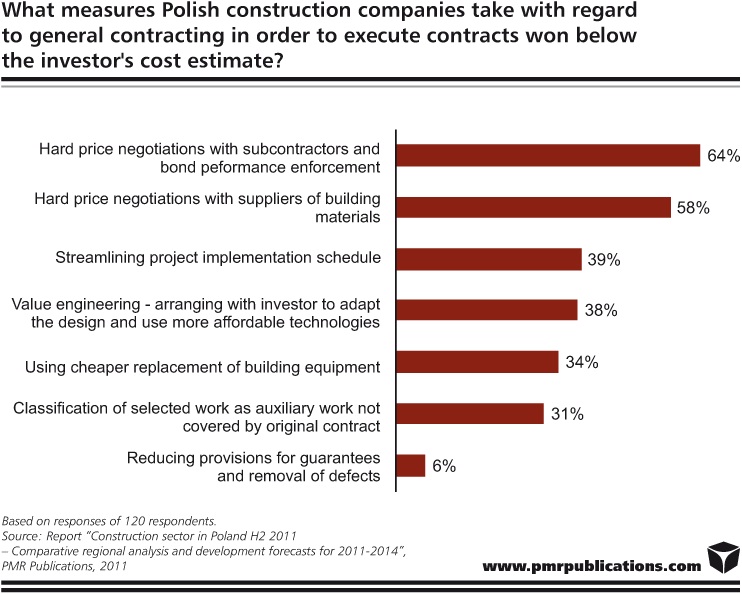 PMR Research interviewers also asked construction companies how long the present price war will continue in the construction market. A vast majority of surveyed companies claimed that this practice would continue to last and they could not see an end to it. Only one-third of companies expected that the price war might reach an end in up to two years.
"The obtained results confirm that strong competition on price will continue in view of a reduced number of tenders. Unfortunately, all parties involved in the investment process are ultimately losers when contracts are signed for values below the investor's cost estimate, starting from suppliers of materials and subcontractors to investors, who eventually end up with a poor quality of the ordered product. Therefore, one of the first tasks to be undertaken by a new minister of infrastructure should be to improve the "Public Procurement Law" so as to eliminate the lowest price criterion as the sole measure in the bid selection process", says Bartlomiej Sosna, Head Construction Analyst at PMR and the report's author.


This press release is based on information contained in the latest PMR report entitled "Construction sector in Poland H2 2011 – Comparative regional analysis and development forecasts for 2011-2014".