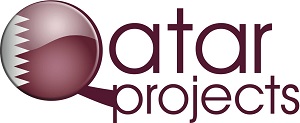 At the 11th annual Qatar Projects Conference, over 400 local, regional and international stakeholders will find out the latest developments, timelines, and procurement requirements to successfully win contract bids in Qatar's growing projects market. Supported by the Public Works Authority (Ashghal), the 2014 Qatar Projects Conference will feature over 90 speakers and two dedicated streams, focusing on commercial opportunities emerging from Qatar's infrastructure & transportation and the oil, gas, power and water sectors.
Conference attendees will hear the latest details on projects to be awarded over the next five years and the stakeholder's plans towards fulfilling Qatar's National Vision 2030. The keynote address will be delivered by His Excellency Sheikh Abdulla Saoud al-Thani, Governor, Central Bank of Qatar, while Ali Al Kuwari, Acting Group CEO, Qatar National Bank is the designated Headline Speaker.
Other experts invited to speak at the event include the Ministry of Municipality & Urban Planning, NDIA, QNB, Manateq, Supreme Council of Health, Hamad Medical Corporation, ExxonMobil Research Center, Qatar Exchange, Nakilat, Total, Oryx GTL, Schlumberger and TNO Qatar. These speakers will present project commercial opportunities tied to Qatar's massive road, ports, rail, construction and social infrastructure plan worth over US$62.2bn.
After having successfully completed its 20-year investment programme to develop its natural gas resources in 2011, becoming one of the world's most important energy producers, Qatar has embarked on an infrastructure investment programme in its non-oil and gas sectors driven by the Qatar National Vision 2030.
"The Qatar's projects market accelerated in 2013, overtaking the UAE in terms of contract awards midway through the year with $12.2bn in new awards, the bulk of which came from the multi-billion-dollar tunnelling packages awarded as part of the Doha metro project. We have structured the programme in 2014 a way that will help attendees learn directly from senior decision-makers about the upcoming project opportunities in Qatar as well as address key challenges and achievements made thus far," said Edmund O' Sullivan, Chairman, MEED Events, organisers of Qatar Projects 2014 scheduled on March 17-19, 2014 at the Grand Hyatt Hotel, Doha.
The Infrastructure & Transport stream features Qatar's road, rail, ports, airports, healthcare, real estate and details project delivery strategies to deliver Qatar's Investment programme.
The Energy & Utilities stream highlights Qatar's plans to grow the downstream sector with the investment into project said to be over US$13bn. The main utilities authorities will also outline their plans to meet power and water demand over the next 5-10 years.
Qatar currently has $16.5bn worth of upstream oil schemes at various pre-execution phases. Given maturity of Qatar's oil assets, the planned redevelopment of various offshore fields is set to offer commercial opportunities for oilfield service companies, front-end-engineering-designers (FEED) engineering-procurement-construction (EPC), refining experts, technology providers and downstream marketing executives. Adhering to the Qatar National Vision 2030, Ashghal contributes to the economic and social development with projects covering roads, drainage, sewerage and buildings valued at US$27.5bn to be delivered within the next five to seven years.
Qatar Projects 2014 is being supported by Mashreq as Silver Sponsor, Al Maysan and Larsen & Toubro as Bronze Sponsors as well as Drake and Scull and Zurich as Conference Sponsors. Other corporate partners include SEIB (Dedicated Partner and Breakfast Sponsor), Qatar Insurance Group (Lunch Sponsor), ibq (Gala Dinner Sponsor) as well as pwc (as Reception Sponsor) and Shapoorji Pallonji (as Networking Sponsor). For an overview of the latest agenda and conference highlights, as well as registration details, please visit www.qatarprojectsconference.com.