Ramtec, a specialist in the design and manufacture of a wide range of innovative machinery and attachments for demolition applications, has recently enlarged its products range and brings existing and new machines to Intermat 2012. The new range is a complete hammer line. Product line consists of three product ranges namely MH-, BH- and EH- series. The previous range of products includes crusher grapples, demolition grapples, screening buckets, multi-processors, pulverizers and cutter-crushers. As previous Ramtec products they are marketed under the Robi brand.
At Intermat, Ramtec plans to display the following machines and attachments: A CG20 crusher grapple; a BH30C hydraulic hammer; an MP19 multiprocessor; a DG15 demolition grapple; and an MM062 screening bucket. They all combine a number of key features: Suitability for various jobs; ease of use and service; and high-quality Finnish manufacturing skills.
The new Robi Multi Master MM062 screening bucket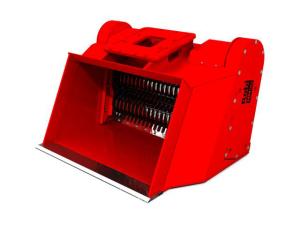 The MM062 is a new patented screening bucket that can be used for screening, downsizing and loading various types of materials including soil, wood, bricks and glass, and other waste materials. It can be easily mounted on an excavator or a wheel loader. The MM series includes four models, MM062, MM104, MM154 and MM254. The weights are 1.2, 1.9, 2.6 and 3.2 tonnes respectively.
The Robi CG patented crusher grapple is an efficient excavator attachment for crushing, pulverizing, sorting and loading of demolished materials. The multi-purpose Robi CG can be easily adapted to the required application by changing the jaw tool – a crushing tooth, a pulverizing plate or a loading cover.
Backhoe series hydraulic hammer BH30C, is designed to fit all modern backhoe loaders, largest mini excavators and skid steer loaders. Sound suppressing housing will be shown in Intermat, suitable for 3-6.5 ton carrier.
The crusher grapple, CG20 is well suited for crushing wood, bricks or concrete buildings down to 350 mm size, and for sorting and loading demolition debris. At demolition sites it pulverizes concrete and also separates rebar from concrete. In scrap yard applications the CG can be efficiently used for sorting and loading different types of waste materials.
There are three models in the CG crusher grapple range: CG20r, CG35r and CG50r. The letter 'r' stands for hydraulic rotation, which is a standard feature in the CG series. The weights are 1.8, 2.8 and 3.5 tonnes respectively.
The Robi DG demolition and sorting grapple series attachments include 5 models of which the DG15 will be shown. The DG grapples are specially designed for light demolition projects: Wooden buildings, bricks, concrete without rebar, and for sorting and loading demolition debris in scrap yard applications, too.
The new MP range of Multiprocessors is aimed to a multitude of demolition tasks. The MP19 at the show is designed for primary applications and in particular for crushing concrete and cutting reinforcement structures. Its operating weight is 2,270kg with a maximum jaw opening of 859mm, maximum cutting force of 2,800 kN and maximum crushing force of 1,350 kN.

For more info:
www.ramtec.fi
Source: RAMTEC News Room