Looking to raise safety standards in South Korea, demolition firm Sungdo Construction is leading by example, bringing down an unstable, old hospital with its Volvo ultra high-reach excavator.
Since Sungdo Construction was founded in 1979, the family run company has become South Korea's leading demolition firm. The business is known for its work in high-profile demolition projects, such as the clean up of the collapsed Sampoong department store, the dismantling of the Cheonggye elevated highway and most recently, demolishing a 10-storey hospital in Changwon, with the help of a Volvo EC480EHR.
Doh Moon-gil, CEO and chairman of Sungdo Construction, chose the ultra high-reach excavator – the first of its kind to be used in the country – to help encourage higher safety standards in Korea's demolition industry. He acknowledges the construction business was 'the foundation' of Korea's post-war economic development, which propelled the country from one of the world's poorest in the 1950s to one of the wealthiest today. But, when it comes to safety regulations in the international construction industry, Korea has not yet caught up with global norms.
"It is common practice in the Korean construction industry to lift a conventional excavator on to the top of a building and dig down, which increases the possibility of collapse," Doh explains. "High-reach demolition is safer for operators, as well as anyone else at the project site. And there are some projects where a normal excavator just can't get the job done – this hospital demolition was one of them."
Offering Sungdo Construction the extra height it needed, the Volvo EC480EHR was customized with a 3.4-meter extension to the standard 28-meter long boom. As the first ultra high-reach excavator in South Korea, Doh believes that not only will it elevate safety standards in the country but it will also open the door to new opportunities for his company.
SAFE AND SOUND
Keeping Doh and his team safe on the job, the ultra high-reach excavator has a steel frame-mounted Falling Object Guard (FOG) cabin and reinforced windows to protect the operator from being struck by debris. Cameras on the boom, rear and sides of the machine allow for views of the entire work area.
Mun In-hwan, one of Sungdo Construction's most experienced operators, confidently uses the EC480EHR to bring down mounds of concrete and rebar. Towering way above the four-meter high, aluminum barricades that surround the 18,000m² job site, this is a machine that can't be missed. Fitted with a three-tonne sheering tool that can slice through metal and cement, Mun says he has never felt safer while on a job than when he's operating this machine.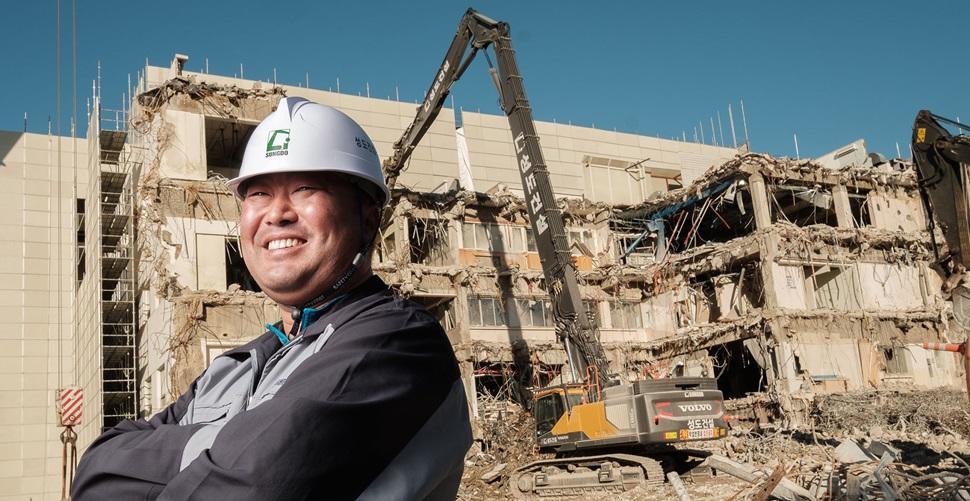 "Doing the work without a high-reach machine would be really dangerous considering how unstable this building is," Mun says. Over his 14-year career as an excavator operator, he has had 'several close calls with death'. And as a father, he wants to feel confident that he will always be able to return home at the end of the day in the same condition he started.
In addition to the safety features of the ultra high-reach excavator, the machine also has a dust suppression system, which is a real benefit considering the hospital worksite is adjacent to the new Samsung Changwon Hospital.
HIGHER, FASTER, SAFER
Leading the way for the Korean demolition industry, Sungdo Construction has previously devised new demolition methods and founder Doh hopes the use of high-reach machines will become standard practice. Though he realizes that enhancing the quality and safety of demolition in his country will not come easy, he believes his position as chairman of the Construction Policy Committee, which is part of the Korea Specialty Contractors Association, will help him to improve industry standards.
"Not only did the high-reach excavator improve working conditions, it also increased our work rate," said Doh. "In seven days we were able to complete what would normally take 10 days. I'm advocating for the implementation of new safety regulations. Once these are adopted, I hope the demand for more high-reach demolition machines, like the Volvo EC480EHR, will also increase."