CONEXPO-CON/AGG and IFPE March 7-11; Register Early and Save
MILWAUKEE (July 26, 2016) – The future will be front and center at CONEXPO-CON/AGG and IFPE 2017; register now to save, with new Badge-Packs for added value and convenience, and access to the new Tech Experience.
Register early to save time and money and get the best hotel rates and availability. Save 40 percent registering by January 13. Register online at www.conexpoconagg.com and www.ifpe.com.
In addition to exhibits, CONEXPO-CON/AGG and IFPE 2017 will feature in-depth industry education, with flexible education ticket options to fit attendee needs and schedules.
CONEXPO-CON/AGG and the co-located IFPE exhibitions will be held March 7- 11, 2017 at the Las Vegas Convention Center in Las Vegas, Nevada, USA, spotlighting the latest technologies, products and best practices for the construction and construction materials and fluid power/power transmission/motion control industries.
New Badge-Pack: Value and Convenience
The show Badge-Pack includes a free multi-day Las Vegas monorail pass and deluxe coach bus transportation between most official hotel partners and the shows, as well as discounts at Las Vegas bars and restaurants. The shows are the first to partner with the Las Vegas Monorail Co. to offer the pass.
The Badge-Pack covers admission to both exhibitions, with a combined seven different lots and halls already spanning more than 2,500,000 net square feet exhibit space – a record breaker, with 2,500-plus exhibitors expected and nearly 700 new exhibitors already signed up.
Attendees will also have access to the new 75,000-plus square foot Tech Experience, which will showcase the ideas and technologies that will transform the future of construction to enhance safety, productivity and profitability.

Source: CONEXPO-CON/AGG Youtube
Faster Connections with Mobile App, New Show Layout & Registration Features
New, for added convenience, pre-registered attendees can pick up their Badge-Packs at 10 Las Vegas hotels and the Las Vegas McCarran International Airport. And the shows have added a third full-service registration area onsite for speed and convenience (registration areas at Las Vegas Convention Center Gold Lot and Bronze Lot and Westgate Hotel adjacent to North Hall).
Attendees will find a more efficient show layout to connect with exhibitors, plus additional food outlets and comfort zones (seating areas and charging stations).
A mobile app (coming this fall) will continuously synch to the shows' online planner. Attendees can stay connected with show updates to maximize their time and stay organized with a personalized schedule of exhibitor and education details plus interactive 3-D maps.
FOMO* on Future of Construction? Not with New Tech Experience
You'll have no * "Fear of Missing Out" (FOMO) on the future of construction with the new Tech Experience at CONEXPO-CON/AGG and IFPE, which will extend the technology shown on the show floor and is dedicated to presenting emerging construction innovations that are driving change and process improvements across the industry.
"We've designed this as an engaging experience that will bring to life the trends and solutions that are developing now and emerging in the next several years for the jobsite, workforce and infrastructure," said Show Director Sara Truesdale Mooney.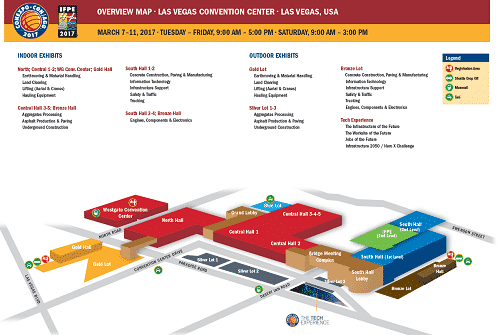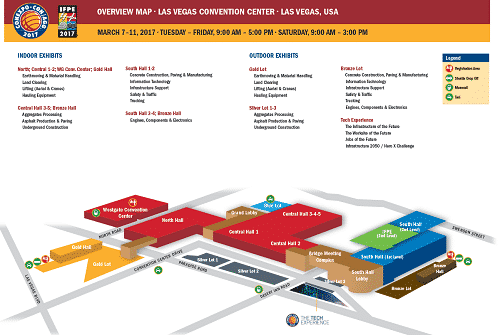 Mooney explained the Tech Experience will also feature a Tech Talks educational forum and spotlight the Infrastructure Vision 2050 initiative of the Association of Equipment Manufacturers (AEM).
"And don't miss the world's first fully-functional steel 3-D printed excavator," Mooney added.
"Our focus is on continuous improvement, partnerships, thought leadership and technology; we never rest on our laurels. It's all here, in one place, the innovations and the experts – don't miss it!"
For the latest show information, visit
www.conexpoconagg.com
and
www.ifpe.com
.
###