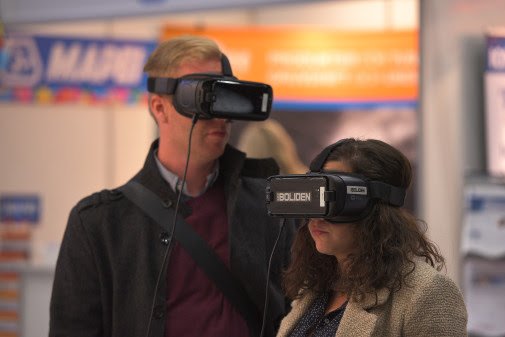 Now registration opens for one of Europe's most important meeting places for the mining industry.
"Make reservations for the things you are interested in as soon as possible, but also make sure to arrange your travel logistics. This year you can book the accommodations through our website", says Sinnika Sjunnesson, project manager for Euro Mine Expo.
One of Europe's most important meeting places for the mining industry opens its doors on June 9. But Euro Mine Expo actually starts as early as the day before, on Monday, June 8 with a record number of field trips to interesting projects and mines in the area.
During Euro Mine Expo there is a large selection of events for participants and visitors to take part in. This year's conference program, for example, focuses on areas such as fossil-free mining, automation, batteries and metals, and sustainability. In addition, mini-seminars are held by interesting companies, presenting their latest innovations, products and services for a maximum of 20 minutes.
Euro Mine Expo also hosts an innovation competition held by SIP STRIM, the strategic innovation program for the Swedish mining and metal mining industry, which is part of Vinnova, the Swedish Energy Agency and Forma's strategic innovation areas (SIP).
At Euro Mine Expo IUC Norr organizes activities around ValueMine, a workshop event for mining companies and suppliers to the mining industry. The event focuses on business opportunities through future mining and digitalization of process industry ecosystems.
"The fair is filled with exhibitors who will provide a professional and big picture overview of today's mining industry, it's pace in innovation and work regarding sustainability, to name just a few aspects," says Sinnika Sjunnesson.
She also points out that other types of events are taking place at Euro Mine Expo. Swemins lunch for Women in mining that highlights the work on gender equality and diversity in the Swedish mining and mineral industry is one example.
"We also have a number of events for networking such as a get together & mingle party, a housewarming and the fair dinner that we have given the name Mining & Dining".
She also wants to highlight the morning meeting that Skellefteåmuniciplityhosts on Thursday morning.
"It is an event that is both important and very appreciated during the Euro Mine Expo", says Sinnika Sjunneson.
For more information, contact:
Sinnika Sjunnesson, project manager
+46(0)70-661 15 64
sinnika.sjunnesson@nolia.se
Euro Mine Expo is an international trade fair and conference for the mining industry held every two years. It's organized in Skellefteå by Nolia, the largest organizer of meetings, trade fairs and events in northern Sweden, or as we call it: Norrland.Euro Mine Expo 2020 will be held9-11 June at Skellefteå Kraft Arena in Skellefteå, Sweden.