Charente-Maritime is a pretty seaside resort located on the western coast of France with over two kilometres of stunning beaches. The beaches have recently reopened for exercise following France's progressive and controlled Coronavirus lockdown exit plan.
To keep the area in tip-top shape the local council is required to carry out maintenance throughout the year, which includes landscaping, pavement repair, clearing tree roots on the highways, road edges, and gutter repairs. Also, being in a coastal location, the council also must replace and sift sand, install waste bins in preparation for the anticipated summer rush, when beaches fully reopen, and remove winter fencing.
To hire or to buy?
To carry out maintenance the local council had traditionally hired in an excavator to do the essential works, however, the council decided that better use of budget would be to purchase their own machine – rather than hiring in from a rental company. By owning its own excavator, the council would always have a public works machine available for its road works and beach cleaning operations.
After some research – the council purchased a 2.5 tonne R25Z-9A mini-excavator from local Hyundai Construction Equipment dealer, Motard.
"We discussed the issue of hire or buy, and we eventually opted for buying." Explained a spokesman from the Community Council highways and beach-cleaning team.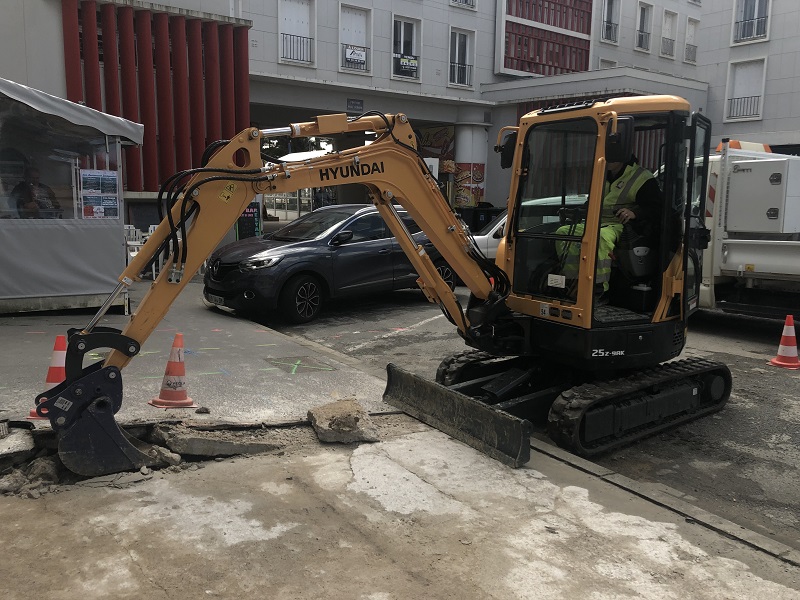 He continued, "Purchasing our own excavator means that it is always available when we need it, whereas hiring means certain restrictions – for example – we have to reserve a machine in advance and then collect it, which entails additional expense to the hire costs. Also, if we had to carry out some minor works lasting just half a day, we were paying the equivalent of a full day hire rate.
Now that we have our own Hyundai machine, we use it every day! It's incredibly versatile and compact, which is ideal in the town. The four criteria we used to make our choice were manoeuvrability, power, versatility, and compactness.
It had to be manoeuvrable for work we carry out in the urban environment, where space is often limited. But it also had to be powerful enough to pull out roots, for example."
The highways officer concluded, "So, after putting the purchase out to tender, and having received several bids, we chose Motard, who is the Hyundai Construction Equipment dealer in our area and purchased the R25Z-9A mini excavator.
We also tried various machines on demo – and our operators really liked the Hyundai R25Z-9A and their opinion was very important to us."
The R25Z-9A mini-excavator.
Powered by a proven, reliable, fuel-efficient, low emission and low noise Mitsubishi Stage IV engine, the R25Z-9A's short tail swing radius allows the operator to work in confined areas. This compact radius design provides easy and efficient operation in any limited space work environment.
The R25Z-9A's boom swing function is designed for efficient work in congested residential and urban areas. The boom can be offset left or right within a specific operating range.
The new R25Z-9A can be moved on a small trailer, with a car driver's license. No truck is required to transport the machine to a jobsite, and back to the yard.
A tiltable left-side console makes it easier for the operator to enter and exit the cab.
An adjustable suspension seat, wrist rests, ergonomically designed joysticks, and plenty of legroom help to reduce operator fatigue. An array of indicators and gauges are displayed on the monitor which keeps the operator aware of machine performance at all times. The monitoring system includes seven warning indicators, water temperature gauge, fuel gauge, and hour meter.
The doors, covers, and engine hood can be fully opened, and all the service points are located in the same area so the daily checks can be efficiently carried out.
The R25Z-9A has a maximum digging depth of 2,420 mm, and a digging reach of 4,480 mm – the machine is fitted with two travel speeds (2.5 and 4.5 km/h), so it can be used at low speeds in restricted working environments or at higher speed on construction sites.
Source: Hyundai Construction Equipment Europe Press