Riyadh, Saudi Arabia; 18 September 2014 – The return on buildings as a proportion of GDP in Saudi Arabia is one of the lowest among major economies but should rise sharply in the years to 2022, the annual MEED Saudi Mega Transport & Infrastructure Conference was told this morning.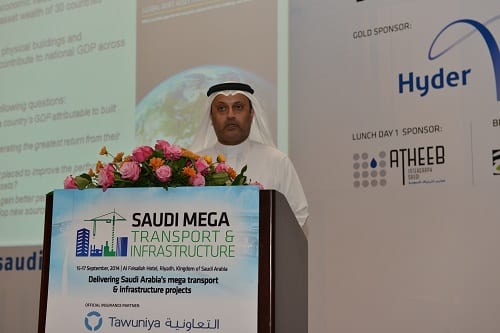 "Saudi Arabia's return on built assets is relatively low," head of property and social infrastructure in Saudi Arabia for Arcadis Hisham Al Malaika said. "We also have a huge issue in the quality of the infrastructure we are building in Saudi Arabia."
Aracadis has completed a study into returns on built assets on a total of 30 countries. They included Qatar, Saudi Arabia and the UAE. "The UAE was ranked seventh among the 30 countries in terms of return on built assets as a proportion of GDP. Saudi Arabia ranked 29th," Al Malaika said.
He also stated that the return on built assets would be lifted by paying greater attention to planning, procurement, operations and maintenance and replacement and renewal of built assets.
Meanwhile, international construction companies have been advised to choose their projects in Saudi Arabia carefully to avoid the manpower and materials shortages that are currently blighting many schemes across the kingdom.
At a construction leaders' panel organised at the event, experts say contractors need to work smartly to avoid the possibility of having massive losses on megaprojects due to overextending their operations.
Louis Berger Vice President and Regional Director, KSA Ayman Nahas says the company "has the expertise and capability to assist our clients to solve their most complex infrastructure and development challenges." Its proven track record of delivering results and leaving a lasting legacy for the Kingdom and its communities will be critical as the Saudi projects market gains further momentum across infrastructure, transportation, water & wastewater and buildings sectors.
The second day of the conference features important keynote addresses, to be delivered by His Excellency Dr. Muhammad Al Jasser, Minister of Economy & Planning, Kingdom of Saudi Arabia; and Mr. Ahmad Al-Humeidan, Deputy Minister of Labour Affairs, Kingdom of Saudi Arabia, who will detail the present and potential contribution to Saudi Arabia's growth in local employment within the construction and project delivery industry to 2025.
It will be followed by a dedication session on funding and financing for Saudi Arabia's $70bn worth of megaprojects, with experts identifying which mechanisms are available for financing mega transport and infrastructure projects, as well as the extent of financing need to support the Kingdom's long-term projects requirements.
The MEED Saudi Mega Transport & Infrastructure Conference is organised with the permission of the Ministry of Commerce & Industry and in partnership with GC Company LLC of Riyadh. It is supported by Tawuniya as Official Insurance Partner, Hyder as gold sponsor; as well as Alstom and SABB as silver sponsors. Autodesk has signed on board as bronze sponsor. Arcadis hosted the masterclass. Atheeb is sponsor of lunch on day one. Bentley is host for breakfast on day two. Acconex; Dr Saud Al-Ammari Law Firm in association with Blakes; Faithful & Gould; Hill International; Pace and Drake & Scull are conference sponsors. Louis Berger is associate sponsor.