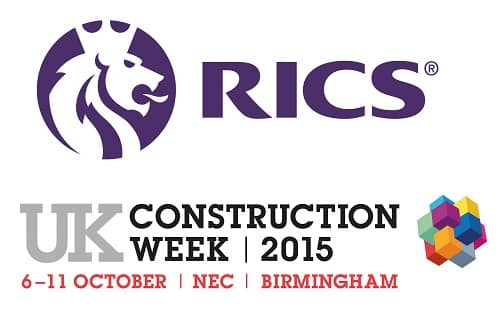 Preparations for the inaugural UK Construction Week are gathering momentum as the Royal Institute of Chartered Surveyors (RICS) pledges its support as official event partner for the exhibition.
Steeped in heritage, RICS is a trusted and authoritative voice within the land development and management industry. Promoting and enforcing the highest professional standards in real estate, construction and infrastructure, RICS accredits more than 118,000 professionals as well as working at national and governmental level to influence policy.
As an official event partner, RICS will play a key role in shaping UK Construction Week's comprehensive seminar programme. Bringing its wealth of experience and unparalleled knowledge of building development policy, the partnership with RICS ensures that visitors will benefit from up-to-the-minute information and guidance.
In particular, RICS will contribute to the debates, workshops and panel discussions at UK Construction Week's main stage and the Build Show's Homebuilding seminar theatre. Matt McDermott, Sales and Marketing Director at RICS, is a confirmed panellist on day one at the main stage for the discussion: How can the UK construction industry improve its image problem? Kim Worts, Director of UK External Affairs at RICS, is also a confirmed panellist for day two's discussion: How can construction find, compete for and retain the best talent?
In the Homebuilding theatre, Jeremy Blackburn, Head of Policy and Parliamentary Affairs at RICS, will take to the stage on day one to lead a seminar entitled: Clearing bottlenecks in UK housing land supply – from the house builder's / developer's perspective.
Matt McDermott, Sales and Marketing Director at RICS, commented: "We are constantly working with individuals and government to develop a brighter future for the construction industry and all those employed within it. UK Construction Week is a fantastic opportunity for us to continue our conversations with professionals from across the industry, sharing best practice and gaining a greater understanding of the issues directly affecting our members' businesses, as well as the wider economy."
Held at the Birmingham NEC from 6 – 11 October (with the trade only days from 6 – 8 October), UK Construction Week will cover the full spectrum of the built environment. Bringing together nine shows under one roof, the event will unite 1,000 exhibitors and more than 55,000 visitors.
Visitors will be able to attend Grand Designs Live, the Build Show, Timber Expo, the Surface and Materials Show, Energy 2015, Kitchens & Bathroom Live, Plant & Machinery Live, HVAC 2015 and Smart Buildings 2015.
Richard Morey, Group Events Director at Media 10, the event company producing UK Construction Week, commented:
"RICS members are some of the most influential professionals in the construction industry and posses real authority over future projects and working practices. With the input from RICS into the seminar programme, visitors will gain a greater understanding of where the industry is headed and how to best position themselves to succeed in the future. I am therefore delighted to have such a partner come on board to support the show."
For more information please visit www.ukconstructionweek.com or follow @UK_CW on Twitter.