The use of Drones in construction has grown dramatically in recent years and there is an aerial revolution happening across the entire industry.
These flying cameras or UAV's (Unmanned Aerial Vehicles) are transforming the way we work – from small-scale construction sites to mammoth infrastructure projects – a bird's eye view from a drone, which can store accurate measurement data, video and images, offers a level of project monitoring which has not been previously possible.
The UAV sector is set to be worth billions over the coming years as more and more companies invest in this advanced technology. Price Cooper Waterhouse's (PCW)' recent study of the, Impact assessment of drones on the UK economy by 2030, states that the construction and manufacturing sector will see an uplift of around £8.6bn due to drone technology.
The success of drones within the construction sector is attributed to many big-name companies currently using drones as part of their portfolio – these include major contractors, Kier, Balfour Beatty, Costain and Interserve – to name but a few.
Plantworx construction machinery exhibition has become synonymous with innovation and at this year's event, which is taking place from 11-13 June, at the East of England Arena in Peterborough, the show will host its first ever 'Fly Zone' – where visitors can experience drones first-hand.

Plantworx has formed a partnership with COMIT (Construction Opportunities for Mobile IT). COMIT has been bringing construction and technology together since 2003. The organisation aims to improve understanding between the construction and technology industries and speed up the adoption of mobile IT within the construction sector.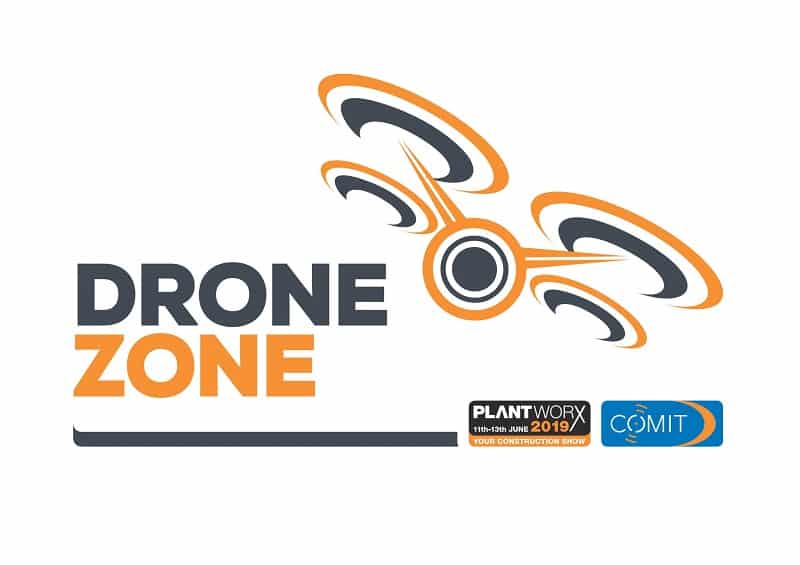 COMIT is also planning to host its 'COMIT2Drones Annual Conference' at Plantworx, in addition to the drone exhibition and daily flying demonstrations.
COMIT's Chair for Drone Technology, Tony Shooter, commented on the collaboration with Plantworx, and the rapid rise of drones he said, "There certainly seems to be a lot of excitement around the PWC report – the figures for construction are mixed in with manufacturing, but even a small proportion of the GDP uplift of £8.6bn, would be a welcome boost to the construction sector. COMIT and its members are playing a crucial role in delivering on the PWC 2030 vision."
Tony continued, "What better way to showcase today's drone technology in the construction sector, than at Plantworx, where there is a strong focus on innovation and leading technologies. This event is probably one of the most important developments in advancing drones in the construction sector.  This will be a unique opportunity for a substantial audience in our industry to experience first-hand what drones can deliver for their business."
The 'Fly Zone' will occupy over 2,300 square meters of stand and flying space, situated in an indoor venue at the show, located on Avenue B. With one of the UK's largest indoor drone demonstration zones visitors can experience first-hand the technology in action over the three-days of Plantworx.
The 'Fly Zone' coupled with engagement with exhibitors, who have extensive knowledge of work in the sector, and a full speaker program, from leading organisations and experts in this area – there is no better place to discover drone technology in 2019.
Visitors can expect to see a wide range of drones with many capabilities. The Topcon Falcon 8 Survey UAV will be one of the drones demonstrating its skills in the Zone.
Powered by Ascending Technologies, the Falcon 8 is a rotary-wing UAS designed for inspection and monitoring or survey and mapping applications – and has been adopted by several high-profile companies within the Construction Sector.
Organising the event alongside Tony Shooter is Joanna Oliver, CEA's Director of Global Programmes. Joanna commented, "We are really excited about this unique new element to Plantworx we are confident it's going to be a huge success. Drones are already changing the way the construction industry operates and is growing at a rapid rate. Plantworx is delighted to showcase this advanced drone technology to our visitors."
There are sponsorship, exhibiting and speaker opportunities surrounding the new 'Fly Zone' for further details please contact COMIT's Drone Technology Chair, Tony Shooter on Tel: 0203 752 0040 or email [email protected]
For further details on Plantworx visit www.plantworx.co.uk. For further details on the Drone Zone visit www.comit.org.uk/dronecon

Source: Plantworx Press