Startup Rokla produces transverse cutting units with top-technology from Ian Webster
Langenburg, Baden-Württemberg, Germany – British engineer Ian Webster is well-known in the industry for being the world's most innovative designer and developer of cutting technology. Rokla GmbH has recently started the exclusive production of the latest generation of Webster Hydraulic Cutting Units with high-quality components from Germany.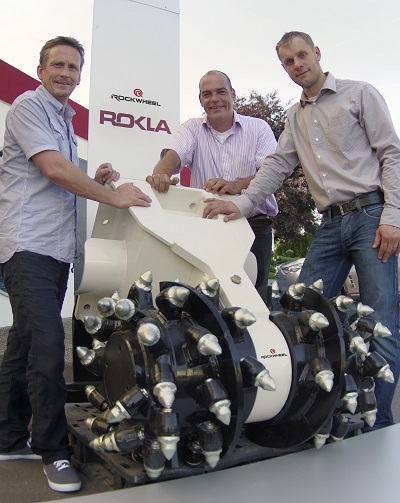 A strong Team: (left to right) Ian Webster, design engineer of the innovative Rockwheel cutting units, with the founders of the company Klaus Volkert und Robert Piasecki. Rokla GmbH combines British innovation and decades of experience in cutting technology with the "Made in Germany" quality seal.
Startup Rokla GmbH and Ian Webster have launched an innovation campaign under the brand name Rockwheel. The novel, extremely powerful transverse cutting units are robust, reliable and versatile, available in various sizes and will be launched on the world market at competitive prices. Rockwheel cutting units combine British inventive talent and decades of experience in cutting design with the 'Made in Germany' quality seal.
Components for the cutting units are sourced entirely from renowned German suppliers and assembled by skilled employees in Baden-Württemberg. 'This guarantees that a Rockwheel cutting unit is a top-quality product', Robert Piasecki states. Rokla GmbH was founded by Robert Piasecki and Klaus Volkert. The company has its headquarters and manufacturing plant in Langenburg.
'Only Rokla produces a wide range of gearless cutting units as well as cutting units with gearboxes in the lower to high performance category.
Until recently the business partners (and friends) held executive posts at the construction equipment manufacturer Terex. In the run-up to the current reorganisation of the business division Terex-Compact, they decided to leave the company and to start their own business based on the latest Webster cutting technology designs.
In the middle-sized and medium-performance class the Rockwheel cutting units 'Made in Germany' have only three main components: the housing, motor and cutting heads (with picks). The design engineer Ian Webster deliberately dispenses with gearboxes on these four models. It is Webster's point of view that on these cutting units, with outputs ranging from 29 to 110 kW and used on 10 to 40tonne excavators, the gearboxes offer no advantage but they cost money.
'Our three-part Rockwheel cutting units provide the required maximum performance at all times but are significantly lighter in weight than those of the direct competitors', Robert Piasecki states. As a result it is possible to achieve a powerful performance with Rockwheel cutting units – even with smaller excavators.
A four-part Rockwheel-model, with gearbox, for 2 to 10 tonne excavators will also be available. This 22 kW cutting unit has a special feature: with a second motor the power output and performance of the (tool) attachment can easily be doubled. Currently the largest Rockwheel cutting unit is being produced – also a four-part unit, with gearbox. This powerhouse for excavators of 40 tonnes and over has a power of 140 kW to 220 kW.
All Rockwheel cutting units are equipped with high-torque hydraulic engines and are designed so that the picks, which are mounted on the drums at an optimal angle, can penetrate the material with maximum power. The cutting heads of the smoothly and quietly operating cutting units rotate at a speed that achieves outstanding excavation and ensures a clean profile. The design and power components of the low-vibration Rockwheel cutting units are perfectly adjusted, ensuring that the picks grip strongly and hardly never bounce.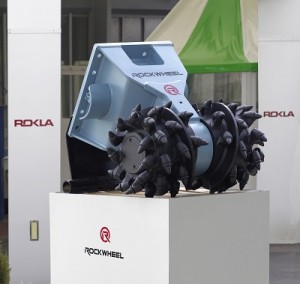 The Rockwheel range is suitable for use in the following environments/applications: Demolition and building renovation, roadwork, trench construction, civil engineering, tunnelling, cutting slots and ditches, frozen ground, special underground engineering, removal of tree stumps and extraction of materials. In particular, the Rockwheel achieves a perfect profile for walls, piles and floor levels where HDI- and MIP-methods are used. Hydraulic transverse cutting units have proven to be a strong alternative whenever blasting is forbidden or not practical. Rockwheel cutting units work just as well underwater as in dry conditions without having to be modified.
Cutting units from Ian Webster's 'inventor's workshop' have for decades proven their versatility, efficiency, economy, and reliability during use. In the UK and several Asian countries, Ian Webster and Angela Naylor already hold a strong market position with their company Webster Equipment Ltd., Sheffield/UK.
With the brand 'Rockwheel' and the latest generation of Webster cutting units, Rokla GmbH throw open their doors to the European and international market. The production of the new Rockwheel cutting units, direct sales in Germany, renting worldwide and their service and maintenance facilities are located in Langenburg. Rokla GmbH has engaged the services of Frank Pitkin – an experienced professional in the field of construction equipment. His strength is the international business concerning construction machines, mining machinery, tunnelling machinery as well as attachments of all types. During his career working in sales for CAT and Terex he has demonstrated his ability for many years. 'With the innovative cutting technology of Ian Webster, an excellent price-performance ratio and a reliable service I am sure we can meet the challenges of the competition', says Klaus Volker.
Website: www.rockwheel.com