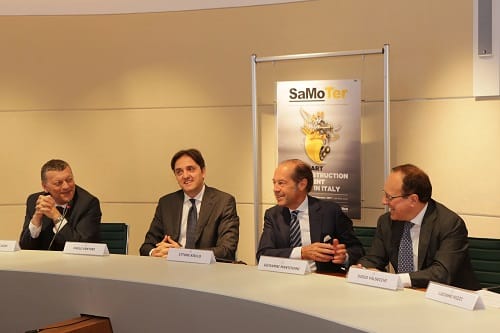 An agreement was signed today between Veronafiere-SaMoTer and Unacea to promote and support of the Italian construction machinery industry. The sector boasts 200 companies and turnover of more than 2.5 billion euros. SaMoTer 2017: focus on the management and prevention of environmental emergencies through man-machine interaction, sustainability and bureaucratic simplification.
Verona, 23 June 2015 – Together to re-launch and sustain the domestic construction machinery and equipment market. Veronafiere (organizer of SaMoTer, the three-yearly international exhibition of earth moving and building machinery) and Unacea (the Italian Association of sector companies) signed a partnership agreement today for joint promotion and support for the sector.
The agreement will run until 2017 with an extension option through to 2020. It is a strategic move with a view to the 30th edition of SaMoTer scheduled in Verona 22-25 February 2017. The focus of the coming show will be on solutions for environmental emergencies and protection, the territory and hydrogeological risk (www.samoter.com).
The agreement envisages joint promotion, training and communication action on domestic and international markets. It was signed and presented this morning at Veronafiere by Ettore Riello and Giovanni Mantovani, President and CEO of Veronafiere, and Paolo Venturi, President of Unacea.
The meeting also welcomed a report by Roberto Paoluzzi, Director of Imamoter, the Institute of the National Research Council (CNR) which already cooperates with Unacea.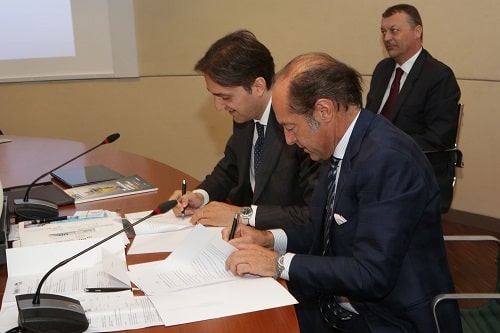 The agreement aims to support an industrial sector that is an important niche in Italian manufacturing, with more than 200 companies, 6,000 direct employees and 30 thousand employees in allied fields, involved in producing machinery for earth-moving, road building, preparation of cement-concrete and aggregates, drilling equipment and cranes.
This sector in 2014 posted turnover of more than 2.5 billion euros, with 70% generated by exports. The weak point, however, is the domestic market itself, which collapsed by 80% between 2006 and 2014 with the consequent risk of production relocation. Since 2014, however, there has been something of a reversal in this trend, thanks to growth of 11% in domestic sales confirmed in the first quarter of 2015 that closed at +19%.
The objective is to support these initial signs of recovery and SaMoTer is the most effective promotional tool for doing so: since 1963, it has been the only exhibition in Italy to embrace the entire chain of construction and site machinery.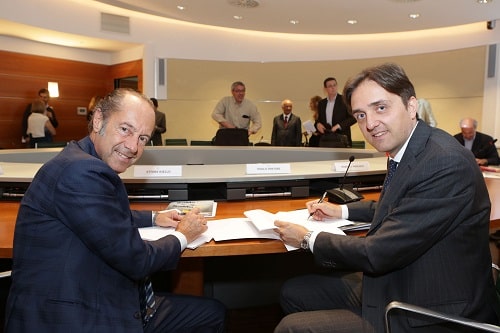 "It is more than ever vital to capitalize on these results. And to achieve this, the entire industrial, economic, association and political system must join forces. In this context, we are convinced that trade fairs are a fundamental strategic asset for our country and its companies"
said Ettore Riello, President of Veronafiere.
"We were delighted to sign a collaboration agreement with Samoter in order to develop closer synergy benefitting all companies in the sector" said Paolo Venturi, President of Unacea – Unacea will make a determined contribution to Samoter to ensure that the 2017 edition will be an innovative platform for the entire construction machinery world in Italy."
"The 30th edition of SaMoTer will inaugurate an innovative format that places the needs of companies at the centre of the new exhibition project developed by Veronafiere. We are already working along two guidelines as regards incoming attendance: the first seeks to attract more visitors from the Central-Southern Italy, the second to increase appeal and influence on traditional Central European markets in addition to a special focus on , Eastern Europe and the Balkans,"
said Giovanni Mantovani, CEO & Director General of Veronafiere.
Samoter 2017 will be held once again in conjunction with Asphaltica, the international asphalt industry, equipment, technologies and road safety exhibition, focuses on the management and prevention of environmental emergencies through man-machine interaction. In Italy, 43 billion euros will be needed to ensure territorial safety and the Government has launched the #italiasicura project to combat hydrogeological risks.
In this context, specialised construction machinery is therefore fundamental, alongside the most advanced technological solutions that are in the forefront of the event. The focus of the forthcoming edition of SaMoTer also includes sustainability, with the introduction of low-emission and high-efficiency machinery, and regulatory aspects linked with the sector with a view to streamlining bureaucracy and alignment with European legislation.