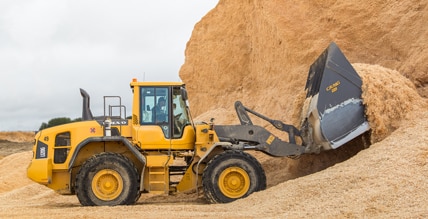 Tembec is producing more than 115 million square feet of timber a year – with Volvo Construction Equipment 'chipping' in to help.
Cochrane is now a bustling town in northern Ontario, Canada, just northeast the local city of Timmins. The trappers may have long gone but you still need to be of a hardy disposition to live in Cochrane. Plenty of snow falls in the winter when temperatures often dip to minus 40oC.
Despite the major forestry market downturn over the past few years, timber remains an extremely important sector of the Canadian economy, which thankfully is once again on solid footing. Among the leaders in the industry is Tembec that is not only a manufacturer of forest products – lumber, pulp, paper and cellulose but also a global leader in sustainable foresting.
Established in Canada in 1972, the company has facilities in both North America and France and employs 3,500 people. The company manages nearly 10 million hectares (about 25 million acres) of Canadian forestlands. Its Cochrane sawmill opened in 1976 employs 120 people, making it an important contributor to the local community in the region. Working two shifts a day, six days a week, the mill is currently producing about 115 million square feet of lumber annually.
The timber is shipped to markets across North America for use mostly in the construction and building industries. Even the 'waste' material is used to good effect –the refined wood pulp and sawdust is used as a strengthening agent to make paint, cosmetics and plastics – even dairy products.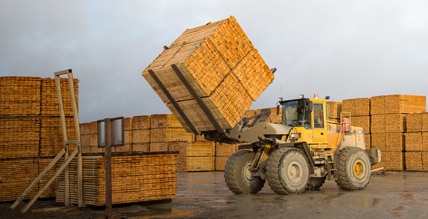 Planned replacement
To keep Tembec's saw mill productive and profitable it began to replace its aging fleet of six wheel loaders.
"Over the years we have experienced many different brands of wheel loaders," says Paulo Gignac, senior manager at Tembec. "We knew there were several brands available so thought the best place to start was in our own mill yard where a Clark Michigan wheel loader had clocked over 160,000 hours. The brand name Clark Michigan was changed to Michigan with the creation of the VME Group in 1985 – so to us, it was Volvo."
"Keeping machines fully operational in a demanding lumber mill, in harsh climatic conditions, is not easy," says Tembec's head mechanic, Serge Thomas. "The secret is maintenance, which is easy on Volvo machines because of their accessibility. We clean and change the machine's air filters every week, blow the radiators clean as often as is necessary and change the engine oil every two weeks or 250 operational hours. Engine oil is cheap compared to engines. The Volvo wheel loaders are always parked outside and we keep them plugged in to block heaters at night. We never have any problem getting them started – even when the temperatures really drop."


A new recruit
Local Volvo dealer Strongco recently delivered a new Volvo L120G wheel loader to Tembec's Cochrane operations. Working a 20 hour shift two shifts a day, the L120G feeds and tails the saw mill and then stacks, feeds and loads the wood onto trucks and railcars. The machine is fitted with either a bucket to work the chip pile or a blade for yard cleanup and road maintenance. In winter, snow clearing is also necessary.
Providing high torque at low engine speeds, Volvo machines consistently deliver industry-leading fuel efficiency, lower emissions and less noise, both inside the cab and outside the machine. The advanced diesel particulate filter operates automatically while the machine is working, with no impact on its performance.
The all – Volvo drivetrain – engine, transmission, axles, hydraulics and steering – are designed to maximize performance and extend machine life. In order to ensure the machine was used to the best of its ability, when the new L120G arrived, Volvo and Mississauga, Ontario-based Strongco, provided all Tembec Cochrane operators and mechanics with a full day of on-site training. Tuition touched upon operator best-practices to enhance comfort, improve production and lower operating costs.
"Compared to our other wheel loaders we are saving between 45 and 55 liters (11-15 gallons) of fuel every shift, which is significant – especially with the price of fuel these days," says Greg Murphy, superintendent at Tembec.
Because of the Volvo wheel loaders' success, Tembec has already ordered another Volvo L150G to join the team.
Source: Volvo CE