We are performing a lot of our daily tasks through smart devices and the internet of things. Smart devices are ubiquitous and have made our lives easier. We are performing a plethora of tasks through our smartphone. COVID-19 scenario proved the fact that the internet of things and smart living will be the new normal. During COVID-19 online business giants like Amazon and Alibaba had a record-high sale. We are living in an era where the internet of things are defining our lives. Little by little smart technologies are becoming prevalent in our daily lives. Smart technologies are evolving and bringing benefits to user's lives but not without some concerns. Data and user privacy are some common concerns, but these subjects are not the scope of this article. The business potential of smart technologies is un-matched given the scale and demand of these technologies.
Smart technology's appeal is evident. More information, control, and automation of the home allow us to make better decisions and optimize the use of limited resources to better enhance the overall user experience. Imagine you are not home, and many doubts are unnerving you. Did I turn the coffee maker off? Did I set the security alarm? Are the kids doing their homework or watching television? What is the solution to make all these thoughts go away? The answer is smart technology because within a few seconds you can get updates on all of your home systems including the activities of your loved ones. So, what is the smart home?
Smart Home
Smart home refers to a set of systems in which all or majority devices and appliances are connected through the internet. All these devices can be controlled via a mobile phone or any other networked device. Devices are interconnected and sometimes communicate with each other, allowing the user to control functions such as security access to the home, temperature, lighting, and a home theater remotely. A smarter home is also more ecologically friendly and kinder on the environment.
The concept of a smart home is pretty overwhelming, given the endless choices and possibilities. Mainly people use devices or technologies for security, entertainment, energy efficiency, and kitchen appliances control. In short, Security and efficiency are the main reasons behind the increase in smart home technology use.
Home automation has immense business potential and it is expected to be about $54 Billion by 2022. Video entertainment, smart speaker, or devices working on voice commands, home security, and monitoring are the core components of any smart home. According to a study, approximately 31% of U.S households are using devices like Google, Nest, Amazon Alexa, and Echo.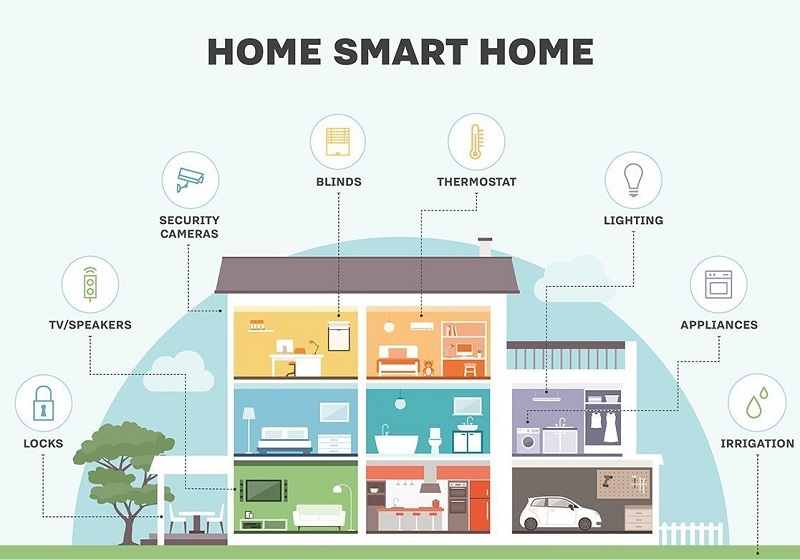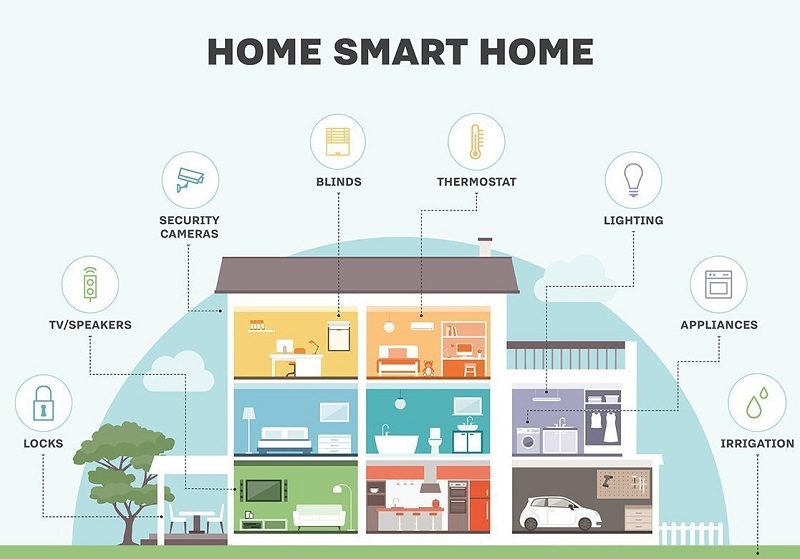 Key Elements of Smart homes
A smart home allows homeowners to control appliances, thermostats, lights, and other devices remotely using a smartphone or tablet through an internet connection.
Smart homes can be set up through wireless or hardwired systems.
Smart home technology provides homeowners with convenience and cost savings.
Smart home appliances are equipped with machine learning mechanisms. So, they can learn the homeowner's schedules and adjust as needed.
Smart technologies are a bit costly despite a wide variety of appliances and a competitive market. However, energy savings by efficient use of appliances can cover up the initial high cost of set up.
Hard wired system installation is costly as compared to a wireless system. Furthermore, hardwired systems are more reliable and tough to hack.
However, there are few issues with smart homes that need to be addressed and companies are working on it because no one wants to feel insecure at least in their own homes. Smart systems are prone to hacking. Bugs and security breaches are putting a big question mark on the probity of these systems. In October 2016, a botnet called Mirai infiltrated interconnected devices of DVRs, cameras, and routers to bring down a host of major websites through a denial of service attack, also known as a DDoS attack. Using strong passwords and encryption are a few basic ways to reduce the risk of hacking. Jerry Irvine, a member of the National Cyber Security Task Force, told U.S. News & World Report that smart home hacking is a problem that he predicts will get worse.
Technological companies are in a race to make living automated and introducing technologies at a faster pace to capture the market. Google, Amazon, Ali Baba, Samsung are the front runners in this race. Ali Baba's Fly Zoo Hotel in China is the epitome of automation in the hospitality business. Robots are serving, keyless rooms, facial recognition for elevator, payment, and much more. In this hotel room, you don't need to pick up the phone to order and send notes to the reception. All you need is to say it to the audio command device in your room and all is done. This Ali Baba's hotel has laid the foundation to automate the hospitality services and further refine the technology based on their experiences. Hotel chains like Marriott and its sister companies Ritz Carlton, W Hotels, and St Regis are collaborating in this project for future use and testing the technology. The hotel industry technology development will extremely influence the smart homes technology as basic living components are the same.
Assistive technologies for disable and elderly people
Disable and elderly people struggle with a lot of things while performing daily life tasks and largely rely on their caretakers. It is quite time consuming for them as well. Using assistive technologies, we can empower and allow the disabled and elderly people to maintain a certain level of control over their surroundings and daily activities and offer a more positive quality of life by allowing them to maintain their dignity. Disable people or people with special needs are an integral part of our society and they should not be left behind just because of their disability. According to the UN study, almost 1 billion are living with some form of disability making it to 15% of the world population. Furthermore, almost 1/4th of them reported that they do not have any control or can't live a normal life because of lack of facilities and infrastructure to support them.
Smart homes these days are stuffed with futuristic appliances that can be controlled remotely. They are indeed a great revolution for the disabled. The federal definition of assistive technology under the Assistive Technology Act is "any item, piece of equipment, or product system, whether acquired commercially, modified, or customized, that is used to increase, maintain or improve functional capabilities of individuals with disabilities." In terms of building construction, all the buildings in the USA must follow the American Disability Act in their design to make their buildings accessible and useable for disable people. The next step is the development of technologies for the occupants so that they can live like normal people, as ramps and other features won't be enough.
We are observing many technologies are making their way to the market. Wearable devices, text to speech programs, facial recognition, voice command navigation, and improved magnification software are helping people with special needs and elderly in many avenues of life. The inclusive approach of developers affirms their ideology to make their products useable and effective for all. Amazon Echo and Google smart speakers were among the most sold items during the holiday season in the USA. A study conducted by a technology company in the United States confirmed that disable and elderly people are quite ecstatic in the use of these devices because but they act as a personal assistant and can search the Internet, make lists, set alarms, play audiobooks, and control devices (turning your home into a smart home)—all by the sound of your voice. There is a fine line between the perspective of users, luxury for some but a necessity for disable and elderly. A smart home can provide them the freedom and reduce their emotional stress which they feel when they are dependent on external help incessantly. Using a few clicks on smartphones, tablets, or any other device they can perform no of tasks without even feeling that they are dependent on others. The assistive tech industry will be 20 Billion dollars by the end of 2024.
There are 253 million visually impaired people and they were still using the simple plain white stick for navigation which doesn't help them in real sense of freedom of navigation. However, with WeWalk blind people are navigating seamlessly. WeWALK detects obstacles above the chest level with an ultrasonic sensor and vibrates when these objects are near. It alerts users if there are low hanging trees, traffic signs, poles, and other obstacles. You can customize your cane via WeWALK App such as adjusting obstacle detection distance, sound level, and more. WeWALK helps you to find popular places, restaurants, pubs, and cafes around you. All you need to do is to choose where to go and get navigation over your WeWALK application. WeWALK's public transportation feature is available in more than 1500 cities now.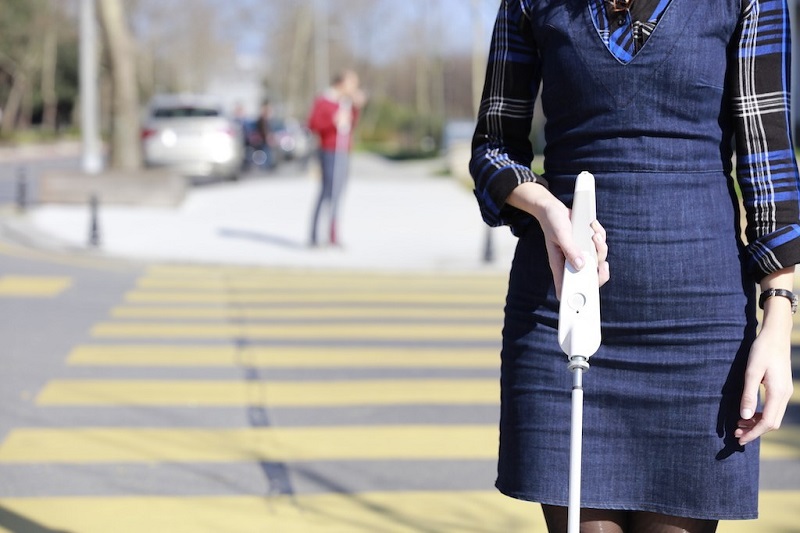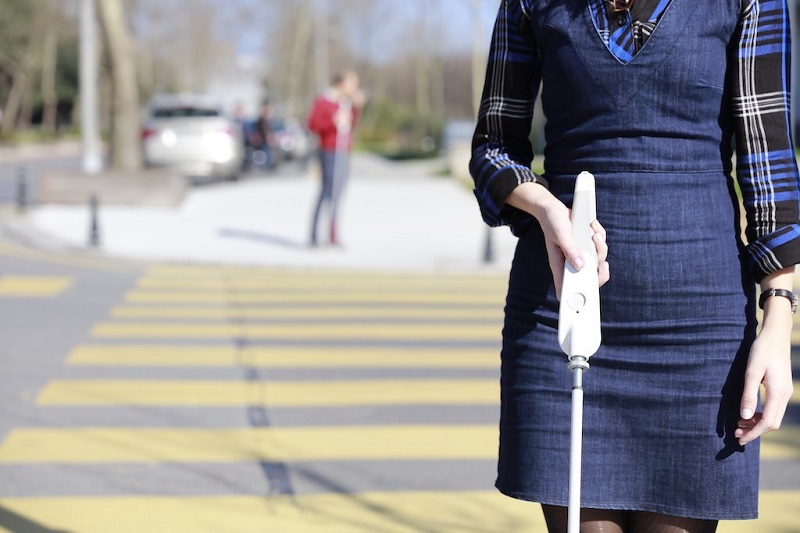 Picture  Courtesy WeWalk
Similarly, another startup Scewo is developing different technologies to make the lives of the disabled easier. Their solution SCEWO Bro embodies the combination of mobility, functionality, and aesthetics. Clearly defined lines provide Bro with an elegant and simultaneously, sporty look. It is controlled by using the smartphone or the integrated touch-interface. It takes your instructions on both communication platforms. That way you can always continue where you left off. For the ride to work or an excursion into nature, you switch from park mode to drive mode. Bro balances independently, without any upper body strength needed. When there is a slippery surface or a steep passage, then you simply switch into track mode. Bro will safely transport you through all kinds of terrain.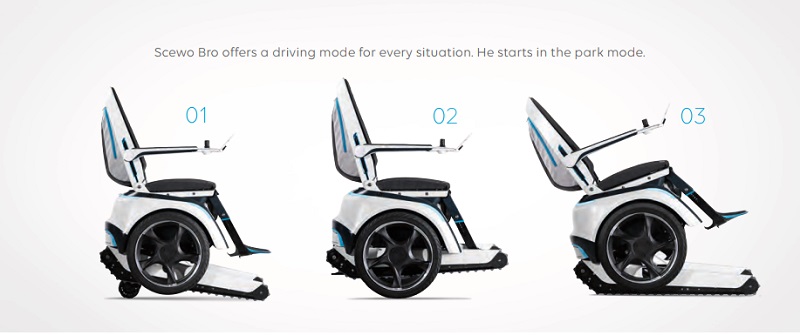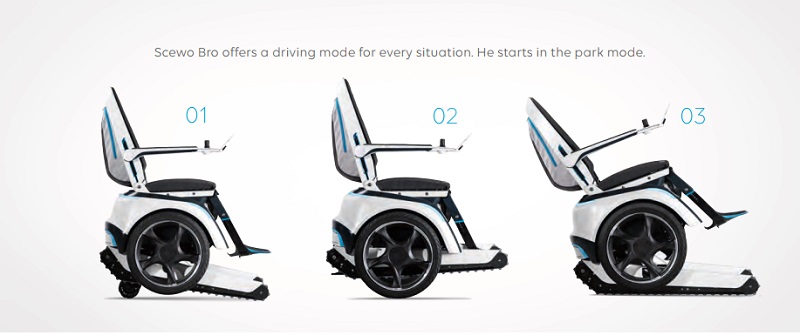 Picture Courtesy SCEWO

Source: CNN Business
The possibility of assistive technologies is limitless, and the future goal of smart homes is to provide secure, efficient, and seamless operation of smart devices. All these advancements in the future can greatly improve the accessibility and the lives of the elderly people and the disabled. The future smart homes will be taking care of you rather than you take care of your home's needs.
Author: Muhammad Shoaib
More of his articles here.
Muhammad Shoaib is Sustainability and Project Management Consultant. He is also a Collaborative Facilitator of ILFI in Pakistan and ex-UN-SDSN Pathway Fellow. He holds LEED AP, WELL Faculty, and Building performance Analyst Credentials. He can be contacted @ Linkedin or email: MuhammadShoaib@Circlespaces.org