BAUMAG 2011 generated large visiting interest
and designated the Swiss bricklayer's champion.
The 15th BAUMAG edition offered a quality specialized fair, in 5 halls, an extended open-air exhibition ground and the demonstration grounds of the Luzern Fair. 16.900 visitors came to Luzern, despite low temperatures, to update with the roughly 200 exhibitors about new machinery, equipment and services in the constructions sector. The highlight for young professionals and interested specialized audience was for sure the Swiss championship of the bricklayers.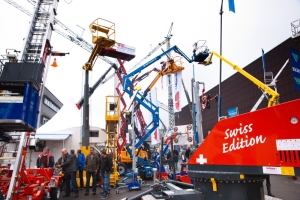 On Sunday evening the exhibitors declared themselves happy with the course of the fair and with the assistance of the on site team, as by fair manager Andreas Hauenstein: "Being the only constructions machinery fair of 2011 in Switzerland, Germany and Austria, the exhibitors could benefit from the direct, personal discussions with the clients and establish long lasting connections". The visitors were offered a representative technical selection of the field, on 20.000 m². Specialized visitors came along from all regions of Switzerland. Numerous visitors and specialists came from the neighboring countries.
Special show – Controlled demolition
To begin with, nine producers from the controlled demolition field as well as sellers of diamond equipment and tools got together for a special show. The incoming visitors and operators in controlled demolition could see, in hall number 1 and on the demonstration grounds, the up to date technical selection of the field in action. The inter-trade organization SVBS was also present to answer all possible questions.
Swiss championship of the bricklayers
During BAUMAG, the Swiss championship of the bricklayers took place, along with the, by now traditional, mini excavator contest. The winner may attend, at beginning of October, the world championship of the skills (Worldskills) in London. The six young bricklayers had to qualify through several eliminatory tests. During the four days of the fair they have not spared themselves and gave their very best. The laureates are (their employers in brackets):
First place : Morgan Conus (Conus Constructions SA, Vuarmarens)
Second place: Christian Brühwiler (Thomas Brühwiler AG, Oberbüren)
Third place: Thomas Wegmüller ( P. Wegmüller Bau Gmbh, Rüegsbach)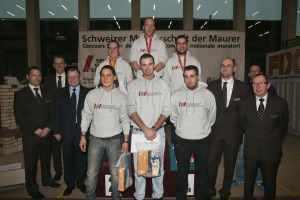 The 16 edition of the fair for construction machinery will take place, from 21st to 24th of February 2013, in Luzern.
Information and Organisation:
ZT Fachmessen AG
CH – 5413 Birmenstorf
Switzerland
Fair manager: Andreas Hauenstein
Tel: +41 56 204 20 20
Fax: + 41 56 204 20 10
info@fachmessen.ch www.fachmessen.ch