The inaugural International Construction Economic Forum (ICEF) was held from November 20 – 22 in Amsterdam, the Netherlands. The event welcomed speakers and delegates from Europe, Asia and North America, and included some of the leading executives in the construction sector.
The keynote address at ICEF was given by former Spanish Prime Minister José María Aznar, who said, "The health of the European construction industry is the health of the European economy."
,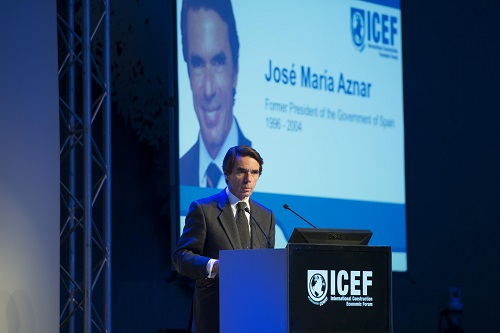 Former Spanish Prime Minister José María Aznar giving the keynote address
He added, "Construction is the biggest industrial employer in Europe, with more than 20 million direct employees and affecting some 44 million workers Europe."
"Europe faces challenges in maintaining extensive power, transport and other infrastructure networks. Globally, it is estimated that some US$ 57 trillion is required between now and 2030 simply to keep up prior GDP growth."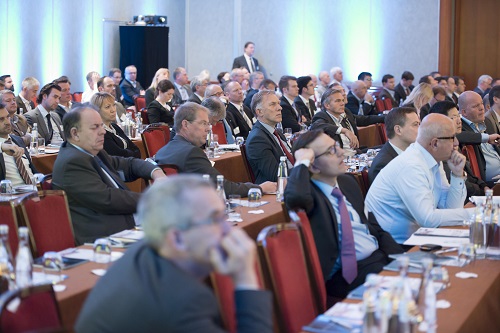 The audience during a conference session
"Lots must change in Europe to achieve this goal – factors currently influencing the future competitiveness of the construction industry include the shortage of public investment due to the fiscal positions of most Member States. In addition, there is a shortage of skilled workers. The EU cannot afford to fail to win the battle for competitiveness."
Among some 20 other speakers at ICEF was Miguel Jurado Fernández, CEO of Spanish contractor FCC Construcción, Zeng Guang'an, president of Chinese construction equipment manufacturer Liugong and Xavier Therin, vice president of land, mineral resources and mining at materials producer Lafarge Aggregates and Concrete.
Award winners
ICEF also saw the first ICEF prizes awarded for innovation in the global construction industry.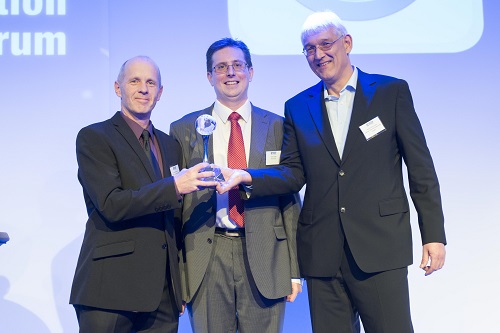 The presentation of the award for International Construction project of the year to Brookfield Multiplex for the JW Marriott Marquis Hotel – Graham Sonley (L) and David Miller (R) from Brookfield Multiplex, with International Construction editor Chris Sleight.
The JW Marriott Marquis Hotel in Dubai, UAE won the International Construction Project of the Year Award. The scheme, entered by main contractor Brookfield Multiplex, beat off competitors from Europe and Asia to claim the prize for an internationally important project worth US$ 100 million or more. The award was announced at a gala dinner held on 21 November as part of the 2013 International Construction Economic Forum (ICEF), in Amsterdam, the Netherlands.
Meanwhile, the winner of the ICEF Construction Equipment Innovation Award was Caterpillar, for its 336E H hybrid excavator and Liebherr won the ICEF Construction Equipment Design Innovation Award for its PowerBoom technology for crawler cranes.
ICEF 2014 will be held from October 29 – 31 at the Gloucester Hotel in London, UK.
More details will be available shortly at www.icef.biz.
Source: ICEF News