The efficiency and low maintenance of 15 Terex Trucks articulated haulers are proving vital for working in the remote and vast gold mine in Saint- Élie, French Guiana.
Take a helicopter 30 minutes west from Cayenne, French Guiana, and deep amidst the forest you will quite literally have struck gold. The precious metal was discovered in the remote area of Saint-Élie 142 years ago. Today, mining company Société des Mines de Saint-Élie (SMSE) relies on 15 Terex Trucks articulated haulers working 8 hours a day, six days a week.
SMSE was founded in 1994 and specialises in the prospecting, extracting, exploiting, processing and marketing of minerals, particularly gold. Having conducted exploration work in Saint-Élie through large volume yard tests with positive results, SMSE opened a multi-pit mine in 2005. Now owned by Compagnie Minière Espérance (CME), the company has 50 employees and recently launched a new development phase to consolidate its activities and increase productivity.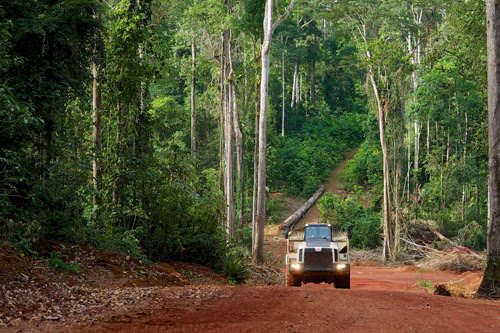 "Due to the remote location of the Saint-Élie mine the only really practical way of reaching it is by helicopter, meaning the trucks working at the mine must be efficient, reliable and easy to repair, and that's exactly what we experience with Terex Trucks," said Nicolas Ostorero, CEO and managing director of CME. "We've operated Terex Trucks for years and our fleet continues to grow as we require high-quality, reliable machines that offer ease of operation and maintenance."
The Terex Trucks units currently operating in the mine include a TA27, seven TA35s, three TA40s and the largest in the articulated dump truck range – a TA400, the latter offering a maximum payload of 38 tonnes (41.9 US tons). The rugged, white-painted trucks are barely recognisable as they work tirelessly in the red earth of the mine and the TA27 has already clocked 15,000 hours since 2005 and is still going strong. A new plant is being assembled to increase production capacity and the mine's gold metal production target for 2015 is 350 kg.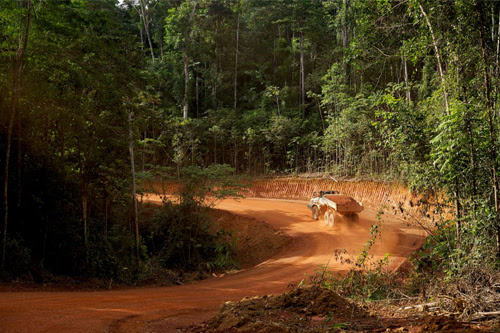 The trucks were supplied by Terex Trucks dealer, Machdeal, based in Matoury, French Guiana, which has an excellent reputation and is well established in this region. The versatile Terex Trucks articulated haulers are designed to meet the demands of the most extreme operations, delivering a heavy-duty, efficient performance in the tropical monsoon climate in the north of French Guiana. By minimizing downtime as well as the total cost of ownership, the articulated dump trucks offer maximum return on investment.