Regional contractor Windisch has put five Terex Trucks TA300 articulated haulers to work shifting 1.4 million cubic metres of earth on the A5 motorway extension in Austria.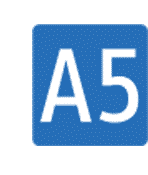 Five Terex Trucks 28-tonne capacity TA300s have been selected by local contractor Windisch to take part in the expansion of the North Autobahn (A5) which will form a modern highway between Vienna in Austria and Brno in the Czech Republic. The proven performers work 12-hour shifts, six days a week, and are responsible for shifting 1.4 million cubic metres of earth.
Scheduled for completion in 2017, the project was implemented by Austria's Autobahn and highway financing stock corporation, ASFiNAG, at the estimated cost of €200m. The A5 is already a popular route due to the international checkpoint at Drasenhofen, and the extension will be welcomed by commuters as it will ease traffic build up, shorten the 130 km transit time between the two cities, and reduce noise pollution. The articulated haulers for the A5 project were supplied to Windisch by Terex Trucks' Austrian distributor, Mlecka Construction.
Founded in 2011, Mlecka is a family-run construction company based just outside of Vienna in Oeynhausen. Appointed an official Terex Trucks dealer in 2015, Mlecka has strong connections in Austria, Slovenia, and Hungary.
John Mlonek, commercial sales manager at Terex Trucks, explains: "Like other EU countries, the Austrian market has proved difficult but the extension of the North Autobahn is one of the brighter investments in the tough articulated hauler market.
"Windisch was looking at other brands but chose to go with Terex Trucks, which is a real vote of confidence for our robust Scottish machines."
Created at the Motherwell factory, the TA300 is built to work harder for longer. Its leading tractive effort and effective power to weight ratios ensure material is moved as quickly as possible in all conditions – providing excellent productivity and low cost of operation. With fully independent front suspension as standard, tyre/ground contact is maintained regardless of the terrain, increasing tractive effort and reducing cycle times while also providing operators with a comfortable haul.
In addition, the transmission retardation system in combination with engine exhaust brake support the fully-enclosed oil-cooled multidisc brakes for enhanced protection of the brakes, resulting in less maintenance and a longer life span for the brakes. The machine is also powered by a fuel-efficient five cylinder Scania DC9 engine, which develops gross power of 276 kW (370 hp) and maximum torque of 1,880 Nm.