Visitors to Mining Myanmar 2014 crowded to see the new kid on the block: Terex Trucks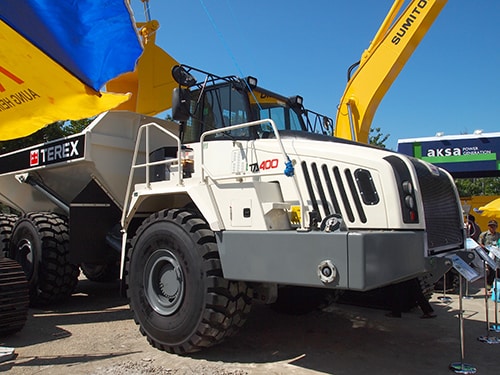 November saw another first for Terex Trucks when the articulated and rigid truck manufacturer exhibited for the first time in Myanmar at Mining Myanmar 2014, the international trade exhibition for Mining and Minerals Recovery.
After decades of self-imposed isolation from the wider world, Myanmar has opened up to investment and development in recent years and the mineral-rich country is now prime territory for the discovery of new and high quality deposits. This presents an equally valuable opportunity for equipment manufacturers to help extract the jade, gems, oil and natural gas that is so abundant in the country. Terex Trucks first entered the market in August last year with the appointment of Aung Hein Min Co., Ltd. (AHM Heavy) as a distributor in the region.
Attracting crowds at the event was a 38 tonne payload Terex Trucks TA400 articulated hauler exhibited by local dealer AHM Heavy. A class-leader in productivity, the TA400 showcases the perfect balance between weight and power. Benefits of the machine include a high performance 331 kW engine that provides excellent productivity and fuel efficiency, as well as a proven and robust complete drivetrain that allows the TA400 to excel even in the toughest sites which is particularly beneficial in this tropical and often extremely wet nation.
Terex Trucks also featured in the International Mining Myanmar Conference, the only conference of its kind, allowing Terex Trucks to present its message that it is now stronger together as part of Volvo Construction Equipment.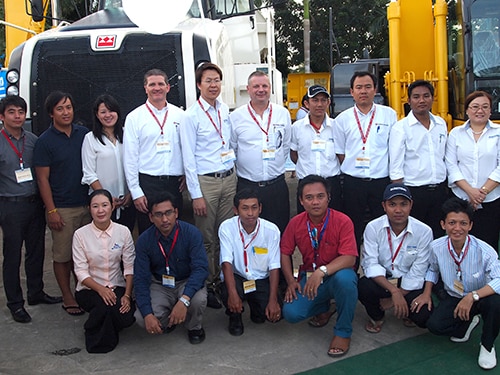 John Bennett, Terex Trucks business director for the region has been working with AHM for the past year. He commented: "Appointing AHM Heavy last year was our first entry into Myanmar and was an important move for Terex Trucks to make. For such a key market it was important to find a good partner in the region. AHM Heavy has a long-standing reputation in the area and is well-known for offering excellent products and services. We're looking forward to a bright future together in Myanmar and are happy to exhibit at the Mining Myanmar exhibition for the first time."
Most recently, 20 TA400s went into operation at Hpakan, a jade mining application in the Kachin State in Northern Myanmar. Terex Trucks machines are known to perform well in hot climates, such as in neighbouring Indonesia where Terex Trucks has been operating for many years.
"Terex Trucks has already proven to be a popular truck manufacturer in Myanmar, and the attention that we received at the exhibition was a testament to that," said Zaw Naing Oo of AHM. "We received many positive enquiries about the Terex Trucks range during and after the show so we anticipate a very busy time ahead."
Mining Myanmar 2014 took place at the Myanmar Convention Centre in Yangon, Myanmar and Terex Trucks was one of 185 leading companies from around the world to exhibit at the show.