In an historic moment for the truck manufacturer, visitors will see the newly independent Terex Trucks for the first time at the Parisian show where it will be presenting a line-up of articulated and rigid haulers.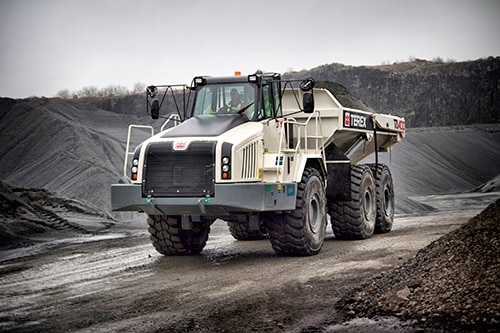 In one of the first demonstrations of Terex Trucks' stronger, independent positioning, the truck manufacturer will be exhibiting with its own stand at Intermat 2015, its first major trade show under new parent company, Volvo CE.
Exhibiting in hall 6, at stand number 6 C 084, Terex Trucks will present a line-up of articulated dump trucks, which range from the 25-tonne payload TA250 to the 38-tonne payload TA400, and the off-highway rigid dump trucks, which range from the 41-tonne payload TR45 to the 91-tonne payload TR100. Representing the Terex Trucks line-up at the trade show will be the TA300 and TA400 articulated dump trucks and TR60 rigid dump truck.
An international team of Terex Trucks experts will be in attendance at the booth to demonstrate and discuss the company's products and services, including product specialists, parts, sales and senior management. The team is fully dedicated to Terex Trucks and encompass the expertise of a global leader.
"As a standalone company but with the resources and expertise of a global leader in the construction equipment industry, Terex Trucks is stronger together as part of Volvo Construction Equipment," commented Paul Douglas, Terex Trucks longstanding managing director. "With a global dealer network and a long, distinguished reputation for producing high quality, reliable products Terex Trucks is in better shape than ever before. Intermat 2015 gives us the perfect opportunity to demonstrate this new confidence and showcase our commitment to products, customers and the dealers".