Held under the Patronage of His Excellency Sheikh Abdullah Bin Nasser Bin Khalifa Al Thani, The Prime Minister and Minister of Interior, and Organized by dmg events (Doha), The Big 5 Qatar launch will take place from 24-26 September at the Doha Exhibition & Convention Centre.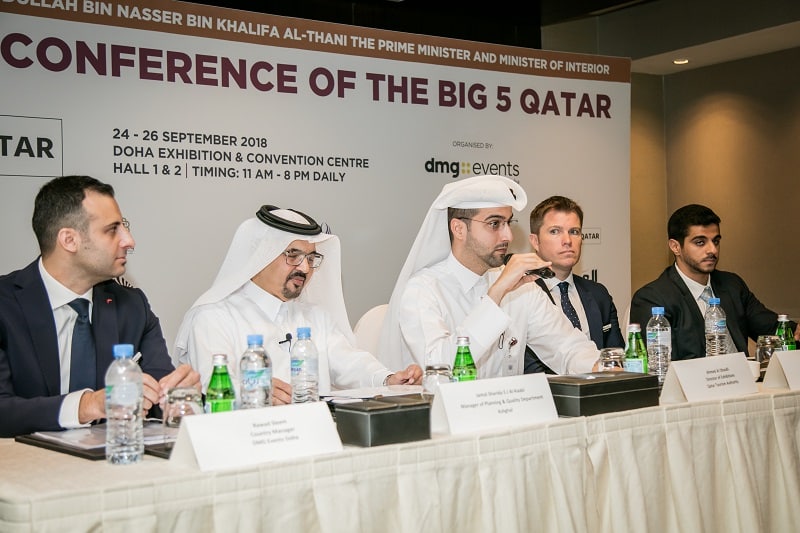 Event organisers dmg events Doha brought together government and private support to present The Big 5 Qatar to media ahead of the inaugural edition next week. Qatar Tourism Authority (QTA), Ashghal, Qatar Development Bank and Tadmur Trading LLC were present.
At the press conference Rawad Sleem, Country Manager for dmg events Doha said:
"We are honored to introduce the broad support received both by government and private organizations ahead of The Big 5 Qatar launch next week."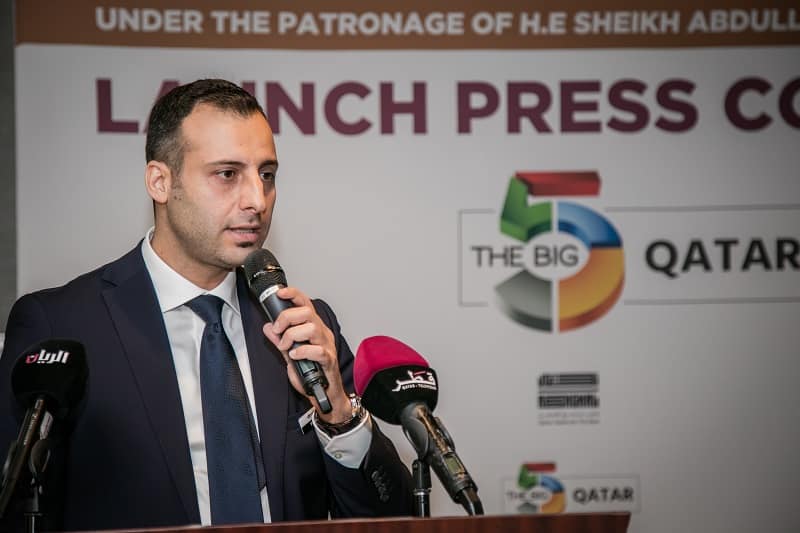 He added,
"As it begins to work towards economic diversity with the highest standards in mind, Qatar is experiencing a strong growth in infrastructure development across all sectors be it transport, hospitality, healthcare or sports. With The Big 5 Qatar, we look forward to providing a platform to thousands of construction stakeholders where they can capitalize on opportunities coming from these developments."
Eng. Jamal Shareeda Al-Kaabi, Manager of Planning & Quality Department, Planning and Quality DP – Ashghal said:
"The Big 5 event will encourage construction companies to explore the available and upcoming avenues in Qatar's infrastructure development, understand the market and participate in bidding procedures to share their expertise and be a part of one of the world's most dynamic infrastructure transformations."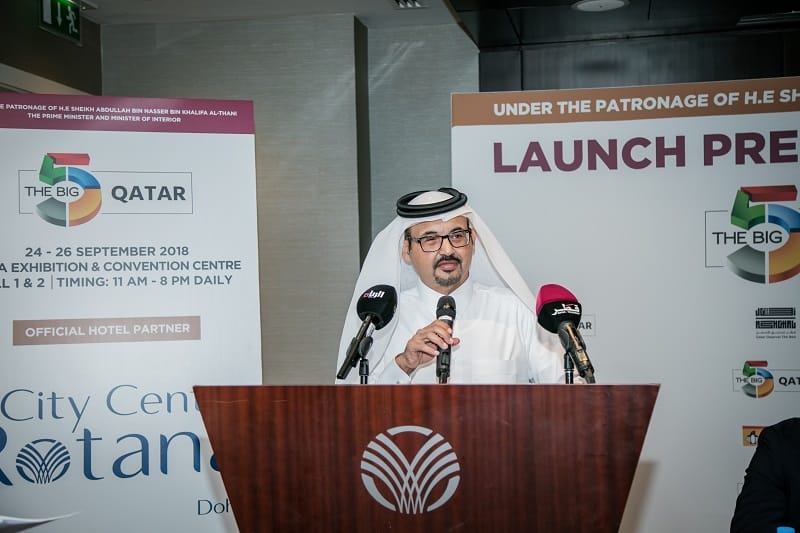 From his end, Saleh Majid Al Khulaifi, Acting Executive Director of Intelligence and Localization at Qatar Development Bank (QDB), Said:
"QDB's partnership of the (BIG 5 Qatar) comes as part of the bank's wide range of initiatives to provide the SME sector with the needed support to build their capacity and contribute effectively to the sustainability and diversification of the national economy, in addition to establish foothold in regional and global markets. From this time forth, Qatar Development Bank will provide Qatari entrepreneurs in the construction industry with adequate space to help them expand their reach and network with greater companies, as well as showcase their product offerings which will give them an opportunity to nurture and enhance business relationships that will benefit them as entrepreneurs and their SMEs, thereby achieving our strategic objectives for a sustainable and diversified economy."
More than 230 exhibitors from 20 countries will be at the Doha Exhibition & Convention Centre from 24-26 September to kick off The Big 5 Qatar launch event. National pavilions from China, Turkey, Italy, India, Iran and Kuwait are taking part to support the ambitious demands of Qatar's built environment.
Director of Exhibitions at QTA, Ahmed AlObaidli commented,
"In collaboration with The Big 5 Qatar, we look forward to providing international visitors a memorable experience in Qatar as a place where they can do business and enjoy unique tourism offerings."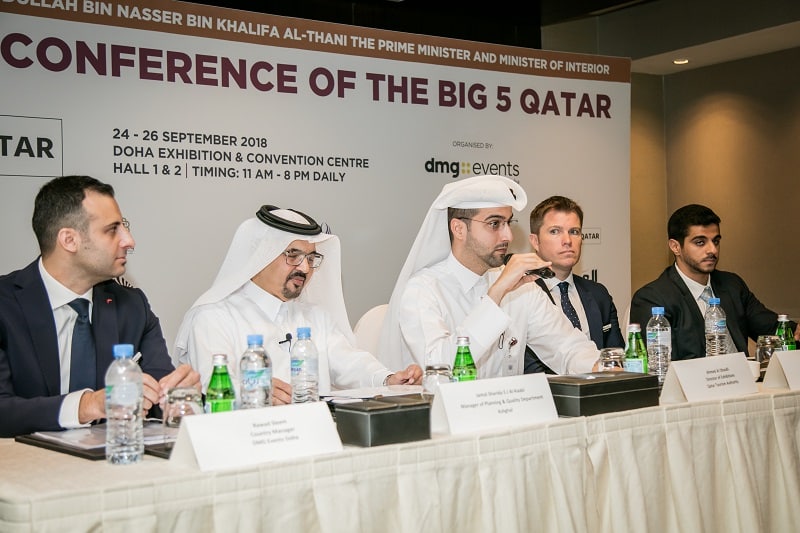 Together with dmg events Doha, QTA is organizing a hosted buyers programme which will bring buyers from 16 countries to meet local manufacturers and SMEs during scheduled face-to-face appointments. In addition, a selected number of media from priority visitor source markets such as Russia, Turkey, Italy and Germany will be taken on site tours of Qatar's ongoing mega projects.
At The Big 5, exhibitors will showcase the latest innovations in construction across seven dedicated product sectors covering all stages of the construction lifecycle. In addition, there will be live product demonstrations throughout the event highlighting practical applications before visitors make the decision to buy.
Omar Halawa, Business Development Manager at Tadmur Trading LLC commented,
"As soon as we found out that there is going to be a Big 5 in Qatar we were very much on board and thus pushed not only to take part as an exhibitor but support the exhibition as a sponsor. The Qatari Construction industry will benefit as local companies, local manufactures & international companies can network and showcase their products & services."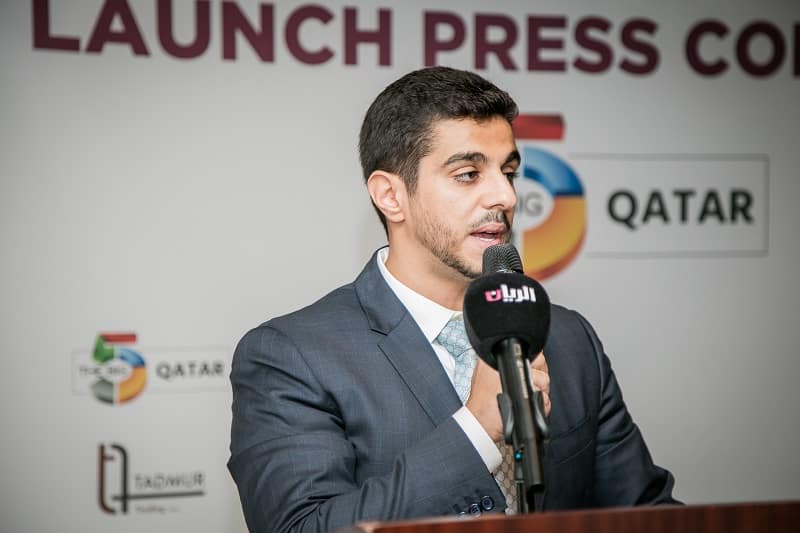 In addition, The Big 5 Qatar will put strong emphasis on free education. Across three days, the event will host 40 free-to-attend, CPD (continuing professional development) certified workshops offering construction professionals in Qatar insight into the latest industry trends, tools and techniques.
Mr. Sleem said:
"There is a huge push for Qatar to gain top ranking in the world as the government strives to expand its economy. Professionals in the country are keen to enhance their expertise across a range of related topics. Our top performing sessions include Business Best Practices, Sustainability, and Smart buildings and Cities."
The agenda will also include the all new 'Women in Construction Series', kicking off on 25 September. The series will host some of Qatar's pioneering female construction executives who will shed light on their integral role in promoting gender equality in the construction industry.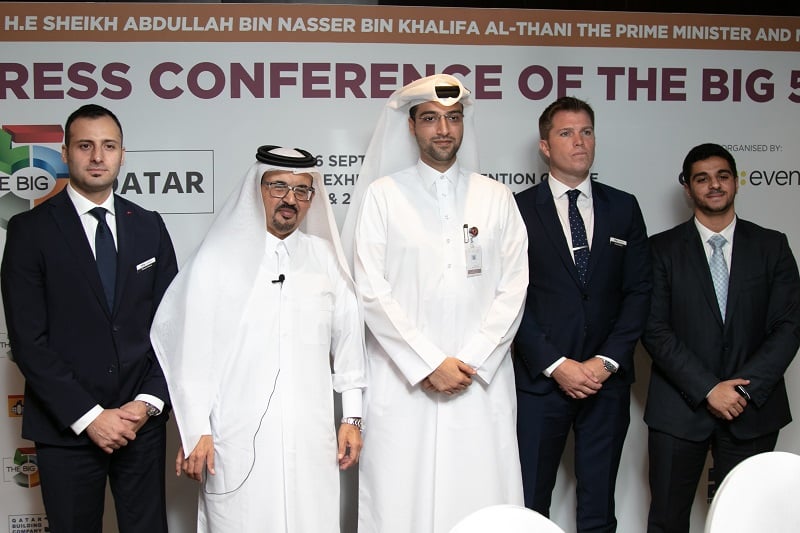 The Big 5 Qatar will run from 24-26 September 2018 at the Doha Exhibitions & Conventions Centre and will be delivered with support from Ashghal (Official Sponsor), Manateq (Economic Partner), Qatar Development Bank (Development Partner) and Qatar Tourism authority (Official Support).
To know more about The Big 5 Qatar visit www.thebig5-qatar.com
To register as a visitor for The Big 5 Qatar visit https://register.thebig5-qatar.com/

Source: dmg events (Doha) LLC Press