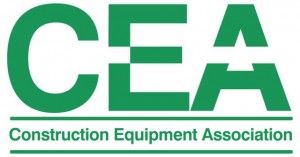 CEA Pavilion Intermat Preview





The CEA in conjuction with UKTI has succesfully organised a 'high impact' UK Pavilion at the forthcoming Intermat exhibition which takes place in Paris from 16th – 21st April this year. The dedicated Pavilion will feature more than 20 UK exhibitors comprising construction companies, industry suppliers and UK associations.
Intermat is a leviathan of an exhibition which attracts over 1,470 exhibitors from around the world and where the smaller exhibitor might otherwise get lost in the show's enormity without the umbrella of a high profile area devoted to UK industry. The CEA has taken the strain out of exhibiting at a show of this size and offers exhibitors a cost effective fully managed, fitted turnkey shell scheme stand freeing up exhibitors to do what they do best – selling!
At the last Intermat show (2009) the event was visited by 84,000 visitors from 162 different countries. 48% of the visitors that attended the show do not visit any other exhibitions making it an excellent prospect for UK exhibitors to get in front of potential new customers and 'fly the flag' for Britain!
Joanna Oliver MBE, director of Global Programmes at the CEA and organiser of the UK Pavilion at Intermat said, "It's great that we are able to help so many UK companies at Intermat. Even better that we can do it with the support of UK Trade & Investment (UKTI) both for exhibitors and for the CEA to run the UK Pavilion and generic UK Information Centre to promote UK Construction equipment. Some of the Pavilion exhibitors are pretty new to export and some old hands – that's part of what makes the UK Pavilions a success for the exhibitors – everyone is willing to share experiences, export tips and contacts and lend each other a hand where needed.
This year we are working with UKTI to promote the UK Exhibitors at Intermat and to run a meet the buyer programme of meetings with Intermat visitors from target market countries like Brazil, China and India.
In the next 12 months the CEA will run UK Pavilions at Future Mongolia, M&T Expo Brazil, Bauma China, bCIndia and Bauma. Come and visit us on the CEA UK Information Centre in Hall 6 stand H13 to learn more about how the CEA can help your company to export."
Air-Seal Products is making its second appearance at Intermat having first exhibited in 2009. The company will be showing its range of pre-puncture tyre sealants which provide immediate protection to the tread area from punctures up to 30mm (1¼ inches) along with most other slow air leaks. Air-Seal's tyre sealants have been successfully used in many types of vehicles; for example, tyres for HGV's , loading shovels, dump trucks, skidsteers and other heavy plant right down to the essential wheelbarrow. The company's contracts range from waste management companies and construction firms through to road haulage and a number of armed forces worldwide. It also has a five year exclusive supply agreement with the UK's Royal Mail Postal delivery service.
Air-Seal report that operational efficiency is improved by reducing costly downtime for idle machines and labour and a single treatment can cost less than the full cost of one tyre repair and lasts the legal life of the tyre.
Alex Burnand, Air-Seal Products managing director said, "We are exhibiting in the CEA Pavilion because as members we like to support the CEA and taking a stand gives us a platform to export our products around the world and ensure that companies like ourselves are noticed. We hope to appoint a new multi-market, well connected organisation to represent our product lines professionally throughout mainland France and its outlying territories.
We shall be demonstrating our products on our stand by banging nails and spikes into a tyre so come and meet the Air-Seal Products team on stand number 6G015. Seeing is believing!"
Amber Valley is using Intermat on stand 6H011 to announce the European launch of its full range of Ecolarm's environmentally friendly non bleeping alarms. They come in a range of db levels and with a range of features from night silent to reverse twice mute versions. There is also the Ecotalking alarm which can be used to warn people for whole range of problems.
Brand new is the Green LED Seatbelt alarm for off highway use – this is designed to be used in conjunction with Amber Valley's seatbelt system to indicate a seatbelt is being worn by the operator – meeting with the health and safety regulations.
Last but not least is a brand new range of Alarm systems, for which worldwide patents have been applied for. These are the latest generation of reversing safety and other hazard warning devices, designed and built by Amber Valley Developments in their latest manufacturing facility in the U.K.
Amber Valley will be in a position to offer sole distribution on these unique patented products together with the rest of its range to selected established distribution companies in many countries throughout the world.
Amber Valley Development's Managing Director Mr David Morewood said, "The interest we have received from potential distributors has been remarkable and has given us the opportunity to choose the best distribution partners, for this range, and the additional complimentary ranges."
Ashtree Glass will be showing a range of mirrors and mirror arms designed to meet, and according to Ashtree, surpass, the latest visibility requirements for telehandlers. This will see a move away from the wide angle "fish eye" type mirrors to "E" approved mirrors. As a manufacturer of mirrors Ashtree welcomes this move to standardise on European approved products rather than the current system where different interpretations are common.
Ashtree launched the first range of "E" approved mirrors in anticipation of these standards several years ago. Now the company is launching a range of mirror arms and mounting brackets to mount these mirrors in the best possible position to eliminate operator blindspots. As well as being tested, and already fitted, on OE machinery across Europe these products are readily available for use as replacements or upgrades for machinery already in service.
Ashtree Glass managing director Alan Roper said, " With over 30 years' experience, we now offer the most comprehensive range of mirrors and mirrors arms available today, including options such as heated mirrors and mirrors with unbreakable lenses. We can also design and develop bespoke products to meet exact customer specifications.
We are looking forward to seeing visitors at Intermat on our stand 6G002 to discuss any requirements you may have."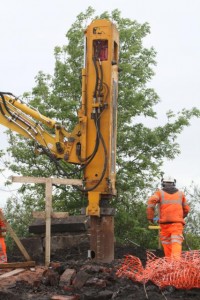 BSP International Foundations (BSP) pride themselves as being one of the world's leading manufacturers of hydraulic piling and compaction equipment, at this year's show on stand 6H016 the company will be showing a pictorial display highlighting some of the many civil engineering projects on land and offshore where BSP's latest generation of piling hammers and rapid impact compactors (RIC) have made significant contributions in bringing these projects to a successful completion and on schedule.
BSP's new DX hydraulic piling hammer will be on public show for the first time on the PTC stand D 035 in the outdoor E2 area. The hammer has been specifically developed to drive steel piles to support electrification stanchions, gantries and other railway projects requiring foundation piling.
CAB Glazing Services LLP has been supplying OEM brands, machinery dealers, spare part companies and end users with their glass requirements for more than 30-years. The company has chosen to exhibit at this year's Intermat (stand 6H020) to broaden their already wide customer base even further.
CGS produces glass that meets or exceeds international quality assurance standards, therefore offering customers the best product available. The company stock 1000's of curved and flat glasses and therefore many items are available from stock with zero lead times.
Darren Kivlin partner at CAB Glazing Services LLP said, "We will use our exhibition area at Intermat to show a variety of the glasses which we have produced from the simple to complex items and welcome any visitor to our stand to enable us to explain how CGS can benefit their companies future glass requirements."
CESAR will take its place in the CEA UK pavilion on stand 6G103 and will be promoting the Construction Industry's  highly popular CESAR scheme – approved by the Home Office.  Datatag ID, who delivers the scheme on behalf of industry, reported that CESAR is the only 'official' equipment security scheme in the UK. CESAR acts as a powerful deterrent against theft and an invaluable aid in recovery. CESAR registered machines are four times less likely to be stolen and six times more likely to be recovered than unregistered equipment.
CESAR became the most successful and widely used scheme, of its type, in the world at the beginning of 2011 after achieving 15,000 registrations in 2010, in both construction and agriculture, taking the cumulative figure to 40,000. Now, just over 12-months later, the number of cumulative machine registrations has topped 70,000 units. CESAR is fitted as standard by a veritable 'who's who' of equipment manufacturers including New Holland, John Deere, JCB, Manitou, and Merlo.
Datatag offer 3 CESAR systems for different types of equipment. There's a CESAR for all types of construction equipment from one tonne mini-excavators to large 'full sized' equipment. A 'Mini-CESAR' for smaller equipment including hand guided compaction equipment, generators and compressors. Finally there's a CESAR for attachments, including dipper mounted hydraulic breakers, loader end attachments, and multi-purpose buckets.
The Gate7 Group are one of the market leaders for the design, manufacture and supply of specialist vehicle livery, markings and decals. Primary markets are Construction, Industrial and Agricultural Equipment Manufacturers. The company will be at Intermat this year on stand 6H012
Operating in those specific markets, the company has seen rapid growth over the last 10 years and has enjoyed long term partnerships with all of the major manufacturers including, Caterpillar, Komatsu, Hitachi, Volvo and JCB.
With production and tactical distribution facilities in the UK and United States, over 75% of turnover comes from exports to the Global markets including, Europe, USA, India, Brazil, China and Japan.
To support demand for continuous improvement in performance and price and to maintain consistency and competitiveness at a 'local' level, Gate7 have developed a range of products to perform to the same level in all Global climate zones from Alaskan to the Sahara.
Paul Crilley, Gate 7's director of global sales and marketing said, "Gate7 are extremely proud of our association with many of the world's leading manufacturers of construction equipment including the JCB Group. Following a Global partnership agreement in 2009, we went on to design, test and deliver JCB's re-branding for vehicle livery from concept, through testing, validation and product launch."
GKD Technik will be showing PWS (Proximity Warning System) for the first time at Intermat – the company will be on the CEA stand 6H13.
Designed to protect site workers from being injured by mobile site machinery the PWS system uses radio technology to detect the position of pedestrians and warn the machinery operator of the hazard. Every time a worker comes to close to a machine a log is generated and using optional telemetry the contractor can monitor site safety. Anti-collision facilities ensure that all mobile machines can detect the hazard simultaneously.
GKD Technik will be seeking distributors for this exciting new product which may be fitted to all sizes of machinery including fork lift trucks, excavators, wheeled loaders, dump trucks, pavers and rollers. Also on show for the first time will be the Incline Alert to allow safe use of small mobile plant on slopes.
KMP Products Europe Ltd, one of the leading engine part suppliers in the world, will be at Intermat in the UK Pavilion on stand 6H018 for the first time this year. The company operates on a global scale and is known for supplying genuine replacement engine parts suitable for leading OEM's including Caterpillar, Komatsu, Cummins and Detroit Diesel. According to KMP, its products are known for their excellent quality and are backed with a dedicated service and support.
The company was established in 1993 for the purposes of creating a reliable supplier of branded, quality, aftermarket replacement parts for earthmoving equipment and heavy duty diesel engines. The company's main focus is KMP Brand engine components and replacement parts, which are marketed under the KMP Brand name in over one hundred countries worldwide, with a range that spans a staggering twenty-five thousand part numbers.
Isabelle Bearn-Fournier, KMP Products Europe's group marketing manager said, "Exhibiting at Intermat offers KM Products Europe one of the best ways to get the KMP brand in front of a lot of customers and prospects in a relatively short amount of time. Intermat gives us the opportunity to not only show our brand parts and describe our service, but also creates that all important first impression and show the customers the benefits they will get by trying KMP branded Parts."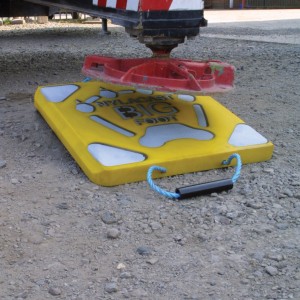 Nylacast will be exhibiting at this year's Intermat in the UK Pavilion on stand 6G008 where a team of the company's dedicated construction engineers will be on hand to provide technical guidance and advice directly to the industry. Nylacast will also be showcasing bespoke components and engineering polymers which are greatly advantageous to the arduous environments encountered within the Construction industry.
Furthermore, they will be showcasing Nylacast Bigfoot, the industry leading crane outrigger pad, outlining the many performance enhancing properties of the product as well as its increased health and safety features.
Nylacast is one of the leading manufacturers of cast nylons and has specialized in developing this unique polymer for over 40 years. Utilizing the latest in CAD/CAM technology and advanced engineering techniques, Nylacast offer engineering polymers which are ideal replacements for traditional metals such as wood, steel, cast iron and bronze.
Off-Highway Research is the world's largest consultancy specialising in the analysis of the international construction equipment industry. The company will be offering its full range of research services at Intermat this year on stand 6H019 in the UK pavilion. These include: European, Chinese and Indian research services, The International, Chinese and Indian Database Service, The Global Volume and Value Service, Multi-Client Studies and Private Client Research.
David C A Phillips managing director, Off-Highway Research said, "During the show three major new research programmes will be launched which include The Construction Equipment Industry in Indonesia, Malaysia, and Turkey. Our stand will be staffed by senior research staff from Off-Highway Research's offices in London, Beijing, New Delhi and Tokyo."
At this year's Intermat Selwood Pumps will have a small stand (6H008) within the CEA pavilion, whilst their French distributor DMTP has a larger outside stand.
Selwood plan to show the very latest pumps from the Selwood range these include the S100, S150 and S200 Super Silent models.  These units have recently been improved by the introduction of a close coupled configuration, an on-going development programme for the entire Selwood pump range.
The 'S' range automatic self-priming pumps are the ideal solution for pumping solids, sludge and rags.  Selwood says that their pump range is comprised of robust high performance pumps offering easy operation, unparalleled reliability and inherent safety.
Tony Killick Selwood's general manager said, "Whilst our distributor has a large stand we think is it vitally important to be at the show as a British manufacturer and the CEA's pavilion is the ideal location for us, we have always been well supported by the CEA at Intermat.  We are hoping the exhibition will expose our product to potential customers and distributors from Europe and around the world."
Southco is in the UK Pavilion on stand 6J021and is showing a complete range of off-highway access hardware solutions for interior, chassis and entry door applications.  Southco say that the products provide intuitive operation and rugged reliability throughout all areas of the fitted vehicle.
Some of the key products presented at Intermat include electronic access solutions that eliminate physical key management and offer the convenience of being able to simultaneously lock or unlock multiple access points.  Southco will also display ergonomic latches for secure access of panels, doors and storage enclosures as well as positioning control devices that hold display screens, armrests and headrests at a consistent angle.
Tata Steel, one of the world's top ten steel companies, is making its Intermat debut on stand 6J019 in the UK Pavilion. The company offers a uniquely broad range of steel products and services, which according to Tata Steel, make doing business with the company easier.

Last year Tata Steel invested £8 million in its specialist steels Clydebridge plant in Glasgow, increasing the plant's capacity to produce the premium quality high-strength steel plate, essential for lifting and excavating industries, by up to 50%.
Tata Steel claim to be more than the just a steel producer in that they provide a range of steel processing services with added value offering a solution-based approach. Carlo Di Terlizzi brand and marcoms manager at Tata Steel for lifting and excavating said, "We are both a steel producer and a steel processor. This means we can take complexity out of the supply chain for our key OEM and subcontractor customers, which allows them to focus on their core business of building construction equipment."
Tata Steel's continuous investment in advanced downstream processing facilities at our service centres gives the company the capability to supply steel cut and finished to exact size, shape and specification. This reduces the time it takes to get material into customers' production cycles and cuts operating expenses and material waste."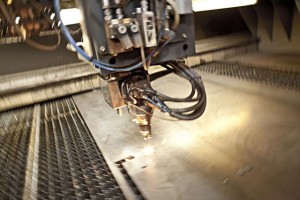 Di Terlizzi concluded, "We help our customers build better vehicles through providing engineering, design support and advice on the best use of steel in their equipment, something we call Early Vendor Involvement.  This means that the vehicle can be optimised in terms of design, manufacturing and materials. It's a holistic approach to our customers which offers greater efficiency: fewer parts, less steel, welding and cutting – which in turn can be more cost effective for the client."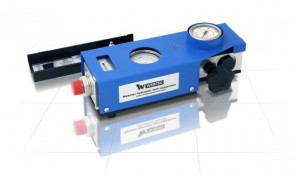 Webtec Products Ltd will be exhibiting their full range of hydraulic test equipment and hydraulic valves, designed for use in the construction machinery industry on Stand 6G004 in the UK Pavilion. Of particular note will be two new products, the HPM6000 hydraulic data logger with Intelligent Digital ™ flow & pressure sensors as well as the RFIK series of portable hydraulic testers.
According to Webtec the HPM6000 series is potentially the most powerful range of portable hydraulic data-loggers on the market. The range is designed for the hydraulic service engineer who needs advanced diagnostic features that allow the user to easily measure and record many hydraulic parameters, store them, analyse them and quickly share the results with colleagues and customers. The HPM6000 is the latest addition to the HPM series of hydraulic data-loggers.
Also new are the RFIK30 and RFIK60 mechanical hydraulic testers. The RFIK30 is ideal for hydraulic flow testing components with operating flows below 30 lpm, such as many hydraulic steering pumps on trucks, buses and large off-highway machinery. These two new models will join the already popular RFIK120 and RFIK200 providing a complete range of cost-effective hydraulic testers.
Zigma Ground Solutions says that it offers 'best in class' temporary access and ground protection solutions the company is making its inaugural appearance at Intermat this year on stand 6G006.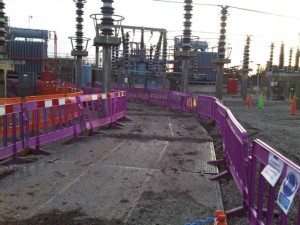 Shelly MacDermott Zigma's marketing manager said, "This will be Zigma's first visit to Intermat.  We will be showcasing our core products EuroMat and TuffTrak as well as our new product EconoMat, which we will be launching prior to Intermat on 1st March. We will also be launching our European Rental operation at the show."
Zigma reported that the EconoMat has been developed during a time of austerity, cost cutting and a change in customer requirements and Zigma is excited by initial customer feedback. The company recognised a need for a temporary access product delivering many of the same benefits as the company's other market leading products, EuroMat and TuffTrak, but at a much lower cost.
EconoMat provides a new lightweight but strong temporary access and ground protection solution and is particularly suited to the event industry. The mat is made from 100% recycled polyethylene and is 100% recyclable. Its light weight of 29kg makes it easy to transport, manoeuvre and deploy.
Other exhibitors in the CEA's UK Pavilion include Con Forms Europe, who specialise in concrete pumping systems and accessories, hydraulic cylinder manufacturer Hendry Hydraulics, high performance polyurethane manufacturers Kay-Dee Engineering, Resale Weekly, which is a leading portal for new and used Heavy Equipment and Unitruck who manufacture and distribute rear view mirrors to the commercial vehicle industry.
A number of CEA's other members will also be exhibiting at Intermat but not in the UK Pavilion – these include MOBA, who is launching a new control system for rollers, a 3D system for blades as well as the excavator system Easy Dig in hall 5A, stand number, J091.
Terex® Minerals Processing Systems is launching the new modular crushing and screening range on the Terex stand, C002 in outside area E5.
Terex Finlay, will be launching the new 684 inclined screener.  The machine will be exhibited on the Terex Finlay stand in Hall 3, stand C141. Also on display at the show will be the recently launched Terex Finlay 863 heavy duty forward facing screener and the Terex Finlay I-110RS impact crusher.
Powerscreen will display the Powerscreen XH500 impact crusher and the Warrior 2400 screen in Hall 3, stand D140.

Editors notes:
The CEA is not responsible for the accuracy and content of the company information provided but are reproducing it in good faith on behalf of the UK exhibitors.
For further press information contact
Louise Murphy, Press and PR
Email: louise.murphy@plantworx.co.uk