Following last year's successful event CPA is busy finalising this year's CPA Plant Conference which will take place on Wednesday 9th November 2016 at Wyboston Lakes Conference Centre, near St Neots, Cambridgeshire.
The conference, held in association with CanTrack, will be covering many key issues and hot topics that are affecting the plant hire industry – delegates can expect to hear about:
The Changing Landscape of Skills Supply
Tideway's Shared Vision for a Complex Project
Construction Pipeline Supply & Demand Analysis
Innovation in Flexible and Local Training Delivery
Safety – Preventing Unintentional Machine Movement
Developments in Telematics and Tracking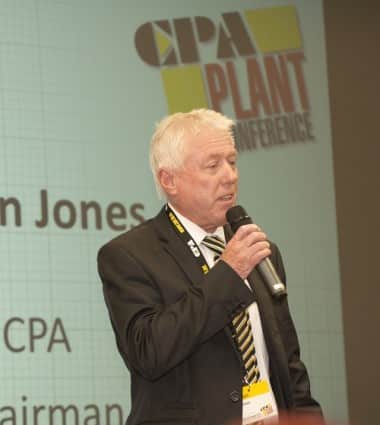 Confirmed speakers will include
Christian Spence Head of Research and Policy
from GMCC (Greater Manchester Chamber of Commerce) who will be talking to delegates on construction pipeline supply and demand analysis which will include skills.
Roger Bailey Asset Management Director, Thames Tideway
will be discussing the co-operation with contractors and suppliers on a complex project.
Tim Watson, CPA
will address delegates with the latest developments on the Plant Safety Group's Guidance document 'lifting using excavators'.
DI Caroline Clooney Metropolitan Police
will talk about PANIU and fraud prevention – tackling fraud and theft and how the industry and police are working together.
More speakers to be announced in the coming weeks – so watch this space.
The CPA event will once again have an exhibition area with more exhibitors than ever before! Exhibitors include
AMI Group, JCB, Kranlyft UK, GenQuip, Syrinx Point of Rental, Datatag, Jaama, AJ Gallagher, ECY Haulmark
and
PLANTWORX.
JCB is also exhibiting two machines outside the event venue and Kranlyft UK will be showing three cranes outside and a mini crane inside. AMI Group will be displaying several tracked vehicles. AMI Group will also be showing two super cars fitted with the company's tracking system. Genquip will be showing a welfare unit in the outside area.
The event is being promoted to construction and civil engineering associations as well CPA members and other bodies in construction, and to public and private sector clients: attendance is open to anyone who has an interest in, or influence over, supplying or procuring plant.
Delegates can register to attend the event via the CPA website www.cpa.uk.net/conference. Ticket price will be £54 inc VAT