With 160 exhibitors, including 20 companies making their Show debut, there is no better opportunity than the 2020 Executive Hire Show for hirers to find the equipment they need as they prepare for a very busy year ahead.
The Executive Hire Show is taking place on the 5th and 6th February 2020 at its established home at the Ricoh Arena in Coventry. The team has reported that the show to-date is 99% sold.
The Show has become a magnet for hire industry professionals and each year its support grows as the biggest name suppliers to the UK hire industry commit to exhibit – the Show may only be a two-day event, but its reach and its influence continue throughout the hire industry during the year.
This year the Show is set to welcome 20 new exhibitors, which include Pop Up Products, Northwest Radio Communications, Globestock Safety Equipment, AJ Power, Cumberland Platforms Ltd, GYS Welding Equipment and Milwaukee.
Pop Up Products is an independent British company providing low level access equipment, the company is making its show début. Ben Sly, National Account Manager, Pop Up Products explained why the company is coming to the Show, he said,
"The Hire show is a fantastic platform for us to be able to showcase our brand and range of products to engage with new and existing customers to improve their access product offering."
Ben added, "Over the last few years it has been a tough industry and we believe that the corner has been turned, and with this in mind we are looking to invest in new innovative products, along with improving our current range, so customer input is essential for this. Along with customers 'hopefully' placing orders during the event!"
Access platform specialist, Cumberland Platforms is also new to the event. Anna Ramsden, Marketing and Events, Cumberland Platforms Ltd said,
"We have chosen to exhibit at The Executive Hire Show as we are looking to target the Hire and rental market with a full range of innovations. These include very compact, fully electric access equipment up to 7t van mounted equipment. CPL feel that The Hire Show is a great place to not only meet potential new customers but to also demonstrate some of the range we can offer."
Another brand-new exhibitor is GYS who claim to be the Europe's largest manufacturer of Welding Equipment. Steve George, Marketing Manager GYS said,
"We are Europe's largest manufacturer of Welding Equipment and we have the widest range of dual voltage (110v/240v) machines available today – which are perfect for the tool hire industry. GYS see the Executive Hire Show as an ideal opportunity to showcase our range of products to key influencers from the Hire Industry."
A full exhibitor list can be found online at www.executivehireshow.co.uk
Expect to see the latest equipment and machinery on offer from JCB, Tracked Carriers, Husqvarna, Makita, Thwaites, BOMAG, Manitou, Mecalac, Altrad Belle and many more. For a full exhibitor list visit https://www.executivehireshow.co.uk/exhibiting/2020-exhibitor-list/
New products have always been at the heart of the event and it's the place where visitors get to see new potential profit earners and take advantage of show only deals – which makes the show an even better prospect for visitors – it's one show in the exhibition calendar you simply cannot afford to miss. Here's a selection of what hirers can expect to see on display at the Executive Hire Show 2020
Genquip Groundhog is presenting three products from its mobile unit range, which includes the
the GP360 Fusion Pulse, which according to Genquip, is both environmental and offers cost savings yet remains robust and easy to easy to operate. New additions include a full stainless-steel option and solar panel upgrade giving up to 80% savings on generator usage.
Next is the reconfigured GP500 Fusion Pulse, 5m twin axle mobile welfare unit offering enough space for up to 14 operatives, again offering a 12V system, meaning reduced generator use and silent running. The roof mounted solar panel means the unit will charge up during the day and is completely carbon free.
The final unit on the company's stand is its brand-new fixed axle hybrid solar Toilet. This can be easily towed to site and provides facilities for operative's both male and female. Utilising 12V, solar power and waterless urinals Genquip say that this really does offer huge cost savings as well as environmental benefits. The low flush toilets are serviced via on board rainwater harvesting system.
Western Tydens specialise in diesel engine safety equipment and have introduced a new range of spark arrestors, the NT New Technology – Advanced Flow Range. Designed specially to meet the requirements of the latest generations of low emission diesel engines.
Western claim that this new range has much lower system flow resistance than conventional spark arrestor designs, enabling them to achieve the low back pressure requirements of high gas flow engines. At optimum flow rates – back pressure is approximately half that of other equivalent models.
This smoother, less turbulent internal gas flow reduces the secondary noise generation often associated with spark arrestors making them much quieter across the power range.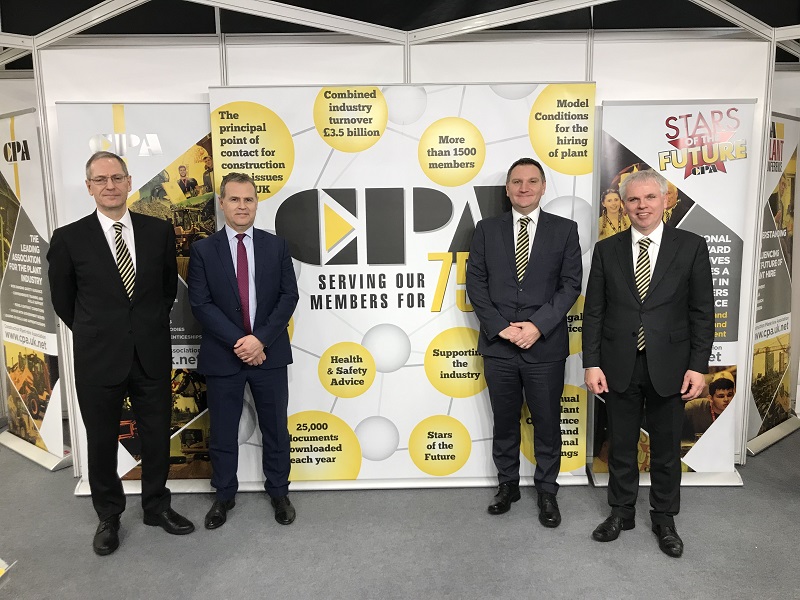 The Construction Plant-hire Association (CPA) is exhibiting at the Executive Hire Show for the 14th year running since the event's inception in 2007. A leading trade association for construction plant hire in the UK, the CPA is the principal point of contact for all issues relating to construction plant.
The CPA team will be on hand at the show to talk through some of the exciting projects the association is currently working on such as new apprenticeships for the sector, the CPA skills strategy, Stars of the Future 2020 and the CPA Conference 2020, as well as issues such as revisions to the CPA conditions.
LISSMAC is showing the MBS 510. The band saw is designed especially for processing porous concrete in addition to various bricks and have shown proven results on all types of construction sites worldwide. Visitors to the company's stand will be able to find out all information about the Compactcut 400, Compactcut 201 P, FS 20D and Lissmac's core drilling machines.
Trime UK will be lighting up the show with the X-Hybrid. Trime claim that its diesel-battery combination lighting tower can save fuel costs by 94%, emissions by 86% and runs for 860 hours longer than older lighting towers. It is one of the most sustainable lighting solutions available in the industry today.
Trime will also be displaying the X-ECO lighting tower which it says can reduce your fuel costs, fuel usage and emissions by 72%. The X-ECO can light up an impressive 4200sqm, whilst being mobile and practical for all hire use.
Coveya will be demonstrating its Invader 45 modular conveyor system. The team will be on hand to talk visitors through its range of conveyor systems, which the company manufacture and supply to global customers, including its Easikit range, hopper and larger bulk handling conveyor solutions. Coveya say that its conveyors are suitable for a vast range of industries and applications and are available to purchase or hire.
National Flooring Equipment will showcase its new ION2K ionizer. This is the smaller version of its established ION4K, which electronically charges the air on a job site to quickly drive dust particles and other contaminants to the ground, ensuring a dust-free construction site.
The company will also present its new line of shot blasters. For the first time, the range was fully designed and manufactured in-house to offer the best in terms of ergonomics, quality and reliability. Additionally, it will showcase its popular 5000 ride-on scraper and Helix planetary grinder and other equipment in the range.
Industrial Power Systems Ltd is making its show debut – the company is the exclusive distributor of DEIF products in the UK & Ireland
DEIF Group is a global market leader in green, safe and reliable control solutions for decentralised power production, Industrial Power Systems, is coming to the Show to present a brand new series of single genset controllers manufactured by DEIF – the SGC Series.
The SGC is specially designed to meet the needs of OEMs and genset packagers. DEIF describe the series as a high-quality yet affordable controller that fully lives up to the DEIF brand.
The Single Genset Controller 110/120 is a cost-competitive but high-quality controller range for standby applications. Modern genset controllers with a user-friendly interface and full LCD graphics.
Trelawny will also be exhibiting its brand-new Electric Needle Scaler and Heavy-Duty Floor Scarifier at this year's Show. The two new products have been developed and tested throughout the back-end of 2019 ready for launch at the start of 2020. The company is also showcasing its range of low vibration air tools and surface preparation equipment.
Briggs & Stratton will showcase the Vanguard® 400 single-cylinder, 14 Gross HP*. Briggs & Stratton say that the engine offers owners a lower Total Cost of Ownership (TCO) than other brands in the market**, twice as long oil maintenance intervals (every 200 hours), and fewer air filter replacements (every 600 hours). A 45-degree package enables contractors to work where competitive petrol-driven equipment cannot, while a simplified 3-step starting process helps ensure easy starting,
The engine is a straightforward drop-in replacement, ideal for use in a broad range of equipment, including shredders, concrete saws, generators, pumps, blowers and more. UK company Dragon Equipment will display its first CR300 concrete crusher, built around the Vanguard 400 engine, at EHS.
C.L.M Construction Supplies Ltd is bringing a range of products including a new IMER accessory for the Mortar Mixer range. The company says that it limits the dust created from mixing operations, the I-DUST grid. This grid comes as standard on the Mix 80 but can be purchased as an optional extra with the Mix 120, Mix 360 and Mix 750.
DURO and YOKOTA will be exhibiting once again at the Show – this time as a single entity – and is now named DURO YOKOTA Ltd. DURO YOKOTA will be launching its new joint catalogue that contains construction consumables and tools ideal for the hire market.
The company says that its packed with new and updated products and this new catalogue features further expansion to the dust suppression tank range, a new high performance wet core drill range, a diamond blade developed specifically for clean cuts in external porcelain tile, diamond tile drills that can be run using angle grinders, expanded ranges of SDS Plus hammer drills, the inclusion of the DQ range of electric saws and core drill motors (exclusive to DURO YOKOTA) and much more.
Dustcontrol will be showcasing its new DC TrombTwin, which the company say is separable, which means the dust extractor and pre-separator are easily detached to make transport simple. The team will also be exhibiting the DC Box cleaning cabinet, which is used to safely and easily clean returned equipment. Other equipment on show will include the DC 2900 and DC 1800 eco vacuums, the DC Aircube air cleaners – all H Class as standard, as well
as its multipurpose HSE TExT kit.
BOMAG return to the Show in 2020 and will be concentrating on safety, security, service and solutions. The construction industry has many hand operated machines producing high HAV. BOMAG will show four pieces of kit which have HAV's below 5.0 m/s², the BT60 Tamper, BPR2540D, BVP1030 and BVP1845 Plate Compactors.
Also, BOMAG will be providing visitors information on the FREE award winning BOMAP system which allows you to document pass counting and on-site compaction results.
The company is also a leader in Continuous Compaction Control (CCC) a 3-step process of Display, Control and Documentation. The ECONOMIZER system shows compaction progress, which BOMAGS says saves time and money, reducing emissions and risk, providing consistent quality over large areas.
Makinex is showing a range of products including the Jackhammer Trolley, which the company says is the fastest, safest way to remove tiles and thinnest. The machine lets you remove ceramic tiles, thinnest, cork, vinyl up to six times faster than other methods.
Visitors to the stand should also look out for the Makinex Dual Pressure Wash Trolley. The DPW 4000 combines a pressure wand and rotary cleaner with 1000 – 4000 psi adjustable pressure control, in one machine. Makinex power generators will also be on show.
Altrad Belle says it will showcase the new DX1000HT high-tip dumper, designed to meet the demands of hire companies in terms of safety, strength, operator comfort and productivity, will be at the forefront of the stand. The company says visitors will quickly grasp the logic behind its message, "Dump the rest and try the Best".
The DX1000HT features a full-time 4-wheel drive hydraulic system that gives increased traction on poor terrain and excessive mud, this allows for better gradeability, increased productivity and less servicing. It is powered by a 3-cylinder 1100cc Yanmar diesel engine, it features low fuel indicator warning light, low hydraulic fluid level warning light. The DX1000 also features extensive use of hose clamp retainers to prevent pipe fretting and rubbing, reducing hose failures and maintenance costs.
Altrad is promising a number of 'Show Only' special offers and a whole host of new products which are being kept under wraps until the show opens.
Molson Compact Equipment will be showcasing a range of products that have been selected for their relevance to the hire sector, ranging from Kobelco excavators to Ammann compaction equipment and more.
A feature of this year's show will be one of the latest additions to the Kobelco excavator product line – the SK75SR-7 compact radius 8t excavator. Molson says that it is sure to impress both customers and hirers thanks to a 15% reduction in digging cycle time and 37% increase in arm digging speed for improved productivity, and a 27.9% increase in engine output when compared to previous models. In addition, the machine's bucket digging force has been increased by over 14% from 52.7 to 60.3 kN for superior power when working in areas of hard ground.
EC Hopkins is the exclusive UK Distributors for ICS Diamond Chainsaws and will display the complete range.
In addition to the hydraulic and petrol driven ICS units the company will be launching its new electric diamond chainsaw. The saw has up to 30cm depth of cut and is available in both 110 and 240v. EC Hopkins says that these saws are ideal for indoor use and where an operator would like a low maintenance, quick to deploy, deep cutting saw.
The company is also launching the ICS Rentmax chain which fits on both the electric and petrol saws. The Rentmax chain is designed to be a general-purpose chain aimed specifically at the hire market.
Atlas Copco Power Technique has introduced its first-ever battery-powered LED light tower, which will on display at the Show. Zero noise during operation and the absence of engine emissions ensure full environmental compliance in urban locations.
The HiLight Z3+ features a high luminosity lamp assembly comprised of four x 160 W LEDs, with a life expectancy of 50,000 hours. The LED lighting units are supported by a hydraulically elevated vertical mast, certified wind-stable up to 80 km/h, with a maximum operating height of 8 m.
The compact dimensions of the light tower, which measures 1160 x 1160 x 2500 mm, allow up to 22 units to be accommodated on a 13-metre truck. All-weather protection is provided by a galvanised steel canopy and powder coated paintwork. The Z3+ has been designed with portability and transportation efficiency in mind.
Bona is back at the EHS with a selection of wood floor sanding machines. The company is promising some really special offers if you order machines during the event. Depending upon the number of machines purchased (between one and ten) Bona is offering discounts of up to 35% available against the trade price on the following machines when ordered at the show.
Bona FlexiSand 1.9 is a powerful and highly versatile machine that can be equipped with a variety of drive plates for jobs including sanding back to bare wood, fine sanding and concrete grinding.
For edge sanding, the Bona Combi Edge is lightweight and flexible and available as a 125mm short arm machine or a 330mm long arm version.
All Bona sanding machines are compatible with Bona DCS dust free sanding vacuum systems and there are also discounts available at the show against the compact Bona DCS 25.
The Hire Supply Company will be promoting its new MSC and HSC combined catalogue in addition new products for 2020 will be on display and will include everything from lighting, heating, water pumps, generators to compaction equipment and electrical distribution products.
The HSC is also offering one time only show deals that will be available at the event.
New exhibitor, Rouse Services says it is the gold standard for appraisals, used equipment sales support, and hire metrics benchmarking for customers throughout the United States, Canada and the United Kingdom.
Rouse Appraisals provides asset-based lenders, equipment hire companies, and construction equipment dealers with the most accurate machinery and equipment appraisals possible.  Rouse Sales enables hire companies, contractors and dealers to optimize used equipment pricing, drive retail sales, and make better fleet decisions.  Rouse Analytics provides hire companies of all sizes with monthly comparisons of pricing and key performance metrics to local market industry benchmarks.
New exhibitor Cascade Holdings has been working with Stanley Black and Decker for a number of years to design and produce its STANLEY branded range of site lighting. The company is coming to the EHS is to introduce the brand to the Hire Market in the UK.
The company's brand-new range comprises easy to use handheld rechargeable worklights, multifunctional area lighting through to 110v Professional Site lighting providing well over 10,000 lumens.
BPH Attachments is expanding its PRODEM hydraulic attachments portfolio in the UK with the addition of a new crusher bucket, which the company is bringing to the EHS.
Designed to efficiently crush and convert waste material including brick, concrete, rock and even wood, into reusable hardcore or infill, directly on site, the PRODEM PCB Crusher Bucket, will be available to hire or purchase from BPH Attachments from Thursday 9th January 2020.
Industry users have estimated the attachment, which features a patented auto-reverse crushing drum, can increase productivity to anything between 34-45 ton per hour on-site by reducing operator input and increasing utilisation of site machinery. It also has intuitive jaw adjustment, high displacement radial piston hydraulic motors, wear resistant teeth, and easy forward-facing or reverse-facing loading.
CPL will be showcasing one of the groups fully electric access platforms. The importance of being green is now at the forefront of all companies working within cities. CPL have made it its goal to ensure there is a conversion for all work at height – the company have both compact vehicles like the Goupil and Nissan eNV200 with a K20 boom reaching 10m working height up to a Renault Master ZE which can be twinned with several of our booms from 11 to 15m working height.
CPL offer a full bespoke finishing service. This includes storage solutions and racking, full electric options like beacons and cameras and chapter 8 markings all fitted in house. This allows your conversion to be driven straight to work from CPL's factories.
Yanmar Compact Equipment Europe (CEE) will showcase its ViO17 mini excavator at this year's Show.
Yanmar say that the new machine is compact, efficient and productive and the ViO17 is a leader in its class. A true zero tail swing machine, neither the counterweight nor the upper frame exceeds the width of the crawlers, making the ViO17 perfectly suited to tight job sites. A variable undercarriage (950mm-1,280mm) maximises stability by adapting itself to the space available, while the permanently fixed, hinged blade extensions are easy to fold-out.
Powered by a 3-cylinder, 14hp Yanmar 3TNV70-XBV diesel engine – renowned for its clean and quiet profile, the next-generation engine also boasts reduced emissions, reduced noise, improved starting and meets the latest emissions compliance standards.
Mecalac has brought yet another safety-critical site dumper innovation to market. Developed to meet the highest levels of on-site operator safety at an extremely attractive price point, the MDX Canopy is a true market disruptor. Set to be unveiled for the first time at the Show, the first-to-market site dumper with protective canopy aims to bridge the gap between ROPS and cabbed models – ideal for the rental sector.
Based on Mecalac's MDX cabbed dumper, the MDX Canopy removes the rear and sides of the cab to leave the windscreen and roof as an open-air canopy. Offering the highest levels of protection in the event of a rollover, operators benefit from exceptional visibility, comfort and performance.
SPE Bartell Global is a British manufacturer of construction and surface preparation equipment for the Hire industry. The company's is coming to the Show with its construction equipment line ranges which includes power floats, screed and uni-screed… to compactors, rammers, buggies and generators.
For surface preparation equipment – Bartell manufacture a wide range of diamond floor grinders, from single headed grinders, to double-headed and planetary grinders. It also manufactures scarifiers, materials mixers and ride-on floor scrapers.
This year the company also launched its own diamond blade product line featuring a wide variety of blades that make any cutting job easy.
FG Wilson is showing its PRO Range rental series, which the company say, is the answer to your temporary power needs at an affordable cost.
Its PRO Range, from 30 to 500 Kva, is designed specifically to cover all requirements for rental applications. These EUIIIa emissions compliant units deliver increased flexibility by easily switching between 50 and 60 Hz, while maintaining emissions and noise certification at both frequencies, allowing one machine to satisfy varying load requirements across diverse applications including industrial, manufacturing, events, oil and gas and construction.
PRO275 to PRO500 models include a clutch fan. The genset fan no longer needs to run continuously at full speed and power. This saves fuel, while also lowering noise output: an ideal feature when operating at lower loads, in cooler temperatures or in evenings when noise levels are most noticeable.
Tracked Carriers will have a range of material carrying products on display which are all designed and manufactured at its established base in Essex.
Tracked Carriers products are all-electric with zero emissions and have minimal service requirements. They have uses in countless industries including the general hire market, and a range of attachments help tailor the machines for specific uses when required.
The companies most compact model – the Beaver 05.06 – will also be on display which has a 500kg capacity and is only 600mm wide and 355mm high. Along with the other models in this range, the Beaver 05.06 is operated via fully proportional wireless remote control, and has the ability to carry loads up inclines as steep as 45°.
Arcotherm is showing its new range of heavy-duty indirect oil-fired units which include the EC55HD and the EC85HD which will be the focus its stand at the EHS.
The EC55 HD is a 51Kw Output unit, equipped with a 105 Litre Fuel Tank, "Tigerloop" Air Separator, and a Heavy Duty Frame that enables the units to be stacked two high for ease of storage; the EC85 HD is an 81Kw Output unit with an impressive 135 Litre Fuel Tank, "Tigerloop" Air Separator and sturdy frame – the EC85HD, however, is not stackable.
Arcotherm also offer a wide range of ancillary items, including high temperature PVC ducting, thermostats and diffusers, plus a huge selection of spare parts and service kits.
RONDA Enviro Vac is exhibiting at the Show for the first time and will present a range of heavy-duty vacuum cleaners in addition to a series of Negative Pressure Units/Air Movers. Both product lines are designed for use in the Hire and Construction Industries.
Making its 'world-wide' debut will be the latest 110V versions of RONDA 200H Power and RONDA 1800H Power. Both machines being H-class vacuum cleaners suitable for large amounts of fine and health-hazardous dust and both equipped with the proven RONDA multi-tube filter.
In addition, RONDA Enviro Vac will present a wide range of vacuum cleaners including small easy-to-carry safe change vacs as well as two and three motor models for larger amounts of dust.
Loncin will be showing an ever-expanding range of generators at the Show with both inverter and open frame set model additions. The Loncin inverter generator series now includes 8 models ranging from 2 kW to 8 kW, and 7 open frame generator sets from 1.6 kW to 7.3 kW. Fuel efficient with reduced emissions, they offer the ideal, durable and reliable portable power supply.The new Loncin LC10000-AS is the largest of the open frame generator sets rated at 7.3 kW.
Two new Yanmar engines have been added to the existing TNV family of common rail engine models which are EPA Tier 4/EU Stage 3B and EU Stage V compliant. These new engines will be on display on the Barrus stand at the Show.
The two new engines are the three-cylinder 3TNV86CHT (33.3 kW at 2600 rpm) and the four-cylinder 4TNV86CHT (48.5 kW at 2600 rpm). All feature Bosch and Denso common rail direct fuel injection systems, and full authority electronics. They have already proved popular with original equipment manufacturers due to their fuel efficiency, higher power density, compactness, and a DPF which needs practically no maintenance.
Sumner Manufacturing say that it is committed to expanding its offering to the material lifting market sector, with products that are thoughtfully designed and engineered for longevity. The company is coming to the EHS with its range.
In additional to the long-established 2000 and 2100 series lifts, the company has a range of compact lifts designed for lightweight lifting applications, or where space is at a premium.
More recently the company has added a "short stack" material lift, which will be at the show, complete with optional foot jack and top mast covers preventing rubble etc from getting trapped between the masts
A 500kg material lift and a counterweight lift with a boom accessory suitable for use with glass lifting systems are also available.
Brendon Powerwashers is presenting its new Dustec DT400′ – water powered dust suppression unit. The company say that this unit is ideal for the demolition and renovation markets and is ideally used alongside its 207/245 bar units.
An environmentally friendly solution as the water drives the fan generating the air flow needed to atomise the water into the atmosphere. The water not used is then recycled back. The Dustec is a lightweight mobile solution, not needing the use of electricity and can be used up to 75M away from the pressure washer making it ideal for the changing dust conditions on all construction and demolition sites.
Visitors to the Thwaites stand will be amongst the first hirers to see the new 'wide track' design feature on the 1 tonne and 1.5tonne compact dumper. Thwaites say that this enhancement will give operators even greater control, ensuring the wider front and rear axles provides additional stability on this highly utilised hire fleet dumper.
Further innovation has been applied to the 6 tonne and 9 tonne dumpers, with a Spring Activated Hydraulic Release Handbrake, ensuring the brake automatically engages in the event of an engine stop. Should there be a need to initiate an emergency stop, proportional braking will ensure the dumper is brought to a smooth, safe standstill.
Stage V engines are now fitted to all 6 tonne and 9 tonne machines, giving the power and torque required to handle todays site conditions with a cleaner, more efficient and compliant engine.
Manitou will show feature four machines from its extensive range of equipment. The popular Manitou MT 625 compact telehandler is ideal for sites with limited space in diverse applications from builders' merchants to house building sites.
Articulated loaders are now a popular alternative to a conventional telehandler in many applications – the Manitou MLA-3-35H, on show at EHS, is a 2.6 tonne compact machine, at just 3.35 metres in length with a working width of 1.1 metres
The Manitou MC 25-4 is a compact semi-rough terrain, masted truck, with 4-wheel drive. It has a
working capacity 2,500 kg and an overall height of less than 2 metres making it ideal for a number of
demanding applications in restricted spaces.
The Manitou 100 VJR is a vertical platform with a capacity of 200 kg and a working height of
up to 9.9 metres.
At this year's Show, Wirtgen Ltd will be presenting two models from the Hamm CompactLine – the HD 8 VV and the HD 12 VV. With a total of 16 models, this makes the CompactLine the most extensive model series available in the sub 4.5 t weight category.
Four models from the CompactLine are available with oscillation, Manitou's environmentally friendly and efficient compaction technology. The models with weights ranging from 2.5 to 4.4 t have working widths from 1 – 1.4 m.
A major advantage of oscillation is that it achieves a very rapid increase in compaction. The benefits are particularly noticeable for processes such as the compaction of thin asphalt layers.
GreenMech is returning to the Show to showcase the latest woodchipper series that's set to become the hire industry standard, the EVO 165, which will be on display in its road-tow, diesel format, the EVO series also includes a petrol and tracked option.
Launched in May, the EVO responds to industry demands for a machine that delivers more aggressive torque, more powerful bite and more throughput. It combines a wealth of new features, together with some of GreenMech's proven innovations such as disc blade chipping technology, twin horizontal hydraulic rollers and 'No-Stress' controls. Its large in-feed chute makes it quick and simple to input large quantities of brash and branches, reducing snagging and increasing productivity.
MCS Rental Software is set to showcase its hire management solution at the Show. MCS will be featuring its new and refreshed Resource Planner along with its range of mobile apps, each tailored for specific roles in the hire business. The latest improvements and releases from MCS rental software are already helping hirers of all sizes increase efficiency, improve asset utilisation and reduce costs.
The latest Resource Planner solution from MCS is designed to help rental businesses accurately plan their resources. From the availability and workload of its teams, to estimated journey times and task optimisation, the Resource Planner helps to improve customer service and asset utilisation.
Postpullers is showing its Fence Master® machine, which the company describe as a popular postpuller, used by fencers, landscapers and contractors alike, making it ideal an addition for the hire shop. Postpullers says it can remove fence posts in under a minute with no digging, saving hours of back breaking work. The old post and the concrete can then simply be wheeled away. Even foundations of broken posts are easily removed with the unique claw attachment.
Also, on display will be the Barrier Master®, which offers a solution for the larger highways contractors for the safe and effective removal of Highway barrier posts, lighting columns, signage etc. It has won numerous awards, not least the Highways England H and S award.
A leading range of commercial evaporative coolers by Honeywell are to be showcased at the Show by exclusive UK distributor Scott Brothers.
Scott Brothers say that Honeywell products are renowned for their performance and longevity thanks to their stringent quality testing of every component. They offer low running costs and are easy to clean making them extremely popular in the commercial hire market.
UK distributor Scott Brothers, based in Cheshire, can supply the full range of Honeywell dehumidifiers and evaporative coolers designed to tackle all environments from dehumidifiers for specific damp areas, to room coolers and semi-outdoor coolers perfect for yards, gardens and garages.
Morris Site Machinery will spotlight its green credentials when it unveils an innovative new lighting tower alongside machinery range at the Show.
The manufacturer of mobile lighting towers plans to showcase what it describes as a ground-breaking new hybrid product to meet growing demand from hirers for sustainable and reliable solutions that are better for the environment.
The new prototype will be displayed alongside the most recent addition to the SMC lighting range, the SMC SL60 Link  The six-metre-tall lighting tower can be powered from mains supply, another lighting tower, such as the SMC TL90 Evolve  or from a generator. A single Denyo Eventa 20 (20kVA three-phase generator) can power 24 SMC SL60 Link's simultaneously using innovative daisy chain capabilities, producing an incredible 2.3 million lumens.
Morris Site Machinery will also be showcasing a new range of welders and generators at the show.
Pop Up Products is making its Executive Hire Show debut! The company have now taken over the manufacture and distribution of the popular Delta Deck Low Level Work Platform which it will be bringing to the show. Pop Up says that this versatile product is used by a wide range of trades who require a compact lightweight easily transportable sub 3m working height platform with built in foldable handrails. The Delta Deck provides an instant safe solution for onsite working and low level.
Also, on display on the Pop Up Product stand will be the IQ LIFT, which is the latest version of the Pop Up range of machines that were first released in late 2005. Look out too for the MI Tower and MI Tower+ range of Aluminium Mobile Towers.
The 14th annual Executive Hire Show is taking place on the 5th and 6th February 2020 at its established home at the Ricoh Arena in Coventry. Registration for visitors is now open – and it's FREE! For a full exhibitor list please visit www.executivehireshow.co.uk
Source: Executive Hire Show Press