The 10th annual Executive Hire Show is taking place on the 10th and 11th February 2016 at the Ricoh Arena in Coventry, UK. Once again it's set to beat previous Show records with more exhibitors than EVER before!
The Executive Hire Show has become a magnet for hire industry professionals and each year its support grows as the biggest name suppliers to the UK hire industry sign on the dotted line to exhibit – the Show may only be a two-day event but its reach and its influence continue throughout the hire industry throughout the year.
This year an all-time record of 170 companies have committed to the event amongst these 40 exhibitors are new to the 2016 Show. The 2015 event attracted 2,102 relevant hire industry visitors and the EHS team is confident that the 2016 Show will beat this record too!
The 2016 exhibitor list is looking very impressive – with many of the key players in the hire sector taking stands. These include Altrad Belle, Atlas Copco, Bomag, Cummins, Doosan, Firefly Clean Energy, GenQuip Groundhog, Greenmech, Hanix, Husqvarna, Ifor Williams, King Highway Products, Knott-Avonride, Kubota, Leica, Mace Industries, Makita, Manitou, Nilfisk ALTO, Obart Pumps, Red Plant, Ridge Tools, Shindaiwa, Sumner, Takeuchi, The Access Platform Company, Thwaites, Topcon, Wilkinson Star, YOKOTA Youngman, Zenith and many more.
Hire professionals visit the event to see the plethora of new products which are showcased – many of which will be seen for the very first time in the UK and in some cases will be making world debuts. Many exhibitors offer 'show only deals', which makes the show an even better prospect for visitors. Here's a sneak peek at just some of what's going to be on display at the 10th annual Executive Hire Show.
Earthmoving and loading machinery…
Takeuchi is back at the Show with more new models that it says fit the bill for hirers! Takeuchi will also be celebrating 20 years of Takeuchi in the UK and Ireland.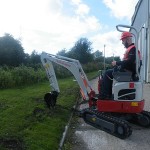 First up is the new three cylinder micro with short tail swing. It powers in at 1180kg and fits through the narrowest entrances, adjusting from 750mm to 1020mm with extendable tracks.
Comfortable and powerful for a micro the new model is the simplest Takeuchi to operate – perfect for the DIY hire. The compact stylish dashboard incorporates travel throttle and blade levers with simple joystick and foot controls.
Next up Takeuchi introduce a new hybrid TB216 providing both electric and diesel operation in one machine – ideal for a mini wanted in the most sensitive environments. The TB216 Hybrid is equipped with an electric motor for use where diesel is too noisy or emissions not permitted, for example; enclosed construction sites and factory spaces, built-up environments, close to schools and hospitals or internal demolition applications.
The flexible high voltage connection point is positioned at the back of the machine and allows for a 100% emission-free use with full functionality and increased performance. Hirers still get the original diesel engine remains intact so this hybrid can still be used in a conventional way; simply switch to diesel when in travel mode.
Kubota UK is showing its new range of wheel loaders and track dumpers. A total of 11 new machines will enter the UK market over the next few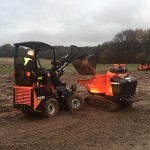 months which is the first time that Kubota has launched a whole range of wheel loaders in the company's history.
Kubota say that the RT Series Wheel Loaders have been designed to ensure efficiency and flexibility across a range of tasks and incorporate a 45-degree articulation-oscillating angle for easy access into small spaces without damaging surfaces.
The new Track Dumpers added to the line-up include the KC250HR-4, suitable for construction professionals wanting a compact and powerful machine with the ability to transport large amounts of material in a short space of time with its 84-degree dumping angle.
Neil Winfield, Kubota Construction's Business Development Manager, said: "At Kubota we're always developing highly versatile machines that can be used alongside our mini-excavators and utility vehicles for a complete on-site solution.
"The engines and construction departments will be working alongside each other on the stand to demonstrate to visitors how Kubota Original engines can boost performance and enhance productivity when used in conjunction with different types of machinery."
The new additions to Kubota's construction equipment will sit alongside its oil cooled diesel, water-cooled diesel and dual fuel engines.
A&Y Equipment is the importer for Yanmar construction equipment, Ammann and Rammax compaction and excavator attachments together with Prinoth and Cormidi tracked dumpers for the UK and Ireland.
Showing at the forth coming Executive Hire Show will be a range of Yanmar excavators which have had a colour change this year, from green to black cabs so all the cabbed excavators will have the new black design.
On the A&Y stand visitors can expect to see new excavators including the SV08 micro 690kg  model, SV18 mini 1835 kg model, the VIO10 mini zero tailswing 1220kg excavator, the VIO17 mini 1765kg zero tailswing excavator  and the SV26 2875kg mini excavator. These excavators have uprated specifications from the old models including two speed travel, full flow sharing hydraulic system, hammer circuit with proportional control, more power, long dipper arm, and lower maintenance and fuel costs. With the hire rates still struggling these features go a long way to making the numbers stack up not forgetting all Yanmar Excavators come with a 3 year warranty!
Also on show will be the ARX12 Ammann Roller, ACR60 Ammann Rammer, APF1033, APF1240, APR2220 Ammann Plates and the C85 and C6.50 Cormidi Tracked Dumpers.
On the JCB stand the brand new JCB 3CX Compact will make its UK exhibition debut. Powered by a 74hp (55kW) low emission Tier 4 Final/Stage IIIB JCB Diesel by Kohler engine, the compact backhoe loader delivers big machine performance for confined job sites.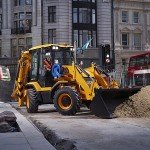 A top speed of 40 km/h and compact dimensions – 1.9m wide and 2.74m high – ensure rapid travel times and maximum manoeuvrability. These make the 3CX Compact perfect for road maintenance, urban construction, utility work, or any task that requires maximum performance in a compact package.
It will be joined on the JCB stand by the six-tonne JCB site dumper which features heavy duty construction for the rigours of the rental industry and the 525-60 which joins JCB's growing Hi-Viz construction telescopic handler range.
JCB will also showcase a series of additional products from its extensive, purpose-built range of equipment for the rental industry including: compact excavators, tracked dumpers, generators, attachments, lighting towers and compaction equipment.
Doosan Construction Equipment will be presenting products for the plant and tool hire industry from the company's Bobcat, Portable Power and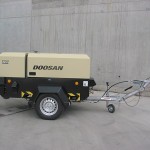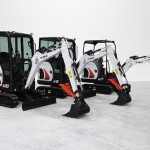 Attachments businesses.  Visitors can discover the latest Bobcat ranges of micro- and mini-excavators, skid-steer loaders, compact tracked loaders and telehandlers.
Hook-Up Solutions will once again be bringing their unique 'Hooka' machine to the Executive Hire Show. The Hooka was launched at the 2015 Show and went down a storm!  This innovative hire opportunity is the only pick and carry crane designed to pick up any bulk building material payload (pallets or 1 tonne bags), secure the load onto its bed using its 'load-lock' system, and then transport it quickly into tight or uneven work sites.
At only 1 metre wide and weighing 1.25 tonnes, it offers hirers a compact, low ground damage tracked machine for the safe and secure movement of bulk materials.  Ideal where confined access means deliveries are unable to be dropped close to site, or when a piece of plant needs to be moved into a building through a restricted access.  It has a 1.5 tonne lift and carry capacity and optional extras include a dozer blade, for levelling loose materials and a hydraulic emptying 'tote' box, which will allow the Hooka to be used as a hi-tip dumper and even lift bricks / blocks to scaffold 'first-lift' height.
The Hooka is manufactured in the UK – it's based on a Hinowa track base and a Honda V-twin power plant.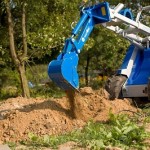 MultiOne UK is a brand new exhibitor to the Show. The MultiOne is described as a compact, multi-purpose loader with a big performance. Having small dimensions, low gross weight and high manoeuvrability, the articulated loaders have lift capacities up to 2,700kg.
Complemented by a range of over 170 attachments, the MultiOne is a work tool that can dig, drill, trench, load, tip, mow, carry, vacuum, clip, sweep, grind, cut and more. It is a multi-purpose 4×4 tool carrier, designed to offer maximum productivity for the end user and high utilisation for the hire company.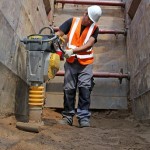 BOMAG will use its 2016 stand to showcase its range of hand guided compaction equipment – on display will be BOMAG plates, reversible plates, single drum rollers and tampers which are available in 34 models and BOMAG say that they are capable of tackling the toughest jobs.
Emphasis will be placed on the choice of fuel used as the hand guided range uses a mix of engines powered by petrol, diesel or gas. Gas powered tampers produce zero emissions making them ideal for work in deep trenches or indoors.
All 34 models are designed and manufactured by BOMAG and for peace of mind they come with 3-2-1 warranty. BOMAG Finance offers a choice of HP and leasing options matching outgoings to income.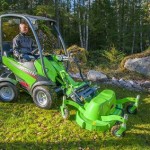 Avant Tecno (UK) will showcase the recently announced 200 Series of compact tool carriers, a ground-up redesign of the outgoing models and just one example of Avant's continuing commitment to provide the hire industry with a comprehensive choice of innovative equipment.
Besides being super compact, the new machines offer more power, more options and greater user-friendliness, making them ideal for the hire market with a choice of over 150 attachments for outstanding on-site versatility.
There are four models in the new 200 Series, all powered by either a 20 or 25 hp Kohler petrol engine with an auxiliary hydraulics oil flow of up to 50 l/min depending on model.
Avant will also be exhibiting some of its larger machines, together with a selection of the very latest attachments including a new flail, weed brush, lawn mower and a useful, lockable toolbox. This spacious toolbox is ideal for the secure storage for a new range of hydraulic power tools also being launched at the show.
Access All Areas…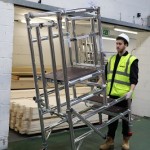 Euro Towers will be showing new products at the show, a new addition to the popular Stepfold podium range, the Stepfold 500, offering a very handy platform level of 0.5m and the new Stepfold 3, offering a much required platform level of 2m.
On show will also be some exciting new accessories to support the ongoing hire of products in relation to current health and safety standards, in particular the new Tilt'N'Go Anti-Surf safety pack that includes a specially designed castor / leg configuration that is an alternative option for all low level folding units and podiums.
Kranlyft UK the Master distributor for Maeda Mini Cranes in Europe will be exhibiting two  Maeda mini cranes at the.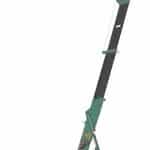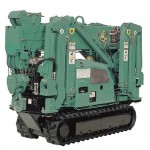 On display will be the smallest and most compact mini crane available – the MC174CRM which is only 590mm wide with lifting capacities to 1720 kgs with fully programmable safe load indicator and operation via remote control.
Also the all new MK1033 knuckle boom the only mini crane that articulates to offer lifting duties over obstacles. With three main boom sections and a three section articulating hydraulic luffing jib this crane offers a host of technical features as standard which according to Kranlyft is not found on any other machine.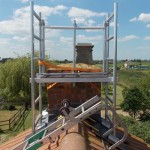 Aluminium Scaffold Towers is promoting its Loyal Chimney Access which is constructed of welded aluminium and is designed for quick and easy access to central chimney stacks. The company say it's the lightest on the market with a minimum number of components and can be easily installed and dismantled in position on the roof by one person. The innovative design incorporates foldable bases and adjustable angled feet which ensures great flexibility and quick assembly. Featuring one large platform providing a stable working area with enough space for any additional materials needed to carry out the work. The products suggested uses include adding bird guards, fitting cowls, accessing taller and hard to reach stacks, capping off, repointing plus many others which will help to save money when compared to hiring scaffolding and expensive hydraulic machinery.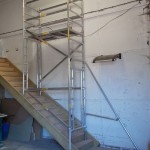 Aluminium Scaffold Towers is also showing the Loyal eStairMate tower which has been designed designed for quick and easy access on stairwells. Again the company say it's made of the lightest components in the market, can be easily manoeuvred, installed and dismantled in position. Walk through ladder frames and a tower width of 730mm allow easy access to the platform on narrow and confined space stairwells whilst maintaining clear stairway access. No minimum platform height on the upper end, height adjustable baseplates and platform height adjustment of every 250mm (10") makes the Loyal eStairMate tower more versatile than any other stair scaffold in the market.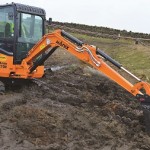 Mini-Excavator specialist, Hanix Europe, will be showing two models from its range, with the long arm version of the H27DR zero-tail swing excavator making its debut. The 2.7 tonne H27DR, with extended arm, boasts a digging depth of 2860mm and a dumping height of 3040mm – noteworthy features of the H27DR include: thumb-operated proportional boom swing and auxiliary hydraulic functions integrated into joysticks, 2-speed travel and straight line tracking, plus steel bodywork throughout and wrap-around counterweight. Powered by a fuel-efficient Kubota engine and a variable displacement hydraulic piston pump, machine performance is optimised.
Also displayed will be a canopy version of the popular H17D which is designed for serious digging where access and working space dictate the use of a smaller machine. Easily transported by trailer, the H17D is ideal for applications requiring a rapid response and, at a width of just 990mm, it enables access through narrow openings, while its tracks and dozer blade simply expand to 1300mm to provide stability when digging. Although a conventional tail-swing excavator, the H17D is an extremely well-balanced machine with a shortened turning radius, and an impressive digging depth of 2495mm and dumping height of 2435mm.  Hydraulic pilot control for all functions ensures smooth and precise control with added reliability built-in (no cables or linkages). Additionally, 2-way proportional auxiliary control ensures maximum versatility with the ability to use a variety of hydraulic attachments.
New Power Generation…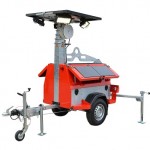 Shindaiwa will be exhibiting its brand new ECO Solar Hybrid lighting. According to Shindaiwa, the new lighting tower is a genuinely sustainable product, giving up to £300.00 of fuel saving per month in comparison with conventional lighting towers. Using an average of 1.46 litres of fuel per day the new machine gives you a running time of up to 60 days.  The unit is totally self-contained and requires no external charging as some solar lighting towers do. Full aluminium body panels and a galvanised chassis offers total protection against corrosion even in the harshest of environments and a major weight saving over similar products.
Shindaiwa managing director Andy Munford said, "We are delighted with the new lighting tower's outstanding performance!  It offers solar power and diesel hybrid technology using energy from the sun – this in turn reduces carbon emissions, fossil fuel consumption and air pollution.  It's ideal for the rental market and we are looking forward to showing the full benefits of the lighting tower to hire professionals visiting the EHS in February."
Three new models mean Cummins range of generator sets for the European rental sector now run from 20 to 1250 kVA. New compact, transport-optimised 20, 40 and 60 kVA generator sets are the latest additions to Cummins Power Generation's rental product range.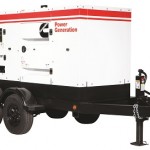 Alongside an extensive selection of standard rental industry features, these new units also boast sound attenuated enclosures and long autonomy fuel tanks. Operating in prime power mode at 75% load, they offer noise levels as low as 62 dB(A) at 7m and impressive fuel autonomy of up to 32 hours.
Cummins Power Generation is targeting these new generator sets for the specific needs of rental fleet operators with customers in demanding sectors including construction, events, telecoms and manufacturing. Multiple control options including Cummins PowerCommand®, DeepSea and ComAp, help operators achieve fleet consistency and keep training costs down.
Robust construction and heavy-duty components minimise total cost of ownership and the overall result is rental units that deliver optimum reliability in the field, with excellent uptime and service intervals of up to 500 hours.
These three new generator sets are coming to the rental market at the right time, believes Gary LaFine, Director-Rental Business, Cummins Power Generation. "We fully expect operators will be stocking up on emissions-compliant generators, if they are not doing so already," he says. "These new generator sets are more fuel efficient, and rental companies will be able to promote their better fuel economy to customers."
The new 20, 40 and 60 kVA generator sets are ready to replicate the success of Cummins Power Generation's 100 kVA model, while recent enhancements to the 150, 200, 250 and 300 kVA models have reinforced the company's position as the provider of a seamless range of rental product from 20 to 1250 kVA.
The Doosan Portable Power display will demonstrate the hire solutions available using the company's very popular compressors, generators, light towers and construction tools.  Completing the stand will be a display of attachments for use on all makes of compact equipment including the unique range of attachments from Bobcat.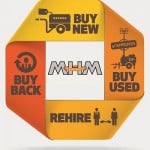 MHM is a specialist supplier of petrol and diesel generators from 3–3000kVA, lighting towers, engine driven welders from 175-600A, and the latest hybrid battery power technology from 5-150kVA. The company is showing the very latest models on its stand at the Show.
All MHM's products are manufactured in its Tekno-Proget factory based in Milan, and are available to either purchase as new or used, or supplied via MHM's re-hire service in three options. Re hire is only available to established plant or tool hire companies that are members of either the HAE (Hire Association Europe) or CPA (Construction Plant-hire Association)
Software and management solutions…
Syrinx is showcasing new technology and demonstrating its newest features. With the introduction of their new hire and sales online ordering system which it says seamlessly and fully integrates with Syrinx and enables orders to be processed 24/7.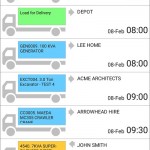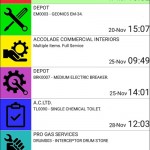 The recently launched Syrinx Driver App will one of the features – whether drivers are in the yard or on the road the Syrinx Driver App is able to transform your business by allowing you to send jobs directly to their Android smart phone or tablet device.
The App provides drivers with accurate and detailed information for all of their jobs and no requirements for paper based notes, meaning less effort and greater efficiency. When each job is complete the details are automatically uploaded into Syrinx allowing your office based staff real time access to the status of the job. They can then see signed proof of deliveries, job notes and any photos the driver has taken.  Syrinx Driver App also has support for VOSA, IPAF, HAE and custom checks which are processed via the App and automatically fed back into Syrinx. Syrinx Driver App integrates with TomTom's Webfleet routing and telematics solution giving drivers one touch access to the most efficient route to their next job, saving time and money.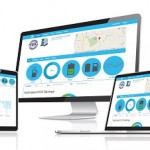 Firefly is showcasing its new cloud based remote fleet management portal. GLOW RFM™ provides Hybrid users with a simple and easy to use reporting and management functionality on energy and fuel savings. This hybrid first will be available to view at Show alongside Firefly's other products.
Half of the UK's carbon emissions can be accounted for by the construction and related industries alone. Where there is a requirement for 24hr power, integrating Firefly Hybrids with diesel generators results in a smart site power solution – with the potential for achieving significant savings in emissions from the diesel generators. Hybrid technology will help contractors to fulfil the UK's emissions 2020 target. It also enables contractors to provide on-site silent power, which is an important factor for the Considerate Constructor Scheme, when in a residential area.
Andy Mead, Director and Founder of Firefly, commented on the industry, saying, "It is clear that sustainability has been and will continue to be a key agenda for the construction sector.  For this, power is an important consideration and it's very positive to see such growth in the hybrid power market. However, it's not just about the product selected – considering elements such as renting as opposed to owning not to mention the importance of being able to report on savings are key aspects of this solution too."
Abnix Solutions is coming to the show for the first time and is showcasing its Tool Hire Company website package.
Abnix Solutions is a UK-based IT business providing a website package specifically for the tool and plant hire industry. This package, designed for hire companies by hire professionals, is designed to provide small to medium sized hire tool hire companies with a comprehensive and professional website. Through the website, the company's customers can access a wealth of safety instructions, product specifications, operator instructions and machine spares information relating to the products in the inventory.
Abnix Solutions initially set up a new website for its customers with a professional domain name e.g. www.companyname.co.uk. For customers with an existing website, Abnix can either bypass this site or set up links from their existing site to the relevant sections of the new site.
Tools and Accessories…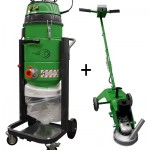 Brand new exhibitor The Preparation Group, specialists in surface preparation, removal and finishing, will be launching the PPC Trolley Mounted Hand Grinder at the Show along with the compact 202DSLP Longopac® Vacuum.
The PPC Trolley Mounted Hand Grinder is designed for use in confined floor areas where larger plant cannot reach and for edgework. Critically, it avoids the operator having to work on their hands and knees. Anti-vibration features also remove the risk of hand/arm vibration meaning that there is no restriction on length of usage.
The powerful 2.5kw motor and interchangeable accessories, including turbo grinding discs for hard and soft floors and polycrystalline diamonds for adhesive removal, render the tool ideal for; cleaning and keying all types of surfaces, removing concrete laitance, smoothing and levelling, de-scaling and removing sticky compounds and paint. It is also quickly assembled and disassembled.
Another hire tool compatible with the 202DSLP vacuum, and on display on The Preparation Group's stand, is the multi-tasking STG450 surface texturing and grinding machine. There is an exclusive offer where anyone ordering an STG450 at the Executive Hire Show will receive £150 of free accessories.
Says Tracey Glew, Group Managing Director;  "In 2016 we celebrate our 25 years anniversary of providing insight, expertise and service to the surface preparation industry. Our focus is on supplying low maintenance, durable and reliable machines and tools designed to continually meet the demands of tough site conditions, all backed up with technical support, training, repairs and servicing."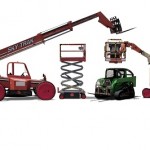 New exhibitor EuroGate International is introducing the all-new TireSocks, Inc to the UK hire market!   The TireSocks new design consists of a ballistic nylon fabric (similar to the material used to make suitcases) sewn together to cover the tread of the tires with a lighter weight fabric sewn on the front and a heavy-duty bungee cord sewn into the back edge. The main innovation in the latest design is the addition of a piece of fabric to the front of the tire cover. This piece of fabric serves two purposes: not only does it hold the product together so that the bungee cord on the back will pull towards the axle of the machine, but it also allows for a blank canvas that is visible to everyone on the construction jobsite.
EuroGate International, Pieter Jansen said, "In 2015 EuroGate International was introduced to TireSocks, Inc., resulting in an immediate co-operation.  When the users see how easy the new TireSocks® can be installed, how they self-centre and don't slip off, they do not wish to use any other product.  We are very much looking forward to introducing this product plus others at the Executive Hire Show."
McCloskey International will be showcasing a new product line for – Fuel Hubs – which are on-site fuel storage tanks in eight sizes from 450L to 10000L. The Show will be the product launch into the European market.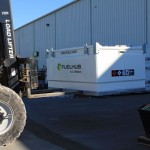 In response to customer demand, McCloskey has introduced its Fuel Hub products – secure, environmentally friendly, transportable bunded tanks that allow for fast, efficient re-fueling at work sites around the world. Fuel Hubs contribute to a site's productivity with quick and efficient re-fuelling. The new Fuel Hub is available in 8 sizes with capacities ranging from 450L to 10000L, bringing convenience to of customers who value their time in the field.
McCloskey's Fuel Hub All Terrain Tank features an easily removable inner tank and outer lid for maintenance, cleaning and quick bund area viewing as well as primary and secondary manway access for speedy fuel connections. A pitched outer lid protects against material build up and allows for immediate rain regress. The Fuel Hub is certified to be lifted when full*, and features bidirectional forklift pockets, internal baffles and galvanized lifting eyes to ensure safe and easy handling. Space efficient, the Fuel Hub can stack inside of shipping containers and across truck beds, and can be stacked 2 high when full and 3 high when empty.
Husqvarna Construction Products will focus on dust suppression as well as showcasing new and existing products.
Husqvarna VARI-CUT™ is a new family of diamond blades for power cutters, masonry saws and small floor saws. Husqvarna say that VARI- CUT™ blades have excellent performance and deliver high cutting speeds with good service life in frequent all-round use. This product family will be shown at the EHS with three versions available for cutting in different materials.
Husqvarna will also be introducing newly updated trollies the KV 760 and KV 970/1260. These compact cutting trolleys, specifically designed to fit Husqvarna petrol power cutters, make it easy to cut in straight lines and close to kerbstones, while reducing strain on the operator. The trolleys now come with a 13.3 litre pressurised water tank and 3 meter hose that connects to the water nozzle on the blade guard. This new feature enables the water flow to continue even when working with the cutter out of the trolley.
Dust and its hazard to workers health is a topical issue within the construction industry. With this in mind Husqvarna will be presenting its innovative product features and accessories that provide exceptional dust control when cutting, drilling and grinding, helping to create cleaner and safer working conditions on site. These include wet cutting solutions with our water tanks and trolleys that work with Husqvarna power cutters and drilling equipment as well as a dust collection unit that can be used with power cutters, drilling equipment and surface preparation. Included with this will be our K 3000 power cutter that can be used for both dry and wet cutting, producing minimal dust when used with Husqvarna dust suppression accessories.

Visitors to the Seaward stand will have the opportunity to see the range of Clare electrical safety testers including SafeCheck 8 which is an advanced technology safety tester for use in workshops in hire outlets, rental stores and tool repair companies.
The compact bench top tester enables all relevant electrical safety tests to be carried out quickly and in line with the recommendations of the HAE EHA electrical safety code. The comprehensive safety testing functions can be initiated manually or in automatic mode using simple controls with a large clear display providing an immediate indication of pass/fail test results.
In addition, a special feature of the SafeCheck 8 is its ability to record details of all test results, time and date of tests, together with the identity of the person carrying out the test.
Also featuring at the show will be the established hire industry tester, the Clare B255. This dedicated unit features a comprehensive electrical safety testing capability enabling tests to be carried out quickly and effectively, ensuring that power tools and other electrical rental equipment function correctly with maximum safety.
The B255 enables the full suite of electrical safety tests to be undertaken on rental equipment and includes earth/ground bond and hipot/flash testing alongside load, run and leakage testing functions.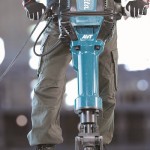 Makita is showing its new AVT HM1812 Electric Breaker at the Show. The HM1812 introduces a new vibration damping system that effectively separates the impact generation from the motor housing, once again cutting vibration ratings and produces a remarkable 4 hours 43 minutes of useable work time to reach the Exposure Limit Value.
The HM1812 generates a 60% increase in impact energy to a class leading 72.8 joules with 870 impacts per minute driving the 1 ¼ " AF Hex steel point for maximum productivity. This breaker is powered by a 2000w 240v motor (1700w in 110v version) that gives this powerful performer a low 107 dB(A) sound power rating. The soft no-load function cuts motor impact if the motor is running but the point is not pressed to the ground and this too effectively reduces vibration. The operator is further protected by the soft-grip handles whilst the 'top mounted' heavy duty switch further limits the operators' hand fatigue.
Makita says the new HM1812 sets new standards in performance and safety with more joules of impact energy with a lower vibration rating and 15% more daily run time than the nearest competitor in this product sector.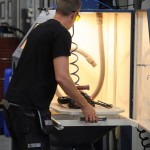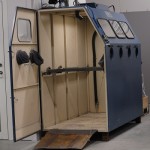 Dust Control has launched its second-generation DC Box, which is a purpose built cabinet that helps hire companies combat and contain harmful dusts when cleaning returned tools and equipment.
The DC Box acts like a fume cupboard, containing dust from equipment that's cleaned inside it and then filtering the air. Cleaning can be done with the integral air gun and vacuum suction hose, improving the lifespan of hire equipment and ensuring that any hazardous dusts are removed before further hire.
James Miller, Dustcontrol UK's General Manager, commented: "There's a huge requirement for this amongst hire companies at present – something we've recognised and responded to. Equipment is placed into the box via a door and sliding tray. Three hand hole openings on the front allow the operators to handle the equipment inside during the cleaning process, whilst a third functions as an air inlet."
The cabinet is also equipped with a light that allows users to clearly see if equipment is clean and the tray has a rotating mesh top for ease of access and use. Large particles and other waste drops into a plastic bag at the base of the DC Box, helping with the efficiency of the clean. An AirCube 500 is integrated into the system, which means its HEPA H13 extraction capabilities constantly clean the air inside and remove smaller airborne dust particles that can be generated during the cleaning process.
James continued: "With hire companies, equipment is often returned dirty, which can generate large amounts of dust within hire depots. The DC Box efficiently contains and extracts this dust, helping to improve the lifespan of the hire equipment whilst also stopping the spread of airborne dust within the depot."
He concluded: "It makes the whole process of cleaning the equipment much safer to undertake by reducing the potential hazards that handling such equipment can present and helps hire companies meet workplace exposure limits for dust."
New Era Oils is returning to the Show in 2016 following a hugely successful 2015 event where the company forged a number of alliances with key hire companies with The FuelBox.
Since its launch at the Executive Hire Show in 2015 'The FuelBox', a product which contains 20 litres of Red Diesel with the 10+ additive system in a box, has exploded into the plant and tool sectors.  The revolutionary new product now boasts in excess of 240 stockists which includes 150 independent hire companies.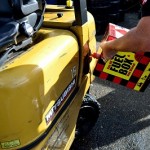 The FuelBox is playing its part in helping the plant & tool industries in becoming more efficient – giving stockists of the product the confidence that their machines are being fuelled by the end user and has zero risk of contamination.
The FuelBox  is a new innovative, revolutionary way of handling and storing Red diesel which lowers users carbon footprint through the unique packaging, the box also contains the company's exclusively developed additive 'Gas Oil 10+' system which enhances the performance of the red diesel and increases the shelf life of up to two years where standard red diesel will generally store for 3 to 4 months before a potential bacteria build up– the additive has lots of elements which cleans and protects your fuel giving your engine a boost in performance.
Probst is launching its mechanical Manhole Cover Lifter – the SDH-M-10. Probst say that the new lifter releases even seized manhole covers very easily with very little force. Lifting a manhole cover out of the frame by hand using hooks can be a very difficult job! With weights of up to 70kg it is certainly not recommended – even with two people for ergonomic and safety reasons. Probst say the new SDH-M-10 will ease the burden on your employees and improve efficiency!
The new product is suitable for lifting out manhole covers of up to Ø 900 mm in diameter and maximum hook spacing of 590 mm. The hook spacing is continuously adjustable.
To lift out a manhole cover 'keys' are inserted into two holes in the manhole cover. These keys can now be held by the 'hooks' of the manhole cover lifter. By tilting the SDH-M-10 with the handle, the manhole cover is lifted. Seized covers can be loosened easily with 2 foldout feet (lifting spindles) on the sides. To do this, the feet are placed on the ground. With a crank, the manhole covers, can now be pushed out. Also available as an option is a PML-400 permanent lifting magnet with slot on SDH-M-10 for lifting loose cast steel and cast iron manhole covers.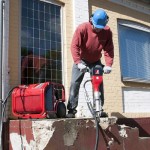 Fairport Construction Equipment is launching its new FP07-20 High Performance Hydraulic Power Breaker. Powered by a Honda GX200 engine, this new and advanced technology breaker has all of the power of Fairport's existing breakers, but with less bulk and lighter weight, allowing for outstanding manoeuvrability whilst being conveniently portable.
Fairport say that the FP07-20 is the perfect tool for a variety of construction sites with its user friendly, intuitive power pack controls, reliable non-clogging cooling model, designed for the harshest of working environments, and low fuel consumption; combining both power and efficiency.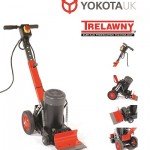 Yokota UK is showing its new range of construction and surface preparation tools at the Show. 2015 saw YOKOTA become Trelawny's key UK supplier, bringing a range of surface preparation tools and machines including floor strippers, petrol and electric floor grinders, floor planer/ scarifiers and much more.
New products at the show will be high performance 10kg hammers, innovative high speed pulse air shovels with electrical insulated lances and electric hand grinders.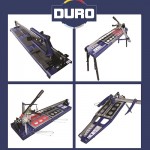 DURO, Yokota's sister company, is showing new products which include two performance levels of tile drills with the capability to drill dry, dust defender sheets that extend DURO's dust suppression range, 'traffic-light' indicating Electronic Spirit Levels and an innovative line of manual tile cutters boasting a host of patented features such as laser guides. The most comprehensive range of diamond blades and core drills, including the innovation nominee SHARK drill, will also be at the show.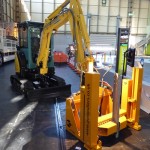 Postpullers UK design and manufacture a range of unique machines and attachments for the easy removal of all kinds of posts – the company is showcasing its new 'Post Master' Range. Postpullers make products for the landscaping, highways and telecommunication industries. From fence posts to street signs, bollards to motorway barrier posts, its machines are now widely utilised across many business sectors.
Manufactured in the UK Postpullers are specifically made for the tough and demanding hire market. With low maintenance requirements its machines have very low on-going operating costs. A complete range of machines are available from small wheeled machines with a 4,000kg pull, to larger attachments pulling up to 15,000kgs.
Once the Postpuller is placed on the ground, the post is hydraulically gripped and then extracted from the ground, and this operation transmits 100% of the applied force back into the ground, thus eliminating any stored energy. If a post should break, there is no danger of any ejected parts as the broken piece of the post is held by the machine.
This attachment keeps the operative safe as it is operated entirely from the driver's cab, or remote control of the lorry crane. This also totally eliminates ALL manual handling of the post, and the operator is safely away from the post extraction operation and live carriageways.
Associations' at the Executive Hire Show…
The CPA (Construction Plant-hire Association) will be exhibiting at the EHS for the 10th year running (10th & 11th February, Ricoh Arena, Coventry) and will be celebrating its 75th anniversary.
The CPA will be holding an 'Open Meeting' at the show on the morning of Wednesday 10thFebruary (11.00 am to 13.00pm in the Jaguar Suite at the Ricoh Arena). Discussion topics will include the Apprentice Levy, Datatag's new Micro Cesar Scheme and other topical subjects. CPA will also talk about new projects the association is planning to undertake in 2016.
Confirmed Speakers include:
Kevin Howells Managing Director Datatag who will be talking about Micro Cesar Scheme.
Sam Alcock Product Leader (Construction) HSB Engineering Insurance will be talking about Insurance & Fraud.
Kevin Minton CPA Director will be talking about the Apprenticeship Levy.
CPA will also be promoting its 'Stars of the Future' award scheme, now in its fourth year, for trainees in the plant-hire industry held in conjunction with a number of UK colleges offering plant mechanic apprentice training.
Team members will be on hand advising visitors to the show on its wide range of services offered to Hire Industry professionals and publicising the CPA Plant-hire annual conference, which is taking place on the 9th November 2016.
Delegates will need to register for the Executive Hire Show. The meeting is open to all and free to attend. For more information and to register contact CPA Legal Manager, David Smith via email at david.smith@cpa.uk.net. Alternatively, you can just turn up on the day.
The HAE (Hire Association Europe) will be there promoting its services to hire industry professionals.
A full exhibitor list can be found online at www.executivehireshow.co.uk. Put 10th & 11th February 2016 in your diary and see you at the Hire Event of the Year. Executive Hire Show – Ricoh Arena, Coventry UK.