On the 15th June 2016 at Vertikal Days cranes and access equipment exhibition (Haydock Park, Merseyside, UK) the CPA (Construction Plant-hire Association), in association with CITB (Construction Industry Training Board), hosted the 4th annual 'Stars of the Future' plant mechanic apprenticeship awards presentation, in an all-star ceremony full of young engineers, who took part in the annual competition from colleges nationwide.
The plant hire sector – not to mention the wider construction industry – has a bright future judging by the outstanding quality of the entrants at this year's 'Stars of the Future'!
Presenting the awards and talking about his experiences to an audience of over 250 people was Nic Hamilton, a racing driver in the BTCC (British Touring Car Championship), and the brother of reigning Formula One world champion Lewis Hamilton.
A special feature of the Awards, which were supported by Kranlyft UK (Maeda Mini Cranes), A-Plant, Vertikal Days, IPAF, Hawk and Snap-On, was an inspiring and very entertaining speech from Nic, who spoke about his life-long battle with Cerebral Palsy and how, up until the age of 16, relied on the use of a wheelchair.
He told the young audience that with motorsports in his blood, he was absolutely determined to pursue a career in motor racing. By crossing many challenging hurdles, using sheer determination, he achieved his lifelong dream! Nic's message to the young engineers was 'you can do anything if you put your mind to it – don't let anything stand in your way' – which Nic has proved beyond doubt.
Nic said, "It's was an absolute honour to be here at the Stars of the Future – firstly to share my story but also to see all the fantastically talented people that have been nominated for these awards. I believe everybody has a story and is inspiring in their own right and I think that CPA and these awards for young apprentices give a great platform for everybody to show their talent. As far as I am concerned they are all winners here today and should be very proud of themselves."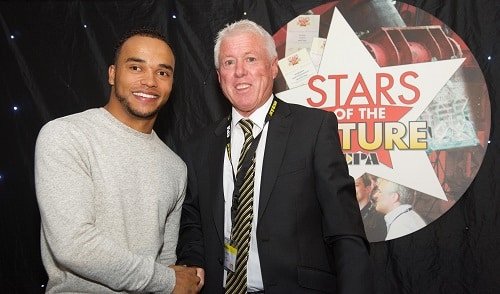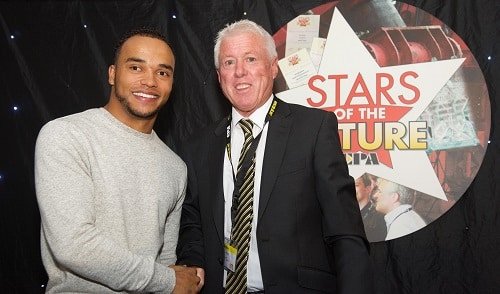 Family, friends, college tutors and work colleagues gathered for the ceremony where the regional winners were presented with their award – the young stars beamed with pride at receiving recognition for their hard work. The two overall (national) winners also took to the stage to receive their award to rapturous applause from the audience. 42 students were also Highly Commended – the standard was so good!
Opening the awards ceremony was CPA Chairman Brian Jones he said: "Today is the fourth year that the awards have been held and year on year the benchmark that was set previously gets higher and higher. Apprentices play an important role in the recovery of our industry by giving employers the essential skills they need."
Brian added, "I am very proud and privileged to be associated with the Stars of the Future programme and to see the pride the apprentices bring not only to their employers, families, and college but most importantly to themselves. Over 250 Students were nominated from colleges from all over the UK each and every one of them is a Star of the Future. Congratulations to them all!"
Master of Ceremonies was CPA Safety and Training Manager Haydn Steele, who is also responsible for organising the Stars of the Future Awards. Haydn said, "This year's calibre of students was exceptionally high and I am very proud to be associated with the awards scheme. Working with the colleges and tutors I am lucky enough to hear about these students first hand. It's also excellent to see these young stars at the start of their careers in the plant industry – they really are the engineers of the future!"
The 2016 Stars of the Future Winners
| | |
| --- | --- |
| Regional Level 2 Winners | College and Employer |
| Angus Strowbridge | Askham Bryan College – Lifterz Ltd |
| Sion Cooper | Bridgend College – U Hire Equipment & Sales |
| John Davies | Coleg Cambria – Richard Tresidder |
| Jack Pleavin | Finning Academy – Finning UK |
| Luke Johnstone | Glasgow Kelvin College – SLD Pump & Power |
| Katie Long | Myerscough College – UK Forks PLC |
| James Deeley | National Construction College – Allsort Grab Services |
| Campbell Howie | National Construction College (Scotland) – Muirhead Plant Ltd |
| Samuel Cooper- | Hart Reaseheath College – A Plant |
| Tom Knapp | Stafford College – Hire Plant UK |
| Lloyd Hewish | Wiltshire College – SKH Engineering |
| | |
| Regional Level 3 Winners | College and Employer |
| Elliott Waite | Askham Bryan College – Lifterz Ltd |
| Jason Standen | Bridgend College – South Cornelly Services |
| Sam Batchelor | Finning Academy – Finning UK |
| Tyler Nicholson | Glasgow Kelvin College – Your Equipment Solutions |
| Daniel Fradd | Myerscough College – Multi Hog |
| Thomas Jackson | National Construction College – Gray Materials Handling |
| Sean Gunn | National Construction College (Scotland) |
| Jean-Paul Alcayde | Reaseheath College – Clee Hill |
| James Hughes Stafford College – | AP Web UK |
| Bradley White Wiltshire College – | Ardent Hire Solutions |
| | |
| National Winners | |
| Sion Cooper | Level 2 Bridgend College – U Hire Equipment and Sales |
| Jason Standen | Level 3 Bridgend College – South Cornelly Services |
National Level 2 winner Sion Cooper, from Bridgend College commented on his win he said, "I was really happy to win the award and very proud. It was totally unexpected even though I was nominated – I didn't think I would actually win!"
Sion added, "These awards are a really good thing for our industry and reading about the winners and what they have achieved might encourage other young people to get into our industry and learn what can be achieved. For me this award will help further my career in the future."
Also from Bridgend College was the Level 3 National winner, Jason Standen, he said, "I was ecstatic to win this award and like Sion, I was not expecting this at all! I owe it all to my College tutors and also my employers, South Cornelly Services, for all their hard work in training me and their guidance throughout the course. This award makes me very proud and will help my future career – who knows maybe it will be abroad."
Samuel Cooper-Hart attends Reaseheath College and is employed by A-Plant – Samuel was a Regional Level 2 winner he said, "All the hard work has paid off and the training given by the college and employer has shown. It's a very proud moment for me and will enable me to further my career with A-Plant."
Bob Harper, Head of Training at A-Plant commented on Samuel's win, he said, "We are delighted that Samuel has won the Level 2 Regional Award and it is great recognition for him as an individual. Since joining A-Plant as an apprentice at our Northampton Service Centre Samuel has been hard working, reliable and has an excellent attitude towards health and safety. He regularly takes on jobs without being prompted and can be found willingly assisting fitters, both on customer sites and in the workshop.
On the back of Paige Carter's regional and national success last year with the CPA it gives us fantastic pride that our commitment to develop apprentices is recognised as we firmly believe that investing in them now is investing in the future of A-Plant."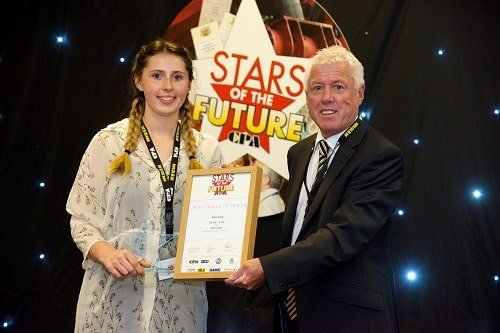 Katie Long from Myerscough College is no stranger to winning awards! Earlier this year she won Best Apprentice of the Year award at the 2016 Women In Construction Awards – at Stars of the Future – she scooped a Regional Level 2 award. Employed by UK Forks plc Katie, has also been put forward for the National Apprentice of the Year Award.
Commenting on her Stars of the Future award Katie said, "It's good to be nominated and very nice to be recognised out of a group of people and it does not matter if you don't win – it's just fantastic to be in the running!"
Katie added, "The two people I was up against are also really good at what they do – so when I actually won – I was delighted."
When asked about how Katie feels about being a female in what is still a male dominated industry she said, "At first it was really daunting – but everyone was really friendly and made me feel very welcome. I think it's great and I really hope more girls come into engineering and other jobs that have been traditionally 'just for boys'. The stigma of being a female and doing a 'boys' job has gone and we as girls have proved we can do the job no matter what gender you are."
Martin Davies from Bridgend College was Highly Commended at level 3 he said, "I was honoured to be nominated – which is just like winning in itself! I am just finishing my final year, with three weeks to go, and I have enjoyed every minute of it. But my dedication paid off as I recently won Apprentice of the Year in Wales and now a Highly Commended in Stars of the Future. It's good that there are so many awards in this industry – it helps keep you motivated and do the very best you can."
Alan Peck, Sales Director of Kranlyft UK was the Headline Sponsor of the even he said: "Kranlyft are proud to be the headline sponsor of this year's CPA 'Stars of the Future' Awards. It was an honour to meet and recognise the achievements of the young people who will become the future of the industry. A very well done to all those who were nominated and won awards."
About Stars of the Future…
The Stars of the Future competition is an annual award scheme developed by the CPA, now in its 4th years, to recognise the efforts of talented youngsters on plant mechanic apprentice schemes in colleges across the UK. The inaugural competition, which took place 2013, there were 489 entries – this year there were 750 entries which is testament to the success of the scheme.
There were separate prizes for Level 2 and Level 3 apprentices and colleges monitored their students throughout the year and put forward their three finalists for 'Stars of the Future' apprentices – of these one was a regional winner and the other two nominees were highly commended. There were 21 regional winners across the country and 42 Highly Commended – from the 21 finalists, a panel of judges decided on the two National Winners, one at each level.
The Regional Winners received a Snap-On Tool Kit and the two National Winners received a super-size Snap-On Tool Kit. The Highly Commended entrants received a Snap-On Screw Driver Kit.
Stars of the Future 2017 will be held at Plantworx Construction Exhibition 2017 (6th – 8th June) Bruntingthorpe Proving Ground, Leicestershire. The day of the ceremony is yet to be confirmed.