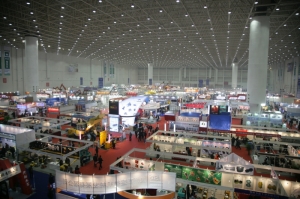 With China's 12th Five Year Plan being released, a continued booming market can be expected. Companies wanting to benefit from the expansion in China's demand for construction machinery can do no better than exhibit at – or at the very least, attend – BICES 2011.
The year of 2010 witnessed a startling boom in the Chinese off-highway market. "Our construction machinery sales in 2010 exceeded RMB 400 billion, a rise of 20% on the previous year." recounts Qi Jun, Chairman of the China Construction Machinery Association (CCMA).
As Jun goes on to explains, the market has heated up, boosted from two sides- support from the policy makers and the effect of the upstream projects of engineering constructions.
The framework of the country's "Twelfth Five-Year Plan (2011-2015)" is released in late December 2010, which sets the Chinese government the task of pushing forward a variety of sustainable development strategies in urbanization, industrialization and informatics. According to the plan, China will reach sales revenues of 900 billion RMB in construction machinery by 2015. The expected sales revenue this year will be 400 billion RMB. From 2011 to 2015, the market demand for construction equipment will rise by 17% annually.
Fixed asset investments in railway, highway, energy, and real estate will increase 20% every year during the next five years. Economic restructuring, rapid development of emerging industries, and the revitalization of the western and northeastern regions of China will also create favorable conditions for the construction machinery industry.
Look back over the year 2010, the increase in construction equipment imports is remarkable. According to recent figures from the Chinese Custom Bureau, the total volume of foreign trade in 2010 (from January to November) amounts to 16,840 million USD, a 47.9% rise over 2009. Imports reached 7,530 million USD, a rise of 66.6%, with the import of whole machines accounting for 61.5%, and components for 38.5%. Notably, the 2011 import value of components reached 2,900 million USD, a sharp rise of 80.3% over 2009, which shows China's great demands for foreign components.
"The recovery of the construction machinery industry in China is primarily driven by domestic demands," says Jun. "This has great appeal to multinationals such as Caterpillar and Komatsu, who move much of their manufacturing weight to China."
Prestigious Gateway
International trade shows held in China have always been a prestigious gateway to access the Chinese market. BICES 2011 (the 11th Beijing International Construction Machinery Exhibition and Seminar) will be one such event. When asked about the prospects for the BICES show in October, Su Zimeng, the Secretary General of CCMA feels more than confident.
"The best achievements of the industry over the past decade will be fully demonstrated on BICES 2011," he predicts. "More exhibitor groups and visitor groups organized by local governments can be expected. The latest products in the fields of key components and super-heavy equipments will also be shown in Beijing. To build a real international exhibition, our team is working to increase the participation of nationwide agents, to facilitate the business needs of international exhibitors."
"There are two development goals for the next five years. One is to upgrade openness to drive the industry onto the tracks of globalization, which will definitely lead to more factories opening in China on the basis of foreign investment. The other is to improving the investment environment by implementing technology standards and industry regulations, and to stimulate technology advancement and protect innovations."
BICES 2011 Outlook
Companies hoping to expand their business in China and those who are new and attempting to penetrate the region know that participation in trade show is the most cost-effective way. BICES has been a leading exhibition in the industry for 21 years, with the proud record of being the longest running exhibition in China construction machinery industry.
"As the leading organizer, we keeps improving year by year," boasts Qi Jun, the CCMA Chairman of CCMA, "Combined with ConExpo China in 2009 was a milestone in BICES history. The exhibition area jumped to 150,000 sqm, a rise of 40% over 2007. The number of exhibitors and visitors last year experienced dramatic rises of 30% and 14% respectively last year."
"We expect to accept 1,200 exhibitors and 80,000 visitors in 70 countries from all parts of the industry at the next BICES, and we already signed an agreement for 200,000 sqm of floor space at the Jiuhua International Exhibition Center in Beijing this year."
Visitors are the lifeline of any trade show. BICES organizers have not only focused on increasing the proportion of senior executives and real buyers in the visitor total but are also concentrating more on visitor diversity.
"The CCMA cooperates closely with over 40 critical government departments, industry associations, trade associations and State-owned business groups to help promote BICES to visitors in different types of construction such as railways, hydro projects, roads, deep foundations, petroleum-engineering construction, chemical construction, metallurgical construction, power construction, etc."
Echoing request from international exhibitors, BICES organizers are working to introduce the exhibitors to more agencies. University and college students in machinery-related majors are also being invited for they are the backbones of the industry for the future. BICES is a real "one-stop" showplace to find business partners among trade associations from other countries including Japan, Korea, India, Thailand, Russia, and most southeast Asian countries.
Special Attractions at BICES 2011:
Meet business contacts: senior managements from Railway Engineering Corp., SinoHydro Corp., Road Building Association, Association of Petroleum Engineering Construction, Metallurgical Construction Association, Electric Power Construction Association and more.
Major exhibitors in China: XCMG, Liugong, Zoomlion, Sany, LonKing and others will come with their latest products and technologies.
Low Carbon theme: BICES's theme "Shift to China, Lift the Green World" ensures more green and high-tech products to be shown on the site.
Co-located IVEX: it is open for companies that produce or own commercial vehicles like trucks, trailers, concrete pumps, containers, dump trucks, municipal vehicles, etc.
Tailor-made services and trained staff: inviting appointed visitors, on-site conferences and activities, advice, IP affairs consultancy and more.
ABOUT BICES
BICES– China (Beijing) International Construction Exhibition and Seminars is a leading exhibition for construction equipments in Asia. BICES 2011 will be held from Oct 18 to 21, 2011, at Beijing Jiuhua International Exhibition Center with expected 1,200 exhibitors, 80,000 visitors in a show area of 180,000 sqm.
ABOUT IVEX
IVEX – the co-located China (Beijing) International Commercial Vehicles Exposition. This is an event particularly for trucks and special vehicles launched by BICES Organizers and CMIF (China Machinery Industry Federation).
CONTACT: www.e-bices.org [email protected]