Purchase and sales prices at a glance
The fall issue of our most traditional longest lived market review is brand new. It offers to the user, aside from technical data and value orientation, also worthwhile additional information.
All types of machinery are shown as sketches, so even a layman may instantly recognize what a backhoe loader, a tracked dumper or a less known machine looks like, be it a walking excavator or a scraper.
With the new issue of the LECTURA Guide "Construction machinery" one can reach 28 machinery categories, 9.972 machinery models of 170 manufacturers and roughly 80.000 prices, with access to relevant standard data sheets, list prices and an orientation of the hand values for the past 10 years (purchase and/or sale). Thus you have a solid basis for the fair market value of used machinery from the fields of civil engineering and road constructions.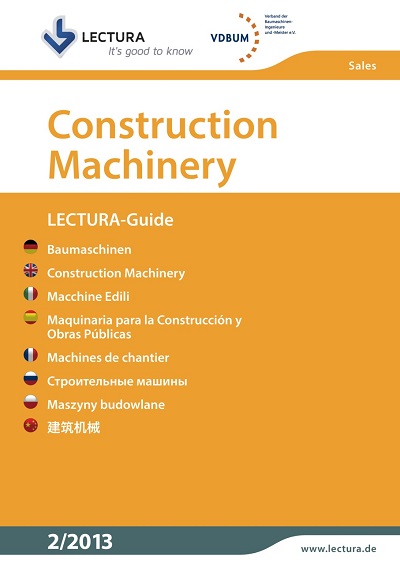 With the evaluation software on our online portal, you can now evaluate machines of the last 18 years individually, taking into account the condition, the operating hours and/or special equipments.
New in our online evaluation system is the offer analysis. Besides the known machinery evaluation or comparing functions we offer you an overview of what machinery is actually offered for sale; in what country and at what price – with direct link to the offer. You will receive an offer review with the LECTURA – valuation, a list of offers as well as the results of the auctions.
For further information please visit www.lectura.de
Source: Lectura News