Organised by Media 10, UK Construction Week is back following its successful launch in 2015. Bringing together nine shows under one roof to form the most comprehensive industry event in decades, UK Construction Week will return to the Birmingham NEC on 18 – 20 October 2016.
With some of the industry's biggest names already signed up including JCB, Kingspan, Screwfix and CEMEX, as well as support from a growing number of leading trade associations, visitors will not want to miss UK Construction Week 2016. In 2015, UK Construction Week attracted more than 24,000 trade visitors and 650 exhibitors and this year's show is set to be even bigger, building upon the solid platform of the inaugural event.
Not only will the show provide visitors with the chance to benefit from exclusive deals from leading brands but it will also give them the opportunity to network with fellow professionals, learn more about the latest legislation and the future of the construction industry, see the latest innovations first hand and progress their careers through learning new skills.
Lee Newton, CEO of Media 10, commented: "As the largest event dedicated to knowledge sharing, championing good practice and problem solving, UK Construction Week is the environment for the whole industry to look, talk, plan, learn and do business; providing answers for what, when, where and how we build our future. Research proves that the biggest attraction for visitors is the vast number of products and diverse range of services on offer. There is no other construction event that can compete at this level."
Some of the key issues that will be discussed on the main stage at the event will be diversity in construction, tackling the skills and housing shortages, BIM and much more, while the individual show feature areas will offer a wealth of further, sector-specific information.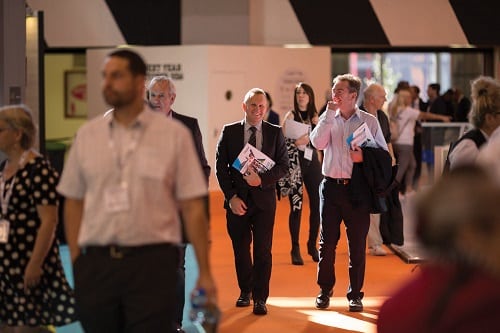 For exhibitors, the event provides a unique opportunity to interact with decision makers and purchasers from across the industry as 70 per cent of the UK's Top 10 house building firms, 60 per cent of the UK's Top 100 architectural firms and all of the UK's Top 20 construction companies attended the show last year. This unique mix of visitors is why so many exhibitors have rebooked from last year's event and is the key behind UK Construction Week's success as it brings the whole industry together.
In addition to the comprehensive business offering, UK Construction Week will once again host a wide variety of evening entertainment including a casino night at the world-renowned Genting International Casino, the extremely popular UKCW beer festival and an exclusive launch of the Construction Enquirer Awards. Lee Newton added: "We recognise that taking the time out to attend a trade show is a significant investment no matter the size of the company and so the after hours entertainment programme will provide a valuable extension of the event for professionals to relax and continue to network, particularly to those who have travelled a significant distance."
Consisting of Timber Expo, Build Show, Civils Expo, Plant & Machinery Live, Energy 2016, Smart Buildings 2016, Surface & Materials Show, HVAC 2016 and Grand Designs Live, UK Construction Week will span five halls of the NEC catering for the entire spectrum of the industry from architect to installer.
With support from trade associations and partners from across the industry UK Construction Week is on course to deliver a relevant, useful and profitable show experience for all who attend.
For more information, booking enquiries and exhibitor testimonials please visit www.ukconstructionweek.com or follow @UK_CW on Twitter.