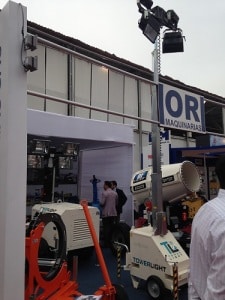 Tower Light, the Italian manufacturer of commercial site lighting systems, has recently attended a series of trade shows in Latin America in close cooperation with their local dealers and distributors.
During August they showcased a range of equipment at the Brazil Concrete Show, held in San Paolo. Exhibiting under 'Generac Brasil' brand, the company displayed their popular VT8, VB9-M, Linktower and VT1 products.
The Tower Light exhibition team then traveled to Mexico and set up their booth at Expo Ferretera in Guadalajara. Working alongside their distributor, 'Maquinaria Alfo', their VT8 and Linktower products proved very popular with visitors to their stand.
In September, Tower Light teamed up with another of their dealers, 'OR Maquinarias' to support the trade show, Expomina, held in Lima, Peru. Along with a selection of Tower Light lighting sets, the company also introduced DF Ecology's Dust Fighter product – the DF20000. In addition, the organisers also selected a series of Tower Light's VT8 lighting sets to illuminate the outside of the trade show and car parking area.
Finally, to complete a busy two months, Tower Light set up their stall at the CAPAC trade show in Panama City. In conjunction with their local agent 'COAMCO Alquiler y Venta' Tower Light took a small booth to promote their products via a video display and written literature. Following this initial incursion into the Panama market, they will now be demonstrating a fully functioning VT1 lighting set which has been specially designed for the mining industry, at the tradeshow Expo Minera, from November 19th to 21st.
Commenting on their mini tour of Latin America, Tower Light's Latin America Area Manager, Alessandro Capone said, "Every show has been very interesting, with many exhibitors and visitors. We ensured, via our series of commercial and after sales training programmes, that our dealers were well prepared to complete commercial and technical arguments and answer any questions put to them during these trade shows."
Tower Light is continuing to growth its presence in Latin America and the participation in each of these trade shows is part of a strategic plan to promote the Tower Light brand into the LATAM continent. These types of exhibitions allow the firm to properly demonstrate their equipment to potential clients, who can view all the features and benefits of Tower Light products in person.
Tower Light Srl manufacture the worlds largest range of lighting towers for all lighting applications in the rental, construction, mining, rail, airport and event industries. The manufacturing plant for lighting towers is based in Villanova d'Ardenghi near Milan from where their products are supported through a strategically created network of worldwide distributors. Tower Light Srl is part of the US based Generac Power Systems Group.