TowerLight, the market leading manufacturer of commercial lighting towers and site protection systems for the UK hire industry, are displaying a new product from their expanding security range and an environmentally biased lighting product at  the forthcoming  Executive Hire Show.
With site security currently under the spotlight, TowerLight are set to unveil their latest innovation, the TL Security Tower, in-conjunction with their security systems partner, Onwatch.
The TL Security Tower is a highly versatile mobile security system designed to accommodate CCTV cameras, Wi Fi systems, surveillance monitoring, infra-red detectors, evidence quality video equipment and public address loudspeakers. The unit is entirely self-contained with power provided from a series of batteries charged from mains power or a generator.
TowerLight have equipped the TL Security Tower with a series of features that make it ideally suited for webcam and remote viewing, lock monitoring, fire alarm operation and traffic monitoring on construction sites, storage areas, and rail or port compounds. The TL Security Tower will assist against theft, vandalism and other forms of anti-social activities, whilst helping to secure property.
The TL Security Tower is available to purchase directly from TowerLight or, alternatively, there are a range of re-hire options are available from Onwatch. Representatives from Onwatch will be on hand during the two days to answer directly any questions regarding the features and benefits of hiring security towers.
"We began designing the TL Security Tower following requests from the security industry to have a mobile surveillance system that would operate remotely, "explained Paul Hay, TowerLight's UK director. " The TL Security Tower is particularly useful to help prevent metal theft which is already a major problem in most towns and cities, we anticipate considerable growth in our security systems," added Paul.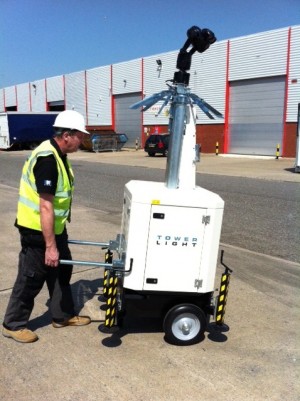 Alongside the TL Security Tower, TowerLight will be showing their VB9 lighting tower. During 2012 a significant number of UK leading hire firms invested in TowerLight's VB9, which reduces fuel usage by a staggering 72% by simply utilising a smaller diesel engine combined with a series of electronics. However, the metal halide lighting output of the VB9 is not compromised and remains at HSE recommended levels. An LED option is available. Visitors to the TowerLight stand can view the VB9 and discover for themselves how the VB9 can significantly reduce their client's running costs.
All of the TowerLight team are looking forward to meeting with customers old and new and are keen to explain the cost saving and wider environmental benefits of their expanding lighting line up and discuss the opportunities available in the site security markets.

Source: TowerLight UK Limited News Room