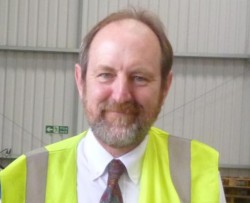 TriMark Europe Ltd is a market leading manufacturer of 'door systems' which include handles, latches, lock systems and electronics for the agricultural, construction and leisure vehicle industries. The company, which incorporates West Alloy, is American owned but has UK factories in the Midlands in Coalville and the South in Sutton, Surrey. TriMark also has operations in USA and China complemented by distributors and representatives in many territories, worldwide.
A staggering 75% of the company's products are exported world-wide, to countries including Brazil and India, which makes up a large proportion of its turnover which is approaching £10million a year – the company has recently celebrated its record 'ever' month in terms of sales – in both the USA and the UK – a double celebration! Keith Dolbear, Trimark Europe's managing director said, "We had a bad 2008-2009 as did a lot of companies in the recesion, our turnover was little more than £4million, but we bounced back sooner than expected. A solid team with an excellent in-house design crew led us out of the doldrums and back to being a profitable and successful business, where other companies fell foul of the downturn and folded."
Outside of the caravan market, TriMark's biggest customer in the UK and Europe's construction sector is Caterpillar – TriMark supply the OEM with all of its 'door furniture' for its construction vehicles, such as locks and handles . JCB, is also a TriMark customer, purchasing door and window components for their machines.
TriMark Europe is also a CEA (Construction Equipment Association) member and Dolbear is on the management council. TriMark became a member of the construction industry trade association in 2002 and then in 2008, Dolbear became a council member, by election, as a voice for the component and supplier sector of the construction market. "I had previous positive experience of trade associations, and the CEA had a good reputation with reasonable subscription rates," reported Dolbear. "In the early years the CEA helped us put a strategy together for China, where we now have a subsidiary. The networking is very fruitful too as is the market support and sharing experiences with the International Business Group. We are also now looking at expanding our business in India, and the strategy will involve exhibiting in the CEA Pavilion at bCIndia in February of next year."
Dolbear is now working with the CEA to develop closer links with other component suppliers and distributors, also accessory and attachment companies.
It's TriMark's involvement with the CEA that prompted the company to commit to exhibiting at the forthcoming PLANTWORX construction exhibition (Stoneleigh Park 14 -16 May 2013) in the Security Village. The Village will be home to a whole host of products and services which are designed to maximise security on site. "We have never exhibited at a UK show before. Our prime target is vehicle builders, but with the UK being the driver behind security issues with leaders such as Thatcham and the CESAR scheme, and the strong focus on security at PLANTWORX, we thought it would be beneficial for TriMark to be part of this event, and of course to show our support." Said Dolbear.
TriMark is planning to show its 'KeyOnePlus' system at PLANTWORX, which is a mechanical lock and key combination, where the OEM or end users can choose a key or keys from a range more than 1000 key codes. This product is particlarly timely in its development as one of the key (no pun intended) security issues with construction machinery vehicle brands is that 'one key fits all' – making machinery a prime and easy target for thieves.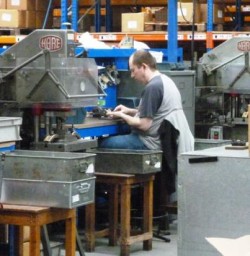 With the 'Key One Plus' system the owner of the machine can have an individual code for the complete lock system for one vehicle or for a fleet of say 10 vehicles. You can also have individual codes for every single vehicle in a fleet. " This system really is revolutionary and could considerably help to cut down plant theft and what's more it's barely anymore expensive than a 'one key fits all' lock!." Said Dolbear. "We are hoping we can promote this system at Plantworx, both to the visitors and also to exhibiting OEM's to encourage them to have this system built into their products at the factory. The message is clear the system is available at a very low cost and it increases security!" In addition, TriMark will be also be showing a range of electronic and electrical security access systems to give even higher levels of security.
TriMark is also working on the next five years strategy and is expecting a big increase in sales and demand for electronics within its product range. The company has already 'future proofed' a number of its products where the mechanical element can be converted to an electronic system without having to change the entire system, which would be both costly and inconvenient. "Once one manufacturer adopts the electronic 'door systems' like latches, locks and handles more will follow," said a confident Dolbear.
The company is also looking into getting involved with making security 'heavy duty' door products for the armoured vehicle market, such as cash transporters, army security vehicles. These products would be the type that could withstand roadside bombs, ram raiders and terrorist activity. TriMark has recently returned from the Land Defence and Security exhibition, Eurosatory 2012 in Paris. "We had 100 good leads from OEM's from 36 different countries, " said Dolbear "TriMark can offer a complete design service with modular products built into the door, which is unique."
Keith Dolbear has been with TriMark for 10 years, an engineer by trade, one of his career highlights was designing the brakes blocks for the French high speed train the TGV (Train à Grande Vitesse) then test driving the vehicle at speeds of 320KM per hour and performing an emergency stop! The brakes and the stop was obviously a resounding success as Dolbear, then with Ferodo Ltd, got the contract. In fact there are still trains running world-wide with Dolbear designed brake materials!
Asked how TriMark has done so well and why his customer base continues to grow? Dolbear said, "We employ the right people to do the job. Also, there are very few suppliers in our industry that can offer the service, the quality and the innovative products we manufacture – which also includes individual solutions."
Watch this space for future developments from TriMark – and don't forget you can visit the company in the Security Village at PLANTWORX, Stoneleigh Park 14 – 16 May 2013.Visit www.plantworx.co.uk . You can find the TriMark Europe website at www.trimarkeu.com
Source: Plantworx News Room