At Plantworx 2019, (East of England Arena & Events Centre, Peterborough), the CEA (Construction Equipment Association), launched the new CEA and HMG commissioned Sector Report.
The launch was attended by Government officials, including Louise Scott, a representative from the Automotive Unit at BEIS (Department for Business, Energy and Industrial Strategy), who also worked on the project, CECE (Committee for European Construction Equipment) delegates, including the Secretary General at CECE, Riccardo Viaggi, and a host of guests and media representatives from the construction equipment sector.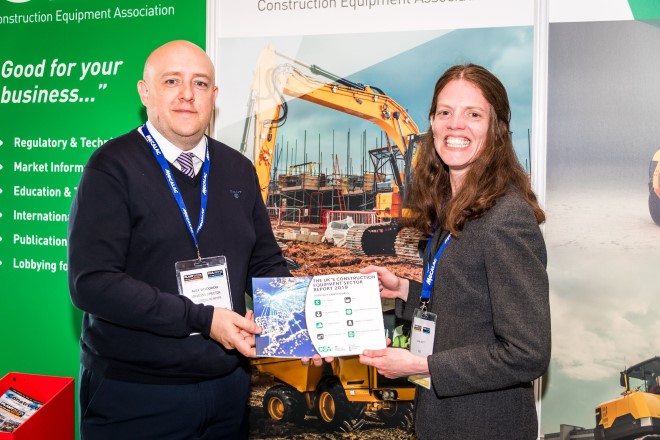 Hosted by CEA's chief executive Rob Oliver and introduced by the reports co-author KGP's Alex Woodrow – the study revealed that that the UK Construction Sector ranked number one in Europe with a 24% market share.
The Sector Report was researched by consultants, Knibb Gormezano & Partners (KGP), and co-sponsored by the Department for Business, Energy & Industrial Strategy.
The report also underlined that the current Brexit debacle had not had a direct impact on sales of construction machinery in the UK and showed record revenue for the construction equipment industry in 2018, with sales of £13bn, up by 18% on the benchmark set for 2013.
The UK was the largest producer of construction equipment in Europe in 2018, and the 5th largest in the world – producing in excess of 60,000 units – earning manufacturers around £13bn in revenue.
Around 60% of UK machine exports are outside the EU, but component suppliers are more reliant on the EU. Value is skewed towards niche products with ADT's, crushers and screens a major UK Export.
Since 2016 the National Infrastructure delivery plan 2016-2021 has set out investment plans for government spending on transport, energy and other infrastructure.
Rob Oliver highlighted that the confidence in the sector is due in part to massive infrastructure projects like High Speed 2 (HS2), Hinkley Point C and Highways England's current £15bn five-year roads programme (RP1). The Government has committed to further significant infrastructure investment and aims to expand the current housebuilding programme by another 30 per cent to 300,000 new homes a year. 2017 was a record year for new infrastructure and housing projects, with a value of around £106.5 billion.
The industry has continued to innovate, invest and develop new products and services to meet customer demand since 2014, despite investment in the Stage V products. Investment in R&D increased a further 10% in 2018 to £220m and a there has been a significant rise in manufacturers' use of digitalisation and automation which is set to continue.
Sustainability also features in the report – equipment must be considered as part of a productive, sustainable system. Near zero and zero tailpipe emissions equipment and alternative fuels will broaden product ranges further. De-carbonisation will be a driver in some segments, to meet CSR and LEZ requirements.
There are 1,500 companies in the construction equipment supply chain, with a total direct workforce of 42,000. The report also uncovered that one of the biggest challenges facing the industry remains that of skills. The skills gap for UK construction equipment operators and manufacturers is widening. The technological advancements expected in the CE sector in the next 10 – 15 years are going to broaden this gap even further – particularly with emerging technologies. Automation and autonomy can fill that gap, but it is still a big challenge for the industry.
GDP in the UK is expected to grow 1.5% in 2019 according to the IMF – and continue growing between 1.5% – 1.6% through to 2023. With GVA up to £2.3bn and exporting over 60% of output globally.
The CEA's Rob Oliver said "The Sector Report comes five years since the last one in 2014. At that time our industry and the world economy were still recovering from the financial crisis triggered in 2008.
We can proudly report that the latest figures show record revenue for the sector and that the UK remains a good place to both manufacture and supply construction equipment."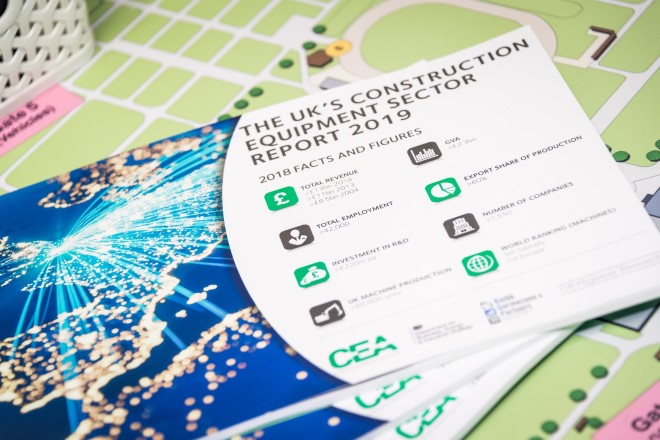 The full report can be downloaded from the CEA website please visit:
https://www.thecea.org.uk/sector-report/
Source: CEA (Construction Equipment Association) Press