The long-awaited acceleration in road construction is drawing closer, though its pace will vary from region to region, according the findings of PMR latest report "Construction sector in Poland 2016 – Regional focus. Market analysis and development forecasts for 2016-2021." The road construction market is expected to grow in the double-digit percentage rate in 2016, driven by an impressive number of road projects contracted by the GDDKiA in 2014 and 2015. However, this is still just the beginning of large-scale extension of the national road network that will take place in 2017 and 2018.

In the coming years, the biggest build-up of road projects is expected in the Mazowieckie voivodship, and these projects will mostly involve the expansion of the road network surrounding Warsaw where such roads as A2, S2, S7, S8 and S17 will converge. As at March 2016, the General Directorate for National Roads and Motorways (GDDKiA) contracted companies to build approximately 190 km of fast roads, but for most projects physical construction has not started yet. The Dolnoslaskie voivodship is ranked second in terms of the current length of contracted expressways and motorways, with 165 km, and it mostly concerns the S3 expressway (a 117 km section) and S5 (48 km). Zachodniopomorskie is number three in the list, its position underpinned by S6 (117 km) and bypasses for Szczecinek (S11) and Walcz (S10). The Kujawsko-Pomorskie voivodship is in the fourth spot and its result is wholly attributable to S5.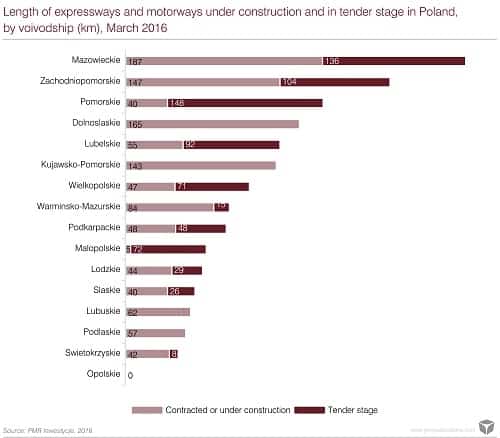 In terms of tendering activity, the most active regions currently are: Pomorskie (roads totalling almost 150 km, mostly S6, which runs across the entire region), Mazowieckie (Warsaw's southern bypass and access roads leading toward the capital: S7, S8 and S17) and Zachodniopomorskie (S3 and S6). These three voivodships account for over half of the length of road projects currently in the tender stage. Other high-ranking regions with a considerable length of roads currently in the tender process include Lubelskie, Malopolskie and Wielkopolskie.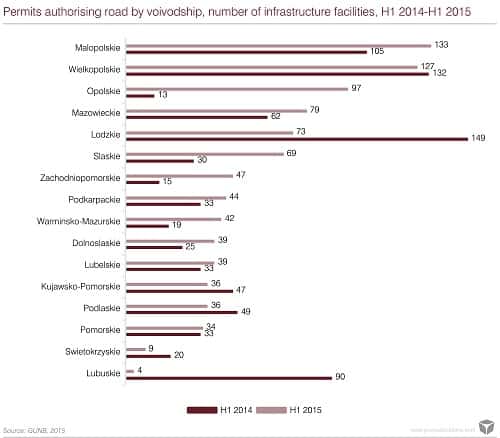 An analysis of a still highly-fragmented network of expressways and motorways in Poland indicates that less-developed regions also have substantial investment needs. In a long-term horizon, road construction in Poland's eastern regions (Podlaskie, Lubelskie and Podkarpackie) has a very strong outlook. Roads in these voivodships account for almost half of the length of all high-speed roads planned in Poland in the long term. However, not all of these roads are likely to obtain full funding under the current EU's financial perspective, and the completion of the network is not expected until a very distant date. At this point, the Lublin-Rzeszow section of the S19 expressway is a project in eastern Poland with the best prospects to succeed – a design and build tender was announced in 2015.
That a significant number of road projects, not only expressways but also local roads, are in preparation is demonstrated by a rising number of permits for road projects. In H1 2015, the highest numbers of permits were issued in the Malopolskie and Wielkopolskie voivodships, while the Opolskie voivodship, which is a small region, reported the fastest growth in this respect. Despite the lack of expressways in planning, projects on local roads are entering the preparation stage in this voivodship. A strong gain in permits was also observed in the Zachodniopomorskie, Slaskie and Warminsko-Mazurskie voivodships. On the other hand, in the short term road construction activity is expected to fall in Lubuskie, Lodzkie and Swietokrzyskie.