The Big 5's latest report reveals factors behind positive forecast in the Emirate's construction market
Dubai, Aug 18, 2016 – Dubai's construction industry knows no standstill. According to BNC's "Dubai Construction Market 2016" report commissioned by The Big 5, the largest construction industry event in the Middle East, over 3,700 projects are currently ongoing across the Emirate. Their total value is estimated around US$400 Billion.
The Dubai construction market is on an upward trajectory, the report shows. Although approximately 21% of them are on hold, a large number of projects are in advanced stages of construction, with an estimated value of over US$100 billion. Noteworthy high-value projects under construction include the Sobha Hartland Development (US$2.1 billion), the Royal Atlantis Resort and Residences – Palm Jumeirah (US$1.4 billion) and the Innovation Hub PT-163 – Dubai Internet City (US$1.2 billion).
Per the BNC project intelligence database, commercial and residential units, education, health care and hospitality buildings, leisure and recreation facilities, religious buildings, retail facilities and mixed use urban developments make up approximately 77% of all project values in Dubai, amounting to almost US$320 Billion.
"A growing population, the tourism sector, strategic government investments like the Dubai Plan 2021 and the Dubai Expo 2020 are fueling the local construction industry", Josine Heijmans, Event Director of The Big 5, commented.
Dubai's population is approximately 2.46 million people today, and is expected to reach 3.40 million in 2020. The Emirate is also becoming a major destination hub for international travelers. Last year, it welcomed 14.2 million overnight visitors, and is on track to reach 20 million by 2020. "This impressive increase is likely to put a strain on the city's infrastructure, creating a need to expand its capacity" Ms. Heijmans stressed.
Indeed, state planning is strongly supporting the construction market's growth. The Government of Dubai has outlined an ambitious 2021 Plan, which includes the development of Dubai as a "Smart and Sustainable city". The Emirate is also getting ready to welcome up to 25 million visitors to the first World Expo in the Middle East, 70% of which are expected to come from overseas. Total spend on infrastructure projects related to Dubai Expo 2020 might reach up to US$18 billion, with estimated development costs of the Dubai South Area between US$8.1 billion and US$8.7 billion.
Presenting the "Dubai Construction Market 2016" report, The Big 5 organisers, dmg events Middle East, Asia & Africa, stated that the shift towards smart and sustainable solutions and the introduction of new building regulations are motivating companies to look for new, innovative products and services.
In order to meet this growing demand, the 2016 edition of The Big 5 will welcome attendees with a brand new floor plan. According to Ms. Heijmans, "The new layout with dedicated product sectors will make it easier for visitors to navigate the show and find the products they are looking for." Taking place at the Dubai World Trade Centre from 21 to 24 November, The Big 5 2016 is expected to host over 3,000 exhibitors, attracting approximately 75,000 visitors.
"No other show offers the opportunity to meet and network with so many key decision makers and industry professionals, sourcing thousands of products from international and local manufacturers," Ms. Heijmans stated. Alongside the exhibition, The Big 5 2016 will offer 75 free to attend and CPD-certified workshops, 30 Live Demonstrations, and a one day Excellence in Construction Summit gathering industry leaders to discuss latest technologies, innovations and best practices in construction.
To know more about the show, visit www.thebig5.ae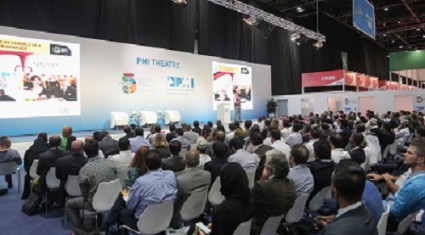 The Big 5
The Big 5 in Dubai is the largest, most influential and renowned construction industry event in the Middle East. The 36th edition of The Big 5, co-located with Middle East Concrete and PMV Live, saw record breaking numbers, with 73,584 participants, including 3,104 exhibitors from 67 countries, across 113,526 sqm of floor space. The Big 5 is the number one choice for construction professionals across the industry, as it is the perfect platform to source from 1000s of innovative, certified and locally distributed products.
Alongside the exhibition, The Big 5 offers a Live Demonstration area and advanced educational features, including 75 free CPD certified workshops and the free-to-attend Excellence in Construction Summit, giving delegates a unique insight into strategies, opportunities and challenges facing designers and planners in the GCC.
Since 2008, The Big 5 hosts the Gaia Awards, the industry's most respected awards honoring those construction equipment and products that have truly integrated the concept of moving towards a more sustainable built environment. A panel of industry experts with acclaimed credentials carefully select those winners who were expected to demonstrate an exceptional and unique product that has successfully been integrated into the built environment in the MENA Region.