Under the theme 'Building Tomorrow', Volvo Construction Equipment will showcase its evolving approach to customer success, focusing on services, dealer capability and new technologies.
The demands of megaprojects such as 'Grand Paris' mean that customers today are no longer looking to buy just machines, but entire solutions that can help them become more efficient and profitable, while reducing emissions. At Intermat Paris 2018, Volvo Construction Equipment (Volvo CE) aims to showcase just such solutions, emphasizing its strength as both a manufacturer and service provider.
The company's combined 4,800m2 exhibition space, shared with sister companies Volvo Trucks, Volvo Penta, and Volvo Financial Services, will feature a raft of highly productive and versatile machines – many of them industry-leaders in fuel efficiency.
These will include the EWR170E short-swing radius wheeled excavator, EW220E wheeled excavator, ECR355E short-swing radius crawler excavator, SD160B soil compactor, and P6820D and P7820D ABG pavers fitted with the new EPM3 central control system.
Visitors to the indoor and outdoor areas will be able to learn how to get even more out of these machines using Volvo Co-Pilot and the complete range of Volvo Assist functions – Load Assist, Compact Assist, Dig Assist and Haul Assist. The high definition on-board display provides operators with all the real-time data to carry out tasks as accurately and efficiently as possible. Outdoors, visitors will also see the new Volvo EW240E material handler in the dedicated demolition zone.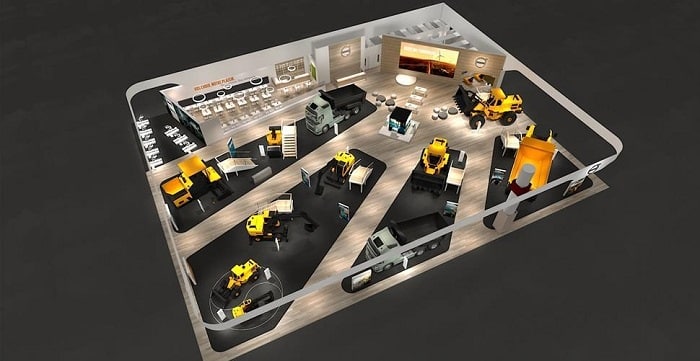 OUTSTANDING CUSTOMER AND DEALER SUPPORT
In addition, visitors will get a chance to explore the new Volvo Services concept. With Volvo Services, customers can choose from a menu of fuel efficiency, productivity, safety, finance and insurance, rental, new life and uptime services, along with Volvo attachments and Genuine Volvo Parts, to assemble the right package of support for their needs.
Finance and insurance services are offered by Volvo Financial Services' team of experts, dedicated to helping customers find customized solutions that support their growth and protect their business.
All these services require a highly competent dealer network to deliver them, which is why Volvo CE will also be emphasizing the capabilities and expertise of its authorized dealers. Volvo dealers aim to act as true business partners for their customers, helping them to achieve their business goals whatever they may be.
THE FUTURE OF VOLVO CE
Looking further ahead, Volvo CE will showcase its EX2 fully-electric compact excavator prototype, as well as other research projects relating to electromobility, connectivity and total site solutions. Meanwhile, new Volvo CE president Melker Jernberg will make his first major public appearance since assuming the role on 1st January.
Overall, Volvo CE aims to send a strong message to the market at Intermat Paris 2018 – namely, that it is evolving as a total solutions provider with machines, services and dealers that set the standard for the industry and will continue to do so for years to come.
Volvo Penta, meanwhile, will present its full range of EU Stage V solutions at Intermat, including the D5, D8, D11, D13 and D16. The company's Stage V solution is optimized for tomorrow and keeps the highest focus on maximized uptime and fuel efficiency, along with ease of installation, operation and maintenance.