Industry veteran Volvo Construction Equipment first held live demonstrations for customers in 1958. Today the company takes great pride in its ability to showcase practically the entire range of Volvo machines at the state-of-the-art Customer Center in Eskilstuna, Sweden.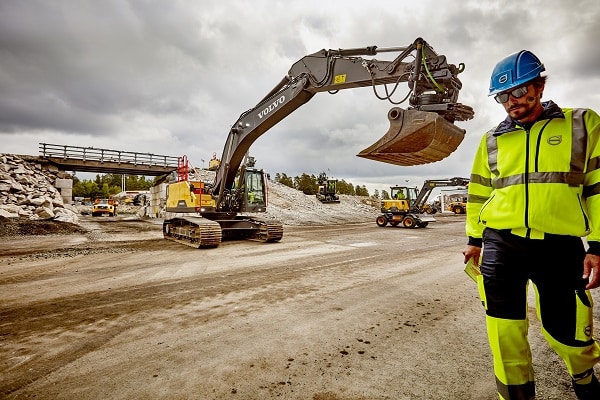 Located in the town where Volvo Construction Equipment (Volvo CE) began life in 1832, the recently-renovated Volvo Customer Center is the jewel in the company's crown. The facility spans 75 hectares and houses more than 80 machines with the space to demonstrate them all on different terrains and at varying gradients, highlighting the full extent of their potential. In June alone this year, more than 5,000 visitors stepped through its doors.
One of the most popular models at the Customer Center this summer has been the new 100-ton (95-tonne) Volvo R100E rigid hauler. Launched in April, customers have been keen to learn more about – and even test-drive this mighty machine.
"The R100E is the new flagship product designed, built and distributed from the Volvo rigid hauler facility in Motherwell, UK, which has over 65 years of rigid hauler expertise. It's a completely new machine that delivers stability, a long service life, high profitability, durability and comfort. And moreover, it's quick and simple to operate and maintain," says Paul Douglas, Volvo CE's vice-president of rigid haulers.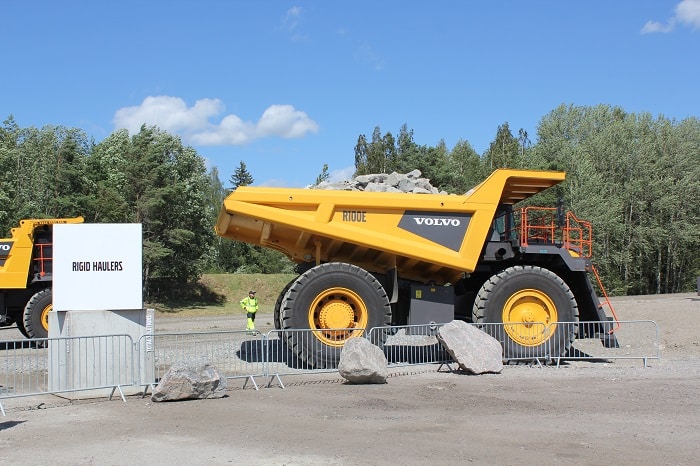 Dexterous demolition
Volvo's special applications solutions have also attracted a lot of attention from visitors. At Intermat Paris, Volvo CE launched a new multi-demolition boom on the EC380E HR (high reach) excavator for Europe and North America. Many visitors to the Customer Center have been interested in learning how this extension boom would enable them to use heavier tools with their demolition digging boom set.
"In the straight position, the multi demolition boom provides an industry-best tool weight capacity of 4.3t at 15.2m – still with a 360º working range. What is also exciting about this new boom is that it can be configured for double bending. This greater flexibility means that operators can work deeper and closer to the machine underground. Overall, the new multi demolition boom for the EC380E HR high-reach excavator offers customers greater versatility for a faster return on their investment," says Peter Lam, product manager for excavators within Volvo CE Sales Region EMEA.
A pipelayer market first
Another star performer from the special applications solutions segment has been the new mini pipelayer kit, launched at the Customer Center in June for less regulated markets. The kit converts EC140D, EC140E and ECR145E excavators into a pipelayer for lowering pipes up to approximately 300mm/12" into a trench.
"The mini pipelayer kit enables customers to add a specialised pipelayer to their fleet with relatively low investment – and maximise their productivity and profitability by quickly and easily switching to a standard excavator. This kit is a completely new solution on the market – Volvo is the first to offer such a kit – and is a great extension to the lower end of the Volvo pipelayer range. We are so confident of the value this kit will offer customers that we have patented it!" says Lars-Inge Larsson, global product manager for pipelayers at Volvo CE.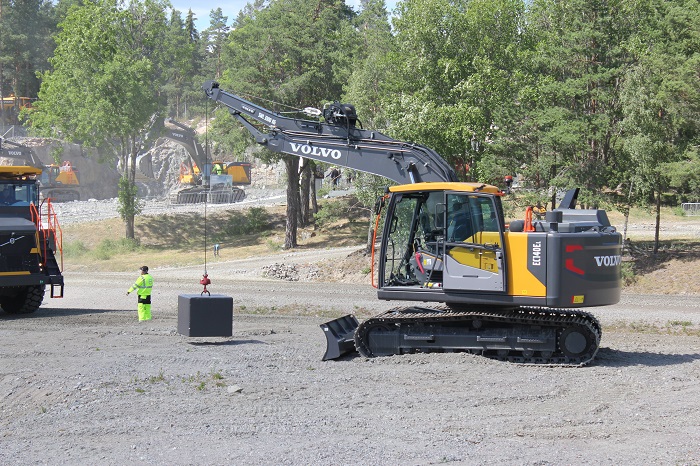 Other popular new models have included the L350H, L260 and upgraded L60H, L70H and L90H wheel loaders, the EWR170E short swing radius wheeled excavator, the ECR355E short swing radius crawler excavator, the EW240E MH material handler, the DD105 OSC oscillating compactor, and the P6820D paver.
Co-Pilot in the cab
Customers have also used their visit to Eskilstuna this summer to learn more about Volvo Co-Pilot, which delivers real-time machine data to a screen in cab, helping operators to boost their productivity, efficiency and safety. Following the European launch of the Volvo Co-Pilot Haul Assist function at Intermat, the system is now available for all of the company's main product types – articulated haulers, excavators, wheel loaders, compactors and pavers.
"One of the major trends in our world over the last decade has to be the explosion of data. Volvo has been collecting machine data through its CareTrack telematics system for more than 10 years but thanks to Volvo Co-Pilot, this data can now be delivered directly to the operator in the cab, where it can make an instant difference. Volvo Co-Pilot is a very important advance for the company indeed," says Peter Ahlberg, director Aftermarket Strategy & Product Management for Volvo CE Sales Region EMEA.
Carl Slotte, president of Volvo CE Sales Region EMEA concludes: "The Volvo Customer Center gives visitors a real insight into the Volvo brand, its long heritage and the expertise behind our machines. We are constantly developing our facilities and test-driving capabilities to remain the industry leader in the field. I would like to thank all the guests who have taken the time to join us in Eskilstuna this summer – we hope to see you again soon!"
Source: Volvo CE Press