World Green Building Week may only happen once a year, but Volvo Construction Equipment dedicates every day to driving energy efficiency improvements at its global production sites.

The annual event, held by the World Green Building Council (WorldGBC), runs from September 25th to October 1st, 2017. World Green Building Week (WGBW) gives industry representatives a chance to celebrate their achievements towards the Council's vision, to make all buildings net zero by 2050.
"This World Green Building Week, we're encouraging people everywhere to see the faces of the heroes in the buildings where they live and work and to join us in our mission to make all buildings net zero. In this fight, our hero is zero," says Terri Wills, CEO of the World Green Building Council.
Volvo Construction Equipment (Volvo CE) joined the WorldGBC's Corporate Advisory Board – a select group of companies that are global leaders in sustainability – in 2016. But this is only one example of the company's hard work and dedication.
In 2012, Volvo CE became a member of the World Wide Fund for Nature (WWF) Climate Savers program, and in 2015 made a six-year commitment to the WWF. One of the focuses of the seven-part commitment is on 'Production Site Energy Efficiency', a goal also shared by the WGBC. Volvo CE's aim is to save 2% of energy per year but has already exceeded the target, currently saving 3% per year. "So far, we have saved a total of 33 GWh of energy," says Johan Wollin, Global Director of Energy Management at Volvo CE. "Volvo CE is significantly ahead of schedule and on its way to reaching the target of saving 40 GWh of energy by 2020."
In 2013, Volvo CE's site in Braås, Sweden, became the company's first carbon neutral premises – as well as the first construction equipment production facility in the world to be powered entirely by renewable energy. The 45,000m² site, which specializes in the design and manufacture of articulated haulers, is powered entirely by renewable energy sources, including wind, biomass and hydropower.
The first steps towards carbon neutrality at the Braås site began in 1999 when Volvo CE commissioned local energy supplier Växjö Energi AB to install a district heating plant, fueled by woodchips, to provide central heating for its employees – and the town's residents. The facility then switched to green electricity in 2007, strengthening its dedication to the cause.
While not all Volvo CE sites are entirely carbon neutral, environmental care is still a top priority for the company, which is why energy saving initiatives are being adopted by many of its facilities. In 2013, Volvo CE created an energy efficiency strategy consisting of three phases – reducing idle electricity, by turning off non-essential equipment and using them in a smarter way (2013-2015), reducing production electricity (2016-2018) and achieving CO2 neutrality (2019-2020). So far, Volvo CE has reduced its idle electricity use by more than 50%, bringing total electricity consumption reduction to 26% since 2013 (2017 figures).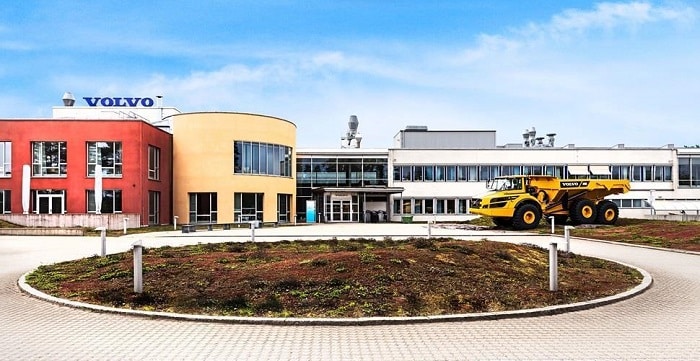 "As a committed leader in construction, quarrying, and mining, we have a responsibility to do our best to use the world's natural resources wisely and reduce emissions," says Martin Weissburg, president of Volvo CE