Phosphate mining is done on a huge scale in Morocco, with some of the biggest machines made by man, in harsh, hot and often remote locations. Servicing the equipment that extracts this precious material is no easy task – but Volvo Construction Equipment is right at the heart of the action.

The Volvo A30F articulated hauler is equipped with the 'box on the back', delivering reliable service to all the machines around the mines.
Phosphate is in high demand. It is used in fertilizer, detergent, food additives, and more recently – and in increasing quantities – in lithium-ion batteries. Good news for Morocco, which is the world's third-largest producer of phosphates (after the United States and China).
No surprise then that state-owned Office Chérifien des Phosphates (OCP) is the world's leading producer of phosphate rock and phosphoric acid, as well as one of the leading global fertilizer suppliers. In 2013 it had revenues of MAD 46 billion (US$ 4.64 billion) and was a sizable contributor to the country's GDP.
But the good news doesn't stop there. Not only is OCP the largest producer in the world, it's also sitting on the largest reserves of phosphate rock in the world too, about 85,000Mt (million tonnes) according to the United States Geological Survey (USGS).
Established in 1920, OCP started mining in Khouribga in 1921, followed by Youssoufia in 1931 and Benguérir in 1980. Located 70km north of Marrakesh, Benguérir, like all OCP's phosphate mines, is an open cast operation. It operates 24 hours per day in three shifts, employing about 775 people.
Production at Benguérir's six benches is done using the drill-and-blast method. Once blasting has occurred the waste is stripped by draglines and the phosphate is then loaded by electric shovel or wheel loader onto trucks for haulage to the mine's primary crusher for initial processing.
The mine's current equipment fleet is comprised of six draglines and two electric shovels, all of which are as big, if not bigger, than the average house. There are also two large wheel loaders, six drill rigs, 22 rigid dump trucks (from 75 to 150 tonne capacity), 24 bulldozers, three graders and three water spray trucks onsite.
Big solution to servicing big equipment
Given the enormous size of many of these machines, servicing is mainly done in the field. Until 2015, tools, parts and service personnel travelled from one machine to another using a flat-bed, on-road truck. But the mine's harsh conditions and rough terrain were too difficult for the truck to cope with.
Looking for a more robust solution, in early 2014 OCP approached Volvo Construction Equipment's Casablanca-headquartered dealer, Volvo Maroc. After careful deliberation and extensive consultations two modified A30F haulers were chosen.
An inside look into the modified A30F hauler reveals the key to reducing machine downtime.

"The hauler's chassis and frame is a standard solution from the factory," explains Volvo Maroc's general manager, Tim Richardson. "What went on the back is the bespoke element."
The chassis was built in Sweden, with a local partner in Casablanca, Remorques Equipement, providing the "box on the back". Equipment on-board includes a small crane, a compressor, a welding set, equipment for performing oil changes, tanks containing various oils and water, greasing equipment, and a workbench.
The design of the modified ADTs was a collaborative effort, says Richardson, with OCP, Volvo CE and Remorques Equipement all having some input.
"OCP provided a technical specification of what they wanted and we worked with our local supplier to make sure it was a fit and the hauler could carry what was being asked of it," explains Richardson. "As part of OCP's original specification both haulers were also equipped with a fire suppression system."
Delivery was originally scheduled for April 2015, but as the project developed and the requirements from OCP became ever more complex, delivery was pushed back to June. The two haulers are now operating at the Benguérir and the Youssoufia mines.
Of all the machines in the all the world
"Monitoring their service and maintenance requirements is done via Volvo CareTrack from Casablanca," says Richardson, "so we can make sure they are working efficiently and effectively."
Besides the two haulers, Volvo CE also provided training for the operators and technicians as part of its Customer Care package. The technicians received four days training with a trainer who came over from France especially, and Volvo Maroc will provide all servicing up to 5,000 hours, or 18 months, with a check every 1,000 hours, says Richardson. At present the two machines have worked 878 and 111 hours respectively.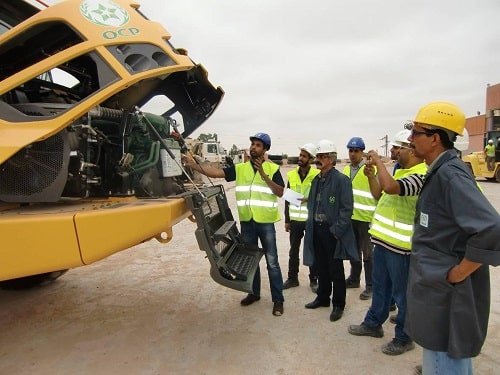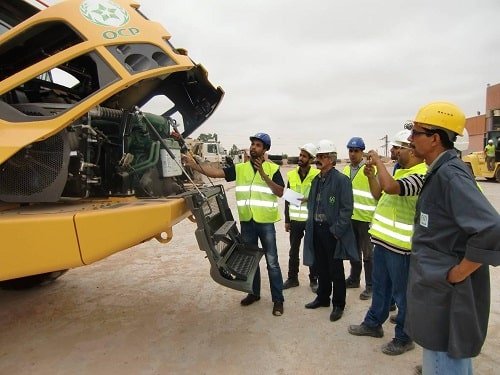 Detailed instructions are given to operators and technicians, trained to ensure the safety and uptime of operations.
The two A30Fs are the first machines Volvo CE has supplied to OCP and Richardson is hopeful that there will be more. The company is now on a list of OCP approved suppliers, so can submit for other tenders, which it has been doing.
"We're right at the beginning. We're really excited by what this means for Volvo. OCP is a massive company, so there's lots of potential," says a clearly enthused Richardson.
"The hauler concept is not well known in Morocco, but given our history, we're in a great position to capitalise on OCP's interest. And going forward we're looking to sell other products too, including some of our larger wheeled loaders and excavators."