Volvo-CE equipped Bulgarian subcontractor Globus is removing three million cubic meters of overburden a year at the largest lignite mine in South Eastern Europe.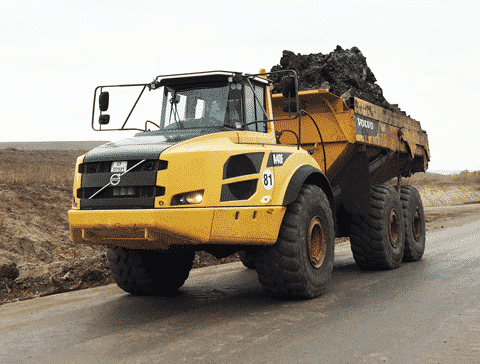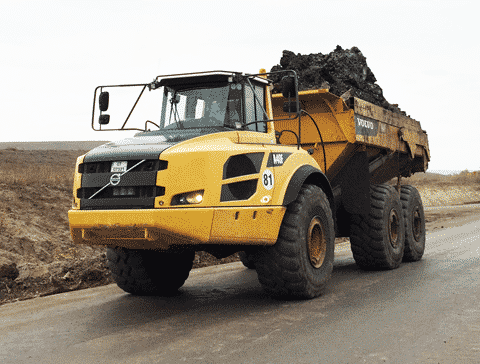 On the outskirts of the Stara Zagora Province, the Maritsa Iztok coal mine is a beehive of activity. A convoy of construction equipment traverses around the enormous 240km2 (92.6mi2) site day and night – and for good reason. The millions of coal extracted each year accounts for approximately 30% of Bulgaria's electricity output.
Since the mid-20th century, the State-owned mine has extracted lignite – or brown coal – from the coal-rich region. Maritsa Iztok is the largest energy complex in South Eastern Europe, producing in excess of 23 million tonnes of coal annually. The majority of which supplies three local thermal power plants that quite literally keep the country's lights on.
Brown is the new black
To keep the coal supply flowing – and Bulgaria running – much of the mining groundworks is carried out by Globus, a contracting company based 50km (31mi) away in Stara Zagora city, a stone's throw away from the mine. The work includes shifting three million cubic meters of overburden every year from the mine. Its removal, which ranges between 10 to 15m (6.2 to 9.3ft) in thickness, reveals the raw lignite below.
Due to its relatively shallow depth beneath the earth's surface, lignite is easily accessible and particularly abundant in the Maritsa Iztok mine. In fact, Bulgaria has extensive deposits of coal, with an estimated 4.5 billion tonnes of lignite in reserves.
'Lignite'-ing the load
Reaching the riches, however, is not without its challenges. For example, the 24-hour operation puts an enormous amount of strain on Globus' 60-strong fleet of excavators and wheel loaders.
"Until recently, we used on-road trucks to ferry the lignite away from the mining site to the processing plant," says Stoyan Rusev, general manager of Globus. "However, the grueling nature of the work required the trucks to operate long hours and in harsh conditions, resulting in excessive maintenance and repair costs, as well as operational issues due to downtime."
Faced with an ever-mounting total cost of ownership, Globus decided that it needed suitably high performing and durable machines to meet the demands of the jobsite. After testing a variety of models from different manufacturers, the company struck gold with articulated haulers from Volvo CE. Since 2015, Globus has purchased four used Volvo A40F articulated haulers, five new A40G and an L35G compact loader. All machines were supplied by independent dealer, Sigma Bulgaria, and work around-the-clock on the Maritsa Iztok mine.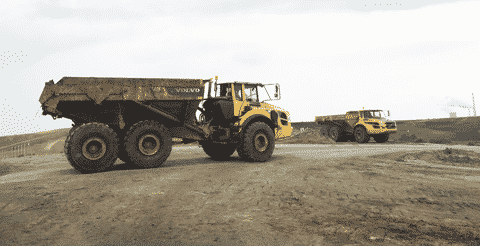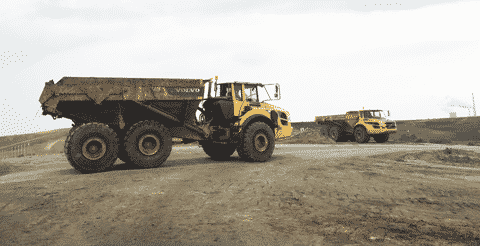 Old King coal
To maintain continuous production, the articulated haulers are equipped with durably-designed and protected components. The heavy-duty front and rear frames, hitch and wet disk brakes reduce maintenance costs and increase uptime, making the A40F and A40G articulated haulers the ideal machines for the mine.
"When it comes to articulated haulers, Volvo is the best brand; the competition doesn't even come close in terms of productivity, durability and fuel efficiency." says Rusev.
Helping to keep the machines in peak condition is Sigma, which developed an innovative approach to providing the best service possible. The dealership constructed a €30,000 on-site service warehouse and hired a full-time maintenance engineer to ensure downtime is kept to an absolute minimum.
"The haulers need to be maintained every 500 hours of operation, and when they're working virtually all day, every day, each machine needs to be serviced every 21 days," explains Haris Bailas, general manager at Sigma Bulgaria. "When you've got nine machines that means each machine needs to be serviced roughly every two days. To arrange for an engineer to travel to and from the site every few days just wasn't practical, so we had to find another solution."
The service solution has proven a success. "The warehouse contains all required spare parts and the engineer is based close to the Globus site, meaning he can be on site quickly when needed," Bailas continues. "He doesn't get much time off, but he's a bit of a workaholic, so he doesn't mind!"
Fueling the future
Indeed, the pit is a powerhouse – and it's already garnering positive attention. Nicolas Broisin, business manager for Volvo CE in Bulgaria says: "The reliability and productivity of our machines is being noticed, as is our willingness to go to great lengths for our customers. Working on this project is going to be a really good step forward for all involved."
Volvo CE has been involved in the Bulgarian market since 2001 and in partnership with Sigma Bulgaria since 2007. Over the last decade, the brand has built up a solid presence in the country, shining light on a bright future.