Volvo Construction Equipment is about to make a big splash in its Belgian prime-time television debut.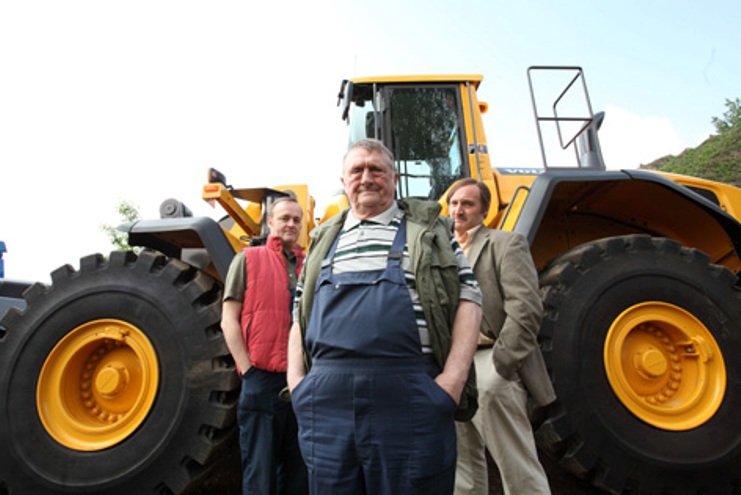 Volvo Construction Equipment is about to make a big splash in its Belgian prime-time television debut.
In show business there are big actors, and then there are BIG actors. No, we're not talking about George Clooney. On the set of 'Zonen van Van As', a Belgian comedy-drama series filming right now, Volvo Construction Equipment wheel loaders and excavators are (physically speaking) the biggest actors around.
'Zonen van Van As' ('The Van As Sons', in English) is the story of Frans Van As, who owns a construction company which does ground and demolition work in Mechelen. Frans's sons, Herman and Eddy, feel that the way their father handles the company is very old-fashioned – and not very lucrative – so they decide to take over. But the Van As sons find that running the family business isn't as easy as they expected, and they quickly realize that they need their father's guidance after all.
Written by a former equipment salesman-turned-screenwriter, the 13-episode series will begin airing on Belgium's main Dutch-speaking commercial television station, VTM, in December. Each episode will feature a wide variety of Volvo machines, which were supplied by the local Belgian dealership, VCM, located in Vilvoorde, between Brussels and Mechelen. VCM loaned 'Zonen van Van As' several Volvo L120F and L180G wheel loaders, an EW160C wheeled excavator, an EC210C crawler excavator, and two compactors. Volvo Trucks also supplied the set with several vehicles.
So how did Volvo come to take a lead role in a Belgian TV show?
"To be honest, I'm a Volvo addict myself! I've never had any other car," laughs producer Karla Stautemas. "When we read the scripts, we knew we needed a very good partner to realize the series. So when we had a conversation with VCM that was very constructive and warm, we knew we'd found that partner. It was important that we use a company with some personal contact and interest in our project, and Volvo provided that.
"Volvo Construction Equipment's reliability is widely known, and the brand will be easily recognizable to our audience," she adds.
Even after agreeing that the show could use its equipment, VCM continued to stay busy behind the scenes of 'Zonen van Van As'. During almost four months of shooting, a VCM employee has been on set for all scenes involving equipment. Serge Decafmeyer, who's been an instructor and demonstrator at VCM for 34 years, sometimes put in 18 hours a day training the actors and crew to operate equipment safely and correctly, making sure everyone stays safe around machines on the set, and coordinating equipment movements with director Jan Matthys.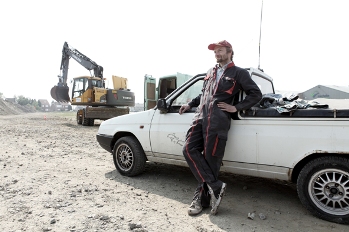 Those who've been on the set agree: the relationship between VCM and 'Zonen van Van As' has been a mutually beneficial one.
"With our budget we never could have made a series with the production value of this one without the help of VCM and Volvo Trucks, so I'm very grateful to them," says Matthys. "It looks like it cost five times as much to make as it really did."
"This is a once-in-a-lifetime opportunity for VCM and Volvo in Belgium," says Peter Mutton, VCM's marketing officer. "Having been on the set all this time, we're really confident in the quality of the show, and we hope a lot of people from the construction industry will see it."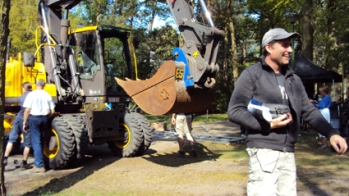 Source: Volvo Construction Equipment Press Room