A Volvo EC220DL excavator is not only increasing productivity by 30% at the Alam Jaya volcanic rock quarry – it is also reducing fuel consumption by two liters per hour.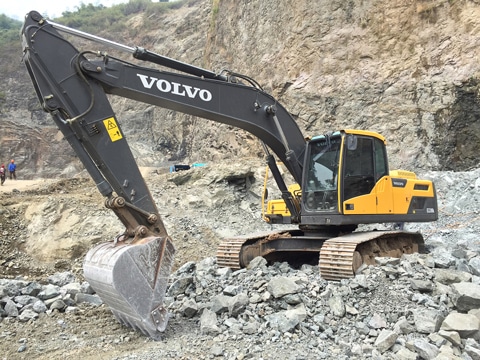 At the foot of Tangkuban Perahu – a dormant volcano that last erupted in 1983 – is West Java's capital city, Bandung, home to 2.5 million people. At 768 m above sea level, Bandung enjoys one of Indonesia's collest climates, with an average year-round temperature of 'just' 23°C. It doesn't escape the tropical rainstorms however, and sees average rainfall of an incredible 3,500 mm a year in some parts.
Located just outside the city is aggregates producer Alam Jaya CV. The company excavates Andesite volcanic rock and crushes it into various sizes of aggregate for use in general construction and road-building throughout West Java. The company uses three Volvo Construction Equipment (Volvo CE) excavators, including two EC210B-Primes and one EC220DL to load the rock onto trucks amid what looks like a lunar landscape.
The company's owner, Hj. Nendah, purchased his first Volvo machine in 2012 and was pleased with the EC210B-Prime model. "I was very satisfied with the machine's performance – it had always been reliable, even when the weather conditions made operations more difficult," he explains.
ITU is Volvo's dealer for the island of Java. The company has a local sales, spare parts and service branch in the province for fast, responsive aftermarket support. Its team of technicians has been trained by Volvo to resolve issues in the shortest time and to offer maintenance advice to customers.


The EC210B-Prime features a Volvo D6E engine with a power output of 106 kW (144 hp) at 1,800 rpm. Its high-capacity electrical system is protected by waterproof double-lock harness plugs to prevent damage or corrosion – even in the wettest conditions. The machine has a robust X-shaped undercarriage and wide tracks for maximum stability on uneven ground.
"When we purchased the EC220DL 18 months ago, we were even more impressed," explains Nendah. "It has increased our productivity by 30% as well as reducing fuel consumption by two liters per hour. This has had a positive impact on our business."
The EC220DL is an evolution of the popular EC210B-Prime, packed with innovations to improve productivity and efficiency. It features the improved Volvo D6E Tier 2 engine that delivers the industry's best torque at lower revs. Its improved hydraulics also contribute towards improved fuel efficiency – along with Volvo's patented award-winning ECO mode – as well as shorter cycle times for increased performance. The cab has been improved to feature a more ergonomic control layout and increased comfort for operators.
Mr. Obay has been operating the EC220DL since it was purchased and says: "This is the best 22 ton excavator I've ever operated. It has superior speed, power and responsiveness to anything I've operated previously and I have full confidence when I'm working on difficult ground conditions."
The EC220DL at Alam Jaya CV's site has clocked over 3,260 hours so far. Nendah has been so pleased with the performance of all of his fleet that he intends to purchase another two EC220DLs within the next year if demand for aggregates continues to rise in the local area.