W L Straughan & Son is a family run business, headed up by Phil and Denise Straughan, based in Bedlington, South East Northumberland. Established for over 30-years, and employing 45 people, the company specialises in a wide range of services including site clearance, environmental projects and forestry work. The firm also has a plant-hire arm to the business offering machines for short and long-term hire.
Customers include Local Government, Highways Agencies and Civil Engineering Companies such as Balfour Beatty. The company is also top of the frame work for Northumberland County Council for operated plant throughout the County. Another of Straughan's big clients is the Forestry Commission which led the company to Cumbria based Hyundai, dealer Taylor & Braithwate, and the Hyundai brand.
Forestry work is big business for W L Straughan
Gary Miller is WL Straughan's project manager and is responsible for the day to day running of the business and works alongside general manager Danny Straughan. Gary said, "We do a lot of site clearance work which is one of the main reasons we first went to Taylor & Braithwaite for the Hyundai machines."
Gary added, "Forestry work and site clearance projects need machines that offer 4-way hydraulics which are necessary for using the attachments we use, which include tree shears, cone splitters, stump grinders and selector grabs. The Hyundai excavators fitted the bill and make light work of even the largest of trees. These machines can also negotiate even the most difficult of terrains. They also perform well on smaller scale contracts."
Nine Hyundai's in the company's fleet
The company has nine Hyundai machines in its fleet and estimate that they have invested around £450K in the Hyundai brand – all purchased from Taylor & Braithwaite. The Straughan fleet ranges in size from 2tonne to 14.5 tonne. The latest Hyundai machines purchased were the 14 tonne HX140 L and the 2.5tonne R25Z-9AK mini excavator.
The company did have a 22tonne Hyundai excavator for a windfarm contract – but the firm traded it in as they had more use for a 14-tonne machine.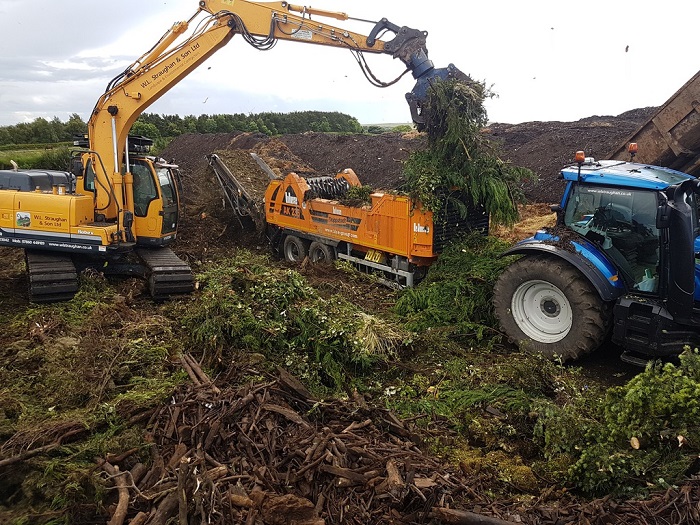 Excellent performance and economic fuel consumption
Gary reported, "We are very happy with the performance of the Hyundai machines especially the new HX140. There were a few of our operators who were very loyal to a competitor's brand which we previously used to run, but they are now all Hyundai converts! All of our operators have reported that the Hyundai's have more power than other machines.
The fuel consumption is good, and we find the machines economic to run. One of the best features is the Hi-Mate system which we like very much. With Hi-Mate we can monitor the machines at all times especially when the machines are out on hire – we know what they are being used for and when."
Hyundai's Hi-Mate System monitor machines even when off-site
Hi-Mate is Hyundai's recently developed remote management system which utilizes GPS- satellite technology, to provide users with a high level of service and product support, which is available for both excavators and loaders. The system enables users to remotely evaluate machine performance, access diagnostic information, and verify machine locations at the touch of a button. Users are also able to access detailed information regarding the machines daily operating history which is available on the daily report section. Included in this report is an hour meter, engine hours, fuel remaining, time of key-on and key-off, and machine location visible on a digital map.
Users can also program a virtual geo-fence to prevent the machine from leaving a specified geographic area. Once Geo-Fencing is set, a red circle is visible around the machine icon on the map. If the machine is moved outside the Geo-fence boundary, an alarm is triggered and submitted to Hi-mate, notifying the user.
Gary also spoke about the All-Around View Monitoring system he said, "We are finding the AAVM system very useful especially on the construction sites we work on. Contractors are asking for this type of safety systems more and more – in fact there are many contractors that insist on visual aids on machines. It works for us very well."
Advanced safety onsite with the AAVM system
The AAVM (Advanced Around View Monitoring) Camera System comprises four cameras which work in collaboration with the controller and produces a 360° image of the working range around the machine. It secures a field of vision in all directions with nine different viewing options including 3D bird's eye view and 2D/4CH using touch screen technology.
The system also incorporates IMOD (Intelligent Moving Object Detection) which informs the operator when people or dangerous objects are detected within a 16.5ft or 5metre radius of the machine, offering the operator hi-precision control over the machine and its surroundings. The operator can select different views – not only a bird's eye view – it can show you where your counter weight would be turning and show the circle around the base of the machine and many different angles by just touching the viewing icon on the monitor.
The IMOD indicates all movements around the machine. Movement is shown on the monitor by putting a rectangle around the object or person by indicating the side at which there is movement by arrows – the operator, in addition to viewing the obstruction, will be notified by an alarm.
Taylor & Braithwaite & W L Straughan & Son
W L Straughan have worked with T&B since 2014 – they purchased their first machine with the dealer and always go back. Gary said, "T&B's service is excellent – they are very helpful and will happily talk things through on the phone. Another major plus is that they will service our machines at the weekend – this is very important to us and means our machines are never down during the week. We work Nationwide and the machines are always out – never sat in the yard."
Straughan's recycling business
"We also have a green waste recycling business which we run alongside the contracting business, called Greenleaf Recycling." Reported Gary. One of the HX140's works permanently on the green waste site. It's fitted with a selector grab and sorts material and logs working alongside a loading shovel."