Sales down 9% in the second quarter, as improvements in North America and Europe fail to compensate for a slide in demand from China.
Market growth in the mature markets of North America and Europe failed to offset a sharp downturn in demand in China, weighing on Volvo Construction Equipment's (Volvo CE) second quarter 2014 results. The company saw a reduction in the period, with sales down 9%. Behind the headline figures there were underlying positives, not least a 25% improvement in North America and 11% improvement in Europe, compared to the same period in the year before.
Net sales in the second quarter decreased by 9%, amounting to SEK 14,624 M (SEK 16,019 M in Q2 2013). Adjusted for currency movements, net sales decreased by 10%. Operating income also decreased, to SEK 751 M, from 1,324 M in the same period during 2013. Operating margin, at 5.1%, was down compared to the 8.3% achieved in same period last year. Earnings were impacted by reduced sales, low capacity utilization in the industrial system and a negative market mix. (Demand for large equipment from the mining industry is still on a low level and sales of less profitable compact equipment are relatively high.)
"The second quarter was characterized by a considerable decline in China – the world's largest market for construction equipment – which meant we had to adapt our operations to a lower level," says Martin Weissburg, president of Volvo Construction Equipment. "The decline was rapid and accelerated during the quarter but we reacted quickly to ensure that production and inventory levels are soon balanced with demand.
"The situation is brighter in our more mature markets," continued Mr. Weissburg, "with demand in Europe and North America continuing to expand during the quarter. We are further strengthening our positions in these markets with our new products."
Important events during the quarter
The previously announced acquisition of the Terex Trucks hauler business was completed during the period. The deal includes the main production facility in Motherwell, Scotland and two product ranges that offer both rigid and articulated haulers. It also includes the distribution of haulers in the U.S., as well as a 25.2% holding in Inner Mongolia North Hauler Joint Stock Co. (NHL), which manufactures and sells rigid haulers under the Terex brand in China.
The quarter also saw Volvo CE inaugurate a new test and development center – the company's 12th – in Hapcheon, Korea. The facility includes an all-weather test dome, reliability and noise test field, workshops, various complete machine performance test areas and a customer clinic. Engineers at the 253,515m2 site will focus on excavator product development, advanced engineering and product maintenance.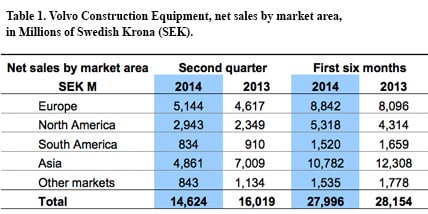 The period closed with the official inauguration of the new Customer Center at Volvo CE's North American headquarters in Shippensburg, Pennsylvania. Part of a multi-year, $100 million investment in North America, thee 40-acre facility combines sales and operator training with customer and company dealer visits, as well as large-scale events.
Source: Volvo CE