It's just a week away until the inaugural CQMS15 construction machinery exhibition takes place at Molloy's Quarry, Tinnycross, Tullamore, Co Offaly on April 17th and 18th. Amongst the 100 plus exhibitors will be Hyundai dealers Whelan Plant Sales who have reported record sales of Hyundai kit in Ireland. Whelan will be showing three Hyundai machines and the fourth, a R300LC-9A, which will be demonstrating on the Sandvik Construction stand loading the company's QJ341 Crusher.

Whelan director George Whelan Jnr said, "We are looking forward to the CQMS15 show – it looks like it's going to be a really good event. It's good to see so many exhibitors supporting the show. We are expecting a good turn-out of visitors on the Whelan stand!"
Record Sales of Hyundai Machines.
George said in regard to the Hyundai dealership he said, "This time last year we sold 18 Hyundai machines – in the same period this year we have sold 35 machines – and the orders keep coming in! The Irish market is making a steady recovery and we are seeing this in our sales. Buyers like the Hyundai product – it's reliable, value for money and the machines handle well. We also offer our customers an excellent after sales and support service and we will do whatever it takes to support our customers."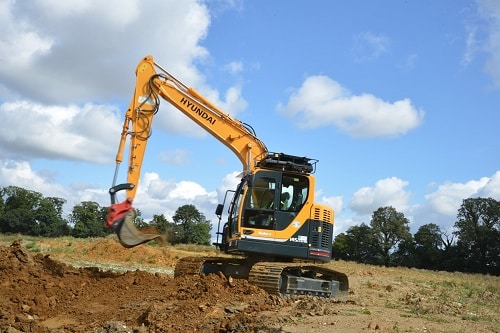 Sister machines on display.
Visitors heading over to the Whelan Plant Sales stand (1 in Zone 3) will see the 14.5 tonne R145LCR-9A. The machine has a 124 hp 1204E Perkins EU stage 111B engine. Digging depth is 5990mm with a dumping height of 7230mm. Also on the stand will be the R145's smaller sister machine – the R140LCR-9A. Weighing in at 14 tonne –this machine has a digging depth of 5550mm, a bucket capacity of 0.23-0.71 m³ and a116hp fuel efficient Perkins engine.
Robust wheeled loader for every job.
Also on show will be the 23.5 tonne HL770-9A wheeled loader. Hyundai say that the HL770-9A is a robust wheeled loader which can be fully adjusted to take on every job as effectively as possible. The machine is powered by a fuel efficient, low emissions Cummins 300hp QSL9 – EU Stage IIIB / Tier 4 Interim engine.
To make the most of its 4,2 m³ loading capacity, you can change engine power and transmission mode while on the go and choose the clutch cut-off mode that best suits the situation. In addition, many other processes have been fully automated, such as the automatic boom/bucket stop and kick-down function. The optional ride control system has a shock-absorbing accumulator that cushions the boom cylinders, in order to improve operator's comfort and to reduce material loss.


30 tonne Hyundai on demonstration on the Sandvik stand.
Head over to the Sandvik stand in the demonstration area and visitors will see R300LC-9A excavator on demo – this powerful 30 tonne machine will be loading the QJ341 Tracked Jaw Crusher.
According to operators who own/operate a R300LC-9A – they say this machine is a pure joy to work with! Hyundai have made several improvements and innovative hydraulic system technologies make this excavator fast, smooth and easy to control.
Its new patented hydraulic system features automatic boom vs. swing priority, automatic power boost for extra power and improved arm & boom regeneration for higher speed and better efficiency. The R300LC-9A is powered by a proven, reliable, fuel efficient, low emission and low noise Cummins Tier 4 Interim & EU Stage IIIB engine.