Since 1994 – Whelan Plant Sales have been the sole importer and distributor for the Republic of Ireland for the full range of Hyundai Construction Equipment. Whelan Plant Sales is using the forthcoming CQMS 17 exhibition to show and demonstrate the latest range of Hyundai construction machinery on stand number 11 in Zone 3.
CQMS 17 is the largest construction and quarrying machinery show in Ireland and is being held at Molloy's Quarry Tinnycross, Tullamore, County Offaly on April 21st and 22nd 2017.
George Whelan, managing director Whelan Plant Sales said, "We are attending CQMS 17 to showcase the new range of HX Hyundai Excavators in a working environment.  The full range of HX Excavators is now available and CQMS is the ideal platform to demonstrate these machines for the Irish customer. This is the second CQMS show and will be bigger and better than before with 50% more exhibitors.  This is the correct time for the show as the Quarry and Mining Industry is showing huge growth.  There has been a huge interest in the show already which will hopefully boost sales for Hyundai in 2017."
On static display visitors will be able to see the following Hyundai machines:
HW140 – 14,880 operating weight wheeled excavator
HX140 – 13,990 kg operating weight crawler excavator
HX220L – 22, 100 kg operating weight crawler excavator
HX235LCR – 24,280 kg operating weight crawler excavator
HX330L – 33,500 kg operating weight crawler excavator
Whelan Plant Sales will be demonstrating the following machines:
HX220L – 22, 100 kg operating weight crawler excavator
HX380L – 38,920 kg operating weight crawler excavator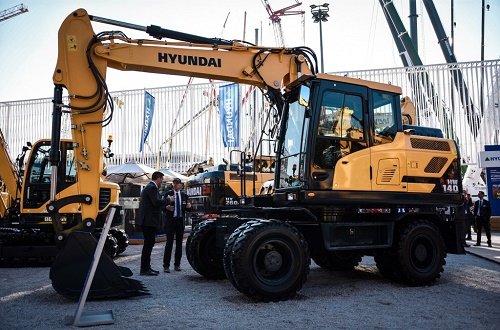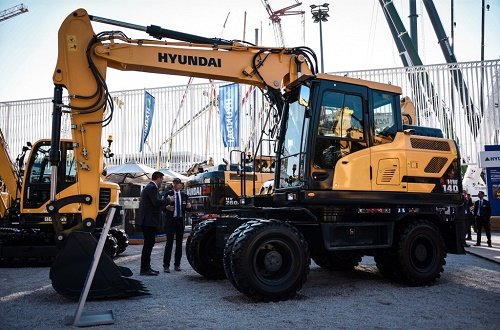 CQMS is reported to be a landmark event, which is supported by the Construction Industry Federation and a hub of innovation and new technology. This live action show will bring together the industry leaders in construction and quarrying with a showcase of some €70million worth of new machinery on offer in Ireland.
About the new HX and HW Range
New, Exclusive Safety Features
New safety features include Hyundai's exclusive AAVM (Advanced Around View Monitoring) System for 360°-surround virtual operating view – which displays on the 8-inch cluster-monitor. The system consists of an Around View Monitoring (AVM) system that give a 360°-surround virtual operating view and an Intelligent Moving Object Detection (IMOD) system that senses and warns the operator when objects come within working distance of the machine.
Enhanced Instrument Panel for Easier Monitoring Simplifying the Control Settings
One of the most important innovations on the new HX and HW series is the new and larger 8 inch touchscreen monitor – the cluster monitor displays information which mirrors what you would see on your smart phone and is 30% larger than previous models. It's also easy to read and the main view of the screen can be adjusted according to the preferences of the driver. It can be controlled via touch control and/or new haptic controller. Connecting to a mobile phone is easier than ever with the bluetooth connection to the machine's radio.
Fuel Efficiency – Systems to Reduce Consumption
The new HX and HW ranges are fitted with an ECO Gauge which enables the economic operation of the machines. The gauge level and colour displays engine torque and fuel efficiency level on the touchscreen monitor. In addition the gauge indicates the status of fuel consumption such as average rate and the total amount of fuel consumed. The range can offer a reduction in fuel consumption from 6% to 12% – depending on the type of operation – in comparison to Hyundai's 9A series of machines.
Hourly and daily based fuel consumption can be checked and detailed too which helps the operator run the machine more economically and efficiently.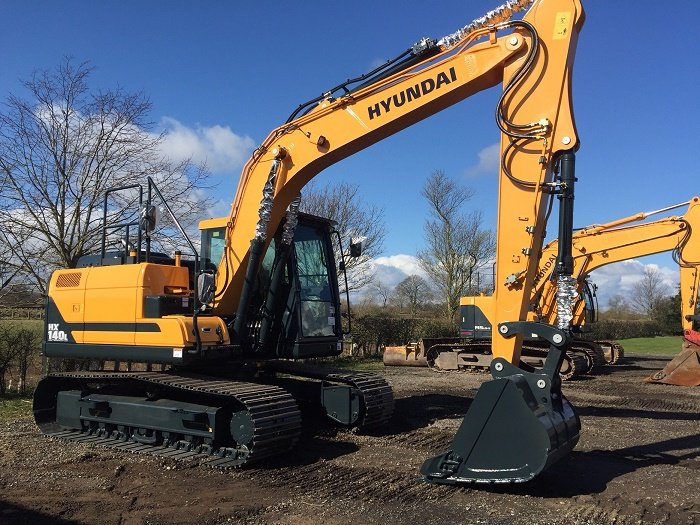 The HX and HW series of excavators have a function that turns the machine off when it enters an 'idling' state which also minimises unnecessary fuel consumption and emissions. Operators can select operating mode and 'idling' time depending on work environments which improves its efficiency even further.
The IPC (Intelligent Power Control) controls power depending on work environments. Its mode can be selected and released on the monitor – on the excavation mode – pump flow can be more cleverly controlled, reducing fuel consumption.
The new Electronic Fan Clutch offers the highest in control efficiency and the best in fuel efficiency. There is also an Eco Breaker Mode where two hydraulic pump summation is available for breaker operation.
Flow and pressure setting for attachments – new options available
The new machines can offer up to 10 breaker and 10 crusher settings. The boom can float freely by connecting to the cylinder head and/or the rod directly to the tank. A power boost button is available to over-ride floating boom.
Other new options include – Fine Swing Control which can be installed in order to ensure a softer stop of the swing with minimal shock load. A Swing lock is an operator-controlled locking mechanism which cuts off swing pilot signal. A Straight Travel Pedal is also an option – the straight travel pedal reduces operator fatigue while traveling greater distances. Instead of holding down both right and left pedals the operator can easily travel by just holding down one pedal.
Cycle time improvement
The HX Series provides higher productivity onsite by faster operation and can load trucks up to 5% faster and levels up to 4% faster than the 9A-Series. In order to achieve efficient grading, the HX series can apply boom floating control using arm-in and arm-out operation only, allowing stable operation even in high-load work.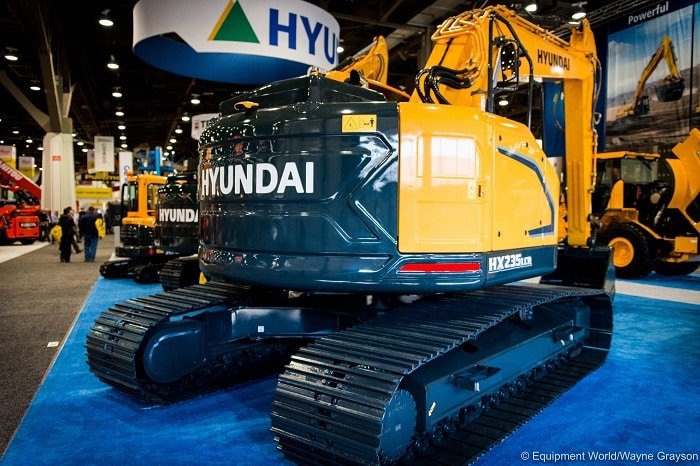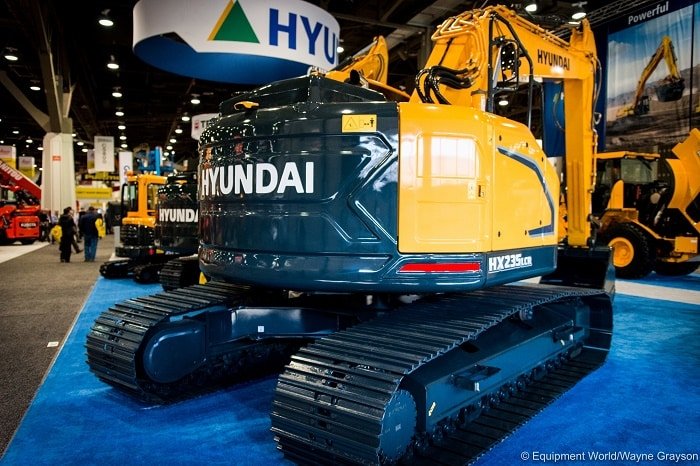 New exterior design increases durability and safety
HX and HW ranges have newly designed cabins – a new larger front screen has been incorporated and the driver's door is now easier to open from the inside with an additional handrail. The interior of the HX and HW cab offers 13% more space for the operator (compared to 9A-series). A newly developed air conditioning system provides better air circulation in the cab.
Hi-mate (Remote Management System)
The machines are also fitted with Hi-Mate, which is a remote management system, developed by HHIE. Through its satellite powered technology, customers can now enjoy an unmatched level of service and product support. With one press of the button, users are able to remotely evaluate machine performance, access diagnostic information and verify machine locations. It's even possible to program a virtual 'geo-fence' to prevent the machine from leaving a specific area.
Reliability and Serviceability
Enhanced reliability features on the HX and HW Series include reinforced longer-life pins and bushings coupled with wear-resistant polymer shims and newly designed cab shock mounts with dual shock absorption for reduced vibration and noise, which also improves operator comfort. Serviceability enhancements include ground-level access to the fuel filter and convenient exterior access to the cab air filter. Additional guard rails provide greater safety while performing maintenance and inspections on the upper structure deck.