To lift ever bigger and heavier goods, ever more refined cranes are designed. These are used either to lift tree trunks, containers, entire houses or windmills with a height exceeding of more than 100 m and a weight of more than 80 tons.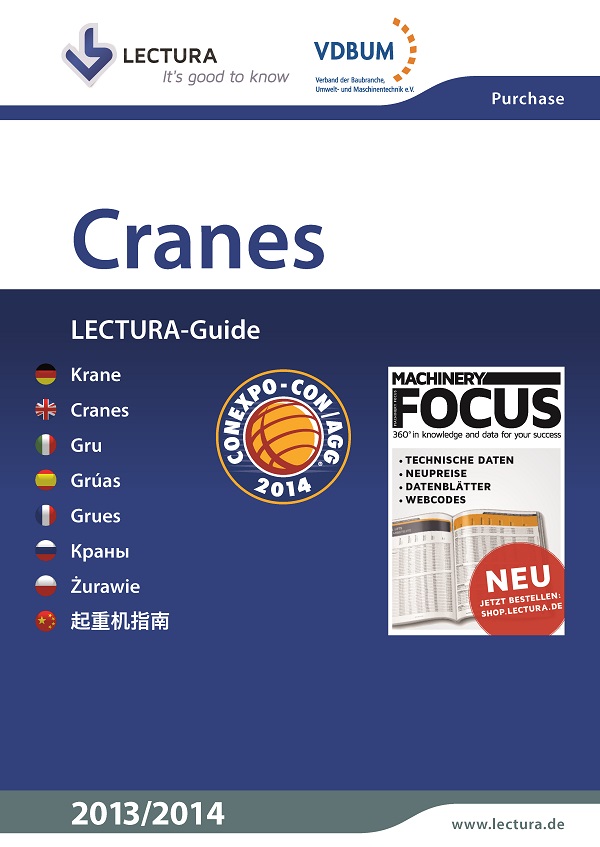 The LECTURA guide cranes 2013/2014 lists all important manufacturers including machine categories, types, prices as well recommended prices for used machinery over the last 10 years.
This publication is available in 8 languages: German, English, French, Italian, Spanish, Russian, Polish and Chinese.
Product contains:
13 categories – 47 manufacturers – 3.028 machine types– more than 18.000 prices!
…accessible online 24/7 – 365 days a year!
It contains anything you need to know about the "labour giants" that can hardly be handled by men and about their computer-controlled safety.
Background information, equipment options and technical data can be read clearly.
Each type of machine is imaged so that a lay person can distinguish a tower crane from a crawler, a mobile or an AT crane. All manufacturers are listed with their complete addresses and possible importers.
Such ancillary data for actual statement of used machinery value is also available as online version. It allows the user to easily determine the value of the used machine considering its condition, particular equipment as well as operating hours even for the past 18 years.
For further informations please go to www.lectura.de or please contact 0049 (0)911-430899-0
Source: Lectura News